iPhone App Review: LivingSocial Review
LivingSocial - What is it?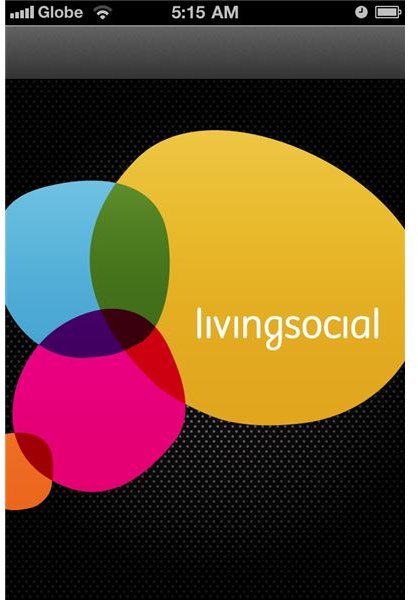 LivingSocial is a pretty simple, and yet useful app that provides you with access to LivingSocial's daily deals. By daily deals we mean cool new things to do in your city are provided every day. Not only does it inform you of cool things to do but also offers you various discounts while doing these things. In other words, the LivingSocial app helps you to make the most out of the city you are currently in by suggesting things to do and offering various discounts on all sorts of establishments. If you're a frequent traveller - that is you don't stay too long in one city, you'll be glad to know that LivingSocial covers most of the major cities in the U.S.
Features (4 out of 5)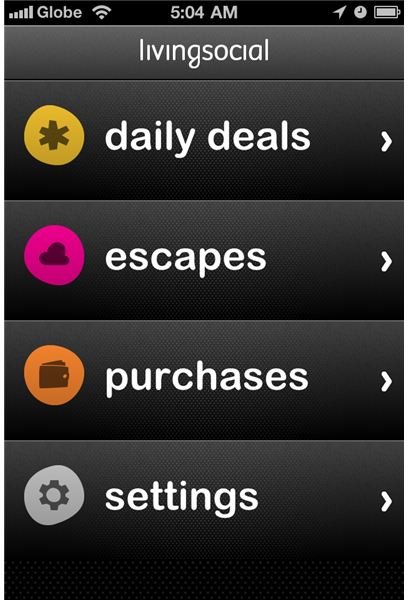 There are several reasons why you will love using the LivingSocial iPhone app. First and foremost, it sends you deals via push notifications to your iPhone. That practically eliminates the need to check your e-mail for good deals. Simply turn on push notifications for this app and you'll be instantly notified of new, good deals once they become available. Once you get those notifications, simply click to find out what deals are being offered and buy some of those deals instantly while you're inside the app.
A nice feature of this app is the ability to let you share good deals with your friends, especially for those who don't have the app installed on their iPhones yet. You can share deals vial e-mail or Twitter. What's good about these sharing features is the fact that you'll get your own share of the deal for free after three of your friends buy the deal. Sounds, fair enough? This is of course designed to encourage you to keep on sharing good deals that you receive. In a way, you're also helping to promote LivingSocial, while at the same time gaining something out of it.
Another nice feature of the app is that it allows you to quickly check a deal map to find out if you've purchased a deal from a nearby establishment. This will prevent you from paying full price if you have previously bought some of the goods from that establishment via LivingSocial before. In this case, you can simply skip that establishment and find something else that you haven't tried before.
Finally, and perhaps the app's best feature is the fact that instead of cutting deal coupons on newspapers and showing them to establishments, you can use the deals given to you by the app and show them to the merchant where you are getting the deal. So, in a way you are being eco-friendly too – by going paperless.
Functionality (4 out of 5)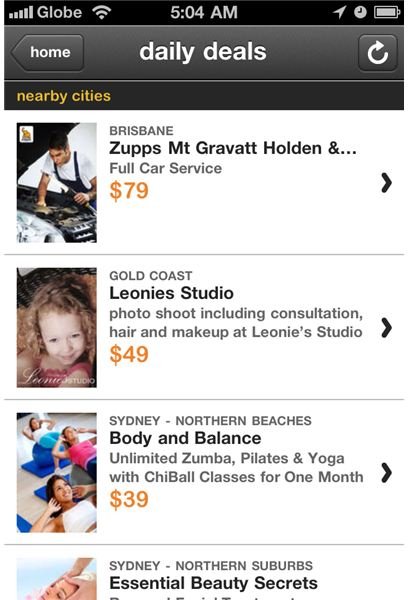 One of the things that you will surely appreciate about the LivingSocial iPhone app is the fact that it does what it is supposed to do - that is to give you the best deals possible for nearby locations. And it does so automatically, updating your lists of deals whenever you move from one location to another.
When it comes to using the app, on the technical side, LivingSocial is well designed and very easy to use. Deals are categorized into daily deals, escapes, and purchases so that, when you're looking for a particular deal, you can easily select the right category and browse from the list.
LivingSocial - Our Verdict (4 out of 5)
Overall, LivingSocial does what it says it can actually do - provide you with the best deals in town - be it shopping for your daily needs, for your relaxation or luxury. Who doesn't want to save on things that we normally do, or purchase, right? And LivingSocial makes sure that you'll get the best deals. So, give this app a try and tell us if you find it really useful or not.
References
LivingSocial: https://deals.livingsocial.com/iphone
Image credit: Screenshots provided by the author.