iPhone App Reviews: Confession: A Roman Catholic App Review
Confession: A Roman Catholic iPhone app - What does it do?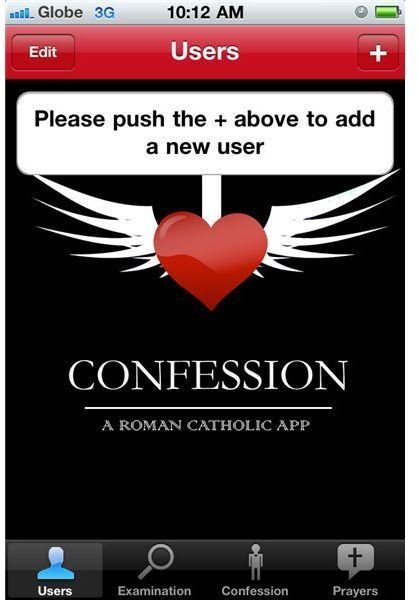 As mentioned, Confession: A Roman Catholic App for iPhone is to be used in the confessional - as an aid and not the fulfillment of the act of confession itself. The app is a good personalized examination of confession which can be useful if you're preparing for a confession. It walks you through the step-by-step procedures for fulfilling the Sacrament of Confession by prayerfully preparing for and participating in the Rite of Penance. If you haven't been fulfilling this most important duty as a Roman Catholic for quite a while now, this app will make it more meaningful and easier for you.
Backing the app's credibility is the fact that it was developed in collaboration with Rev. Thomas G. Weinandy, OFM, Executive Director of the Secretariat for Doctrine and Pastoral Practices of the United States Conference of Catholic Bishops, and Rev. Dan Scheidt, pastor of Queen of Peace Catholic Church in Mishawaka, IN. The app received an imprimatur from Bishop Kevin C. Rhodes of the Diocese of Fort Wayne – South Bend. It is the first known imprimatur to be given for an iPhone/iPad app.
So, those facts should give you an assurance that Confession: A Roman Catholic App for iPhone is not in any way offensive, as some found the previous app we reviewed, Penance to be.
Confession: A Roman Catholic iPhone App - Features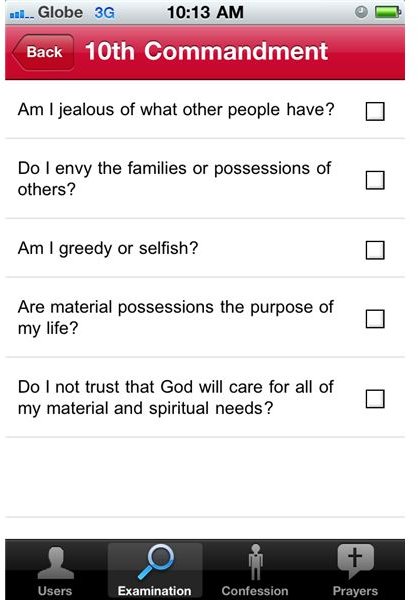 As an iPhone app, Confession: A Roman Catholic App features custom examination of conscience based on your age, sex and vocation – that is whether you are single, married, a priest or religious. The first time you fire up the app you will need to enter your personal data about this information. The app also supports multiple users and you can password protect all those accounts. You can also add sins not listed in the standard examination of conscience.
Other nice features of the app include - confession walkthrough such as last confession in days, weeks, months, and years, 7 different acts of contrition, and full retina display support for iPhone 4 users.
Our Verdict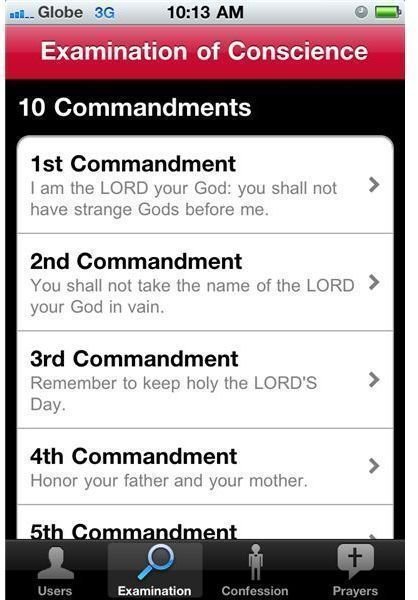 If it has been a long time since you last took the Rite of Penance, Confession: A Roman Catholic App will help you get on the right track and make your passage through this rite, easier, more fruitful and more meaningful. That is of course if you don't mind paying $1.99 to get the app running.
If you're not a Roman Catholic and you don't do the Rite of Penance, you might also want to check out the app for the novelty of finding out how the iPhone can be used for something meaningful as an age-old Sacrament still followed by many Catholics.
This iPhone app is a well designed and conceptualized and proves to be a solid, robust and useful iPhone app. The fact that it was the first known imprimatur given for an iPhone/iPad app gives you a reassurance that you are not violating any Roman Catholic beliefs.
References
App Store Download link: https://itunes.apple.com/us/app/confession-a-roman-catholic/id416019676?mt=8#
Image credit: Screenshots provided by the author.