iPhone App Review: 100 Cameras in 1 Review
What Makes 100 Cameras in 1 Unique?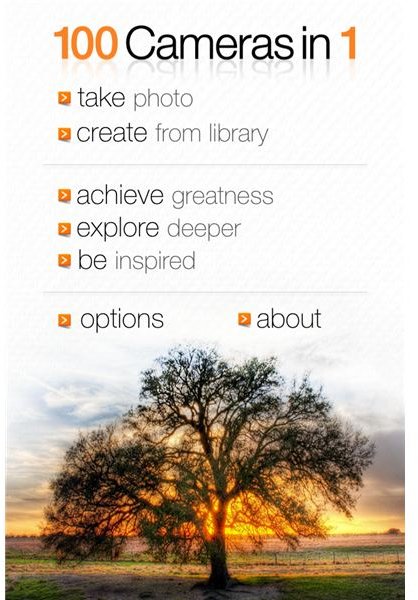 Let's go straight to the point and discuss what makes this iPhone camera app unique. Is it worthy of the space it will take in your iPhone's storage and your $0.99? Or better yet, is it any better than Instagram which I bet is our current favorite iPhone photography app right now?
First and foremost, the 100 in this app's name refers to the 100 effects that you can apply to your photos. You can use the existing photo on your iPhone's camera roll or take a new photo and then edit/modify it using the app's 100 effects. The fact that you can use your existing photos adds more value to this iPhone app.
One unique feature of 100 Cameras in 1 is its interface. You can either set the app's interface to auto-launch the camera app or open the app's main menu interface. When in the camera mode, you can directly take a photo and you can move and scale it into the required square format. Once you've set this, you can then proceed with applying the effects you want to apply to your photo. The photo effects in this app are not named the usual. Instead, each of the photo effects are named in creative ways. For example you'll find photo effects called - "a glowing ember," "a gentle warmth," "it was never quite like that," "around 3 a.m.," and more. These effects use mixes of hardlight, overlay, and more using beautiful textures from around the world.
100 Cameras in 1 - Other Features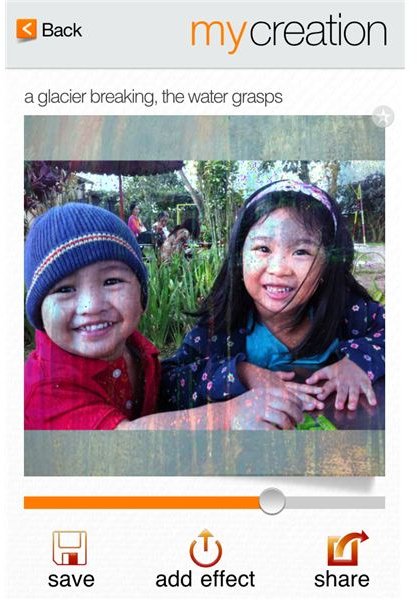 Other features of the 100 Cameras in 1 app are listed on the main menu screen just below the major two options. These other features are "achieve greatness" which is actually the achievements that you gain as you use the app, "explore deeper" which is a feedback mechanism, links to online tutorials, and more, and "be inspired" which is a registration form for the app's newsletter. In addition, 100 Cameras in 1 also lets you share your photos via e-mail, Twitter, Facebook, and Flickr. Game Center is also supported whereby your achievements will be shared and seen by other 100 Cameras in 1 users. Plus, the developer promises to bring in Instagram later on as well.
Our Verdict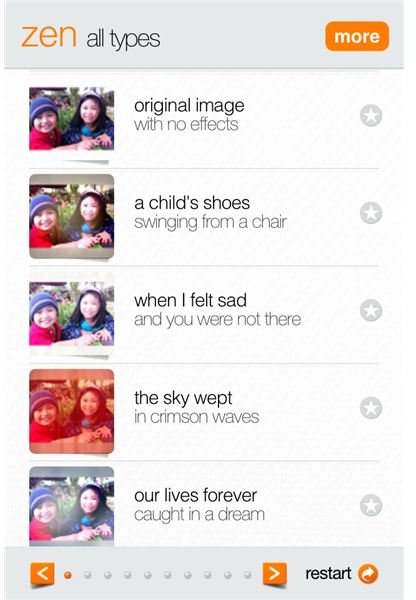 We couldn't help but applaud this app for its unique approach to iPhone photography. The creativity of naming the different photo effects adds novelty to this app and will entice you to try out those photo effects, if only to find out how each of them will look like when applied to your photos. And there are 100 of these effects, so it will take time before you've tried out every single one.
But the question here is - do those photo effects add some flare or novelty to your photos? To be honest not all of these effects are worth trying out. There are a few which don't really beautify your photos but instead make them appear worse than the original. Fortunately, as mentioned, there are only a few of these photo effects.
The bottom line here is that if you're looking for something different from the current crop of iPhone photography apps, 100 Cameras in 1 is definitely a worthy download. But if you're looking for an application that will truly beautify your photos - this app might fail you.
But for its price ($0.99), the pros certainly outweigh the cons of 100 Cameras in 1.
References
iTunes App Store link: https://itunes.apple.com/us/app/100-cameras-in-1/id408481287?mt=8#
Image credit: Screenshots courtesy of the author.