Full Bluff My Call iPhone App Review
Features
The Bluff My Call iPhone app enables you to use any Caller ID on your phone, and it also allows Call Recording and Voice Changing. This app has worldwide support for over 950 international locations. This app also has many other great features to offer. It's available for iPhone, Android and BlackBerry. Here is the detailed description of all features and options.
Bluff My Call Voice Changing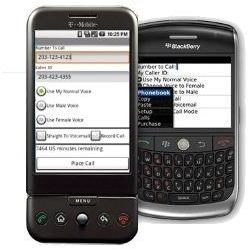 Change your voice to sound like a male or a female or just to sound different. You have the option to hear the voice before you make the call so that you can fine tune the voice according to your wishes.
Use Any Caller ID with Bluff My Call
This option gives you the freedom to disguise your Caller ID. It can be very useful when, for example, your kids are not answering their cell phones when they see the home number calling, or you just want to make a call but you don't want the other person to know your number.
Call Recording
This option is nothing new but this app enables one great feature. In some countries call recording is illegal without the knowledge of the other person. This app will play a short recording at the beginning of the call stating that this conversation will be recorded. You can turn off this option in countries that don't have this law so that the call will be recorded without the knowledge of the other person.
Call Notes Option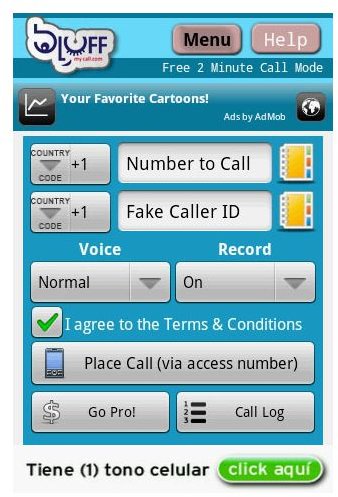 This is a new option that will enable you to record a note online at the end of every call. The Call Notes option can be very useful when you have something very important to remember after the call you've just made, all you have to do is press the # key to disconnect from the other party and end the call, then you'll be asked to record a message which will be saved online. This option is independent from call recording; this means you can record and save Call Notes without recording the conversation.
Straight To Voice Mail Feature
The Straight to Voice Mail feature is a very useful option that enables you to leave a message on someone's cell phone voicemail without the phone ringing. This can be very helpful when you want to leave a message but don't want to engage in a conversation with that person.
Phone Book
The Bluff My Call iPhone app has a Phone Book feature that can upload all of your contacts to your account. You can then personalize each contact separately with all of the available options and features.
Bluff My Call Mobile
The Bluff My Call Mobile app integrates with the phonebook of your cell phone offering a lot of extra features such as the ability to email your recordings to anyone straight from your mobile phone. This option of the Bluff My Call iPhone App can only be used on jailbroken iPhones with Cydia installed.
The Verdict
This app can be very useful in some situations. It has a free and a paid version. The free version plays a commercial at the beginning of every call and the call duration is limited. The paid version is the way to go. You can download and buy the Bluff My Call iPhone App by following this link.