iPhone App Review: Trivago Hotel Search Review
Trivago Hotel Search iPhone App Review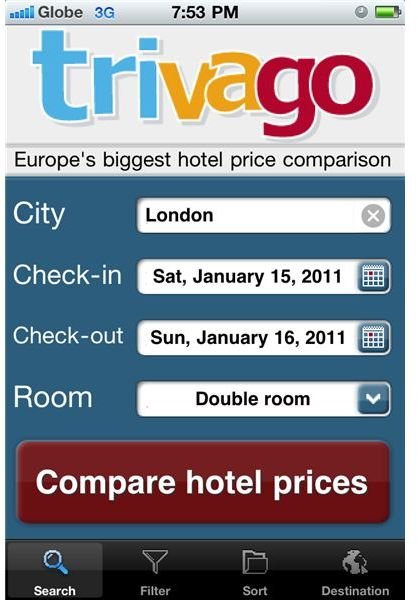 With more than 400,000 hotels located on more than 100 different websites, the Trivago iPhone app is definitely Europe's biggest and most comprehensive hotel price comparison tool. And now that it is available for the iPhone, you'll have at your own perusal a very useful app that will let you quickly and easily find the best rate for hotels scattered all over Europe.
The Trivago iPhone app is also very easy to use. All you have to do is to fire up the app, select your ideal hotel and then it will display a list of where you can book that hotel - and book it at the best price.
In other words, the Trivago iPhone app basically eliminates the hassle of doing several searches on the web just to find the best hotel booking deals. Trivago integrates all major hotel booking sites covering Europe. It covers sites such as expedia, booking.com, HRS and more. Trivago makes it easier for you to accomplish this otherwise daunting task.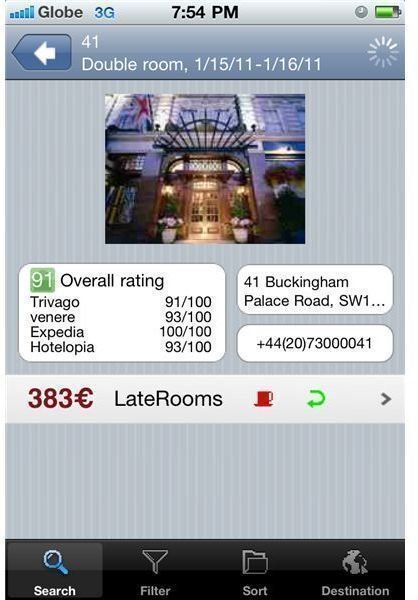 A nice feature of the app which I'm pretty sure you'll find nifty is the radius search functionality. It basically filters your search to a specific area in Europe and gives you results on where you can book hotels for the best price. If you want to view the cheapest hotel deals in a particular city or sort them by the overall rating, the app will also let you do that.
When browsing for hotel bookings, the app also lets you read overviews of hotel reviews posted on major hotel review sites.This basically ensures that you're selecting only the best hotels as rated by those who've actually booked with them.
Trivago also lets you specify certain conditions or requirements based on your preferefences when searching for the best-priced hotel. After filtering the hotel list, the app will then direct you to where you can book the hotel at the best price.
Our Verdict
Obviously, we are recommending the Trivago iPhone app. If you're from other countries or regions and you are planning to go on a vacation or business trip to Europe, you will certainly find this iPhone app very useful. It's not only a time-saver but a money-saver as well. While you can use other web booking sites, like we said, Trivago's approach in integrating these hotel booking sites is definitely better than searching those sites individually. The only issue we have with Trivago is that the prices quoted for hotel entries are in Euros. So, if you're coming from another region, say the U.S., you better be ready with your currency conversion tool. Hopefully, the app's developers will have this feature in future updates of the app.
Trivago iPhone app is currently available as a free download from the App Store.