Full Brainwave iPhone App Review
Review of the Brainwave iPhone App
If you are suffering from anxiety, sleep disorder or having trouble focusing and concentrating then read this article to find out how you can use your iPhone to get rid of these problems. This app is available for iPhone, iPod Touch and iPad.
How does the Brainwave iPhone App Work?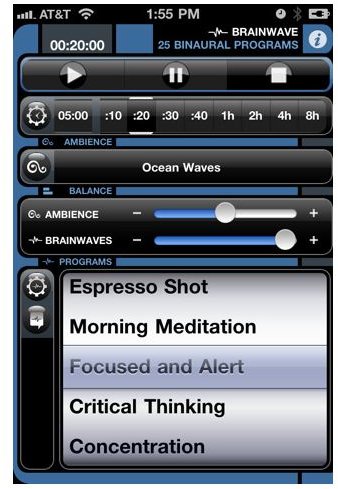 Brainwave sends two different audible frequencies to each ear. The brain processes these sounds and perceives them as a low frequency tone matching human brainwaves. Different tones are connected to different brain states. So all you have to do when you are having trouble sleeping for example, is to play a sound that will relax you and make you sleepy. To achieve this result the app uses a process called Progressive Brainwave Entertainment.
The Progressive Brainwave Entertainment process uses Composite Binaural Frequencies that stimulate multiple responses in the brain and create a combination of experiences, such as relaxation and concentration.
The Brainwave app uses Progressive Brainwave programs that use progressions of brainwaves, with specific time duration, sufficient to stimulate your brainwaves with the binaural tones. This maximizes the effect of the brainwave entertainment experience.
Features of the Brainwave iPhone App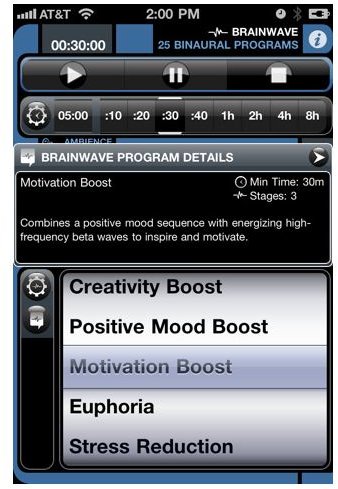 This app features 25 scientifically engineered programs that will help you relax, fall asleep, calm down, focus, concentrate and so on.
The advances binaural sequences will help you achieve your desired state of mind. It will go through a series of binaural frequencies in order to achieve the desired effect.
This app also features an adjustable Brainwave signal intensity, independent from the background ambient nature sounds. The background ambient sounds include Ocean Waves, Rain, Thunder and Pink Noise which are specially picked as a common type of noise used with binaural tones. This ensures better brain acceptance of the binaural frequencies played over these background sounds.
You can also choose different program durations (10 min, 20 min, 30 min, 40 min, 1 hour, 2 hours, 3 hours, 4 hours, 8 hours), and you also have the option to create custom durations settings.
Here are some of the Brainwave programs:
Morning Coffee
Espresso Shot
Morning Meditation
Focused and Alert
Critical Thinking
Concentration
Memory Boost
Problem Solving
Confidence Boost
Pre-Exercise Energy
Creativity Boost
Positive Mood Boost
Euphoria
Stress Reduction
Anger Relief
Calm Reflection
Reduce Anxiety
Deep Relaxation
Meditation
Lucid Dreaming
Sleep, Vivid Dreams
Power Nap
Deep Sleep
This app is supported by both 1st and 2nd generation iPhone, iPad and iPod Touch devices. Versions 4.0, 3.2, 3.1.3 and 3.1.2 IOS are supported.
The Verdict
The science behind this app is real and it has been used in different applications and treatments. This app brings a new and creative way to use this technology and help people. The price of $1.99 is well worth the gain from this app and I highly recommend it. You can buy and download the Brainwave App from iTunes.