PBS iPhone App Description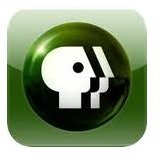 The PBS iPhone app offers previews of the television station's upcoming shows, local program schedules and even streams some program episodes directly to your phone. In addition, the app features links to other PBS websites and apps; including a link to donate money to PBS online. The app is currently offered for free, so the cost is beyond reasonable.
The PBS iPhone app features primarily previews and streaming for the station's adult programming. Children's programming is addressed in separate PBS iPhone apps, such as Sprout Player and PBS KIDS Photo Factory.
Functionality (4 out of 5)
The PBS iPhone app functions seamlessly, switching quickly between features and loading videos in seconds. The app was designed for easy navigation and was simple to understand the first time the app was opened. In addition, once your location is saved the app localizes all schedules and preview air dates. Overall, the functionality of the PBS iPhone app is good. The only pitfall is that the app is obviously designed for loyal PBS viewers that are familiar with regular scheduled shows. The app serves as more of a TV guide for the station than anything else.
Features (3 out of 5)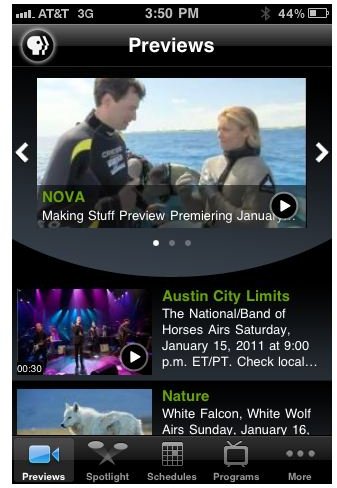 The features that are available on the PBS app are of great quality, but those features are limited. The PBS iPhone app is lacking a bit for such an established TV station. The majority of the app is made up of the television station's schedule and previews of upcoming shows and episodes. There are very few full episodes to stream to your device. The app's features are a good start, but definitely need some beefing up.
Video Quality (5 out of 5)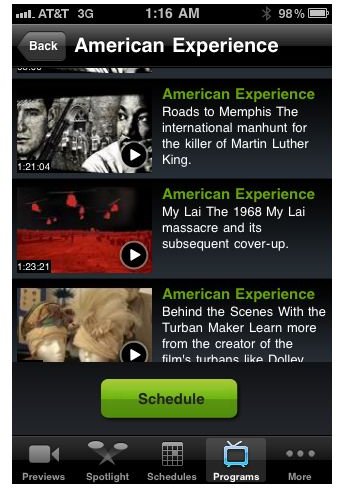 The one thing that the PBS iPhone app receives a top rating in is its video quality. The clarity of the videos, both previews and streaming episodes, is excellent. The videos don't take eons to load and the picture is as clear as if you were watching it on TV. There are commercials, but most that I had to watch were for other PBS programs. PBS doesn't have much that they could improve on in terms of video quality.
Overall Rating for PBS iPhone App (4 out of 5)
While the features are lacking, the PBS iPhone app makes up for it in functionality and video quality. This may not be a great app for people who don't watch PBS, but it was a great concept to pull in viewers to the TV station by interesting them with previews and streamed episodes. This app is a gold mine resource for avid fans of PBS programming, and will give them an insight into what they have to look forward to. The app was clearly designed for their established viewers; and the PBS iPhone app delivers to that audience. Add to that the FREE price tag and the app is definitely worth the download.