A Pure Lounge iPhone App Review
What is Internet Radio?
Internet radio (also known as net radio, web radio, e-radio and streaming radio) is an audio service transmitted using the Internet. Music streaming on the Internet is also known as webcasting since it is not transmitted broadly through wireless means.
There is a difference between broadcast radio and Internet radio. There is a small time lag with regular radio because it broadcasts through the air, but Internet radio has a lag time anywhere from 2.5 to 10 seconds, depending on the server. However, Internet radio is a streamed operation. It does not involve file downloading. You simply log on to the particular site and down it comes.
Who can run an Internet radio station? Anybody with the content, software, and hardware can run an Internet radio station. So most Internet radio stations are existing radio stations that simulcast their regular programming. However, being separate allows variation if the station would like to change things a bit during the course of the day.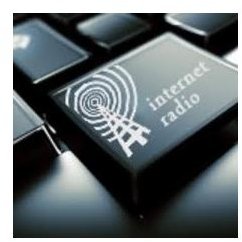 Image: https://www.tech-faq.com/internet-radio.html
See Also: What is Internet Radio?
Pure Lounge iPhone App
The Lounge is a one-stop app that gives you access to a wide variety of Internet radio content. This app enables iPhone, iPod Touch and iPad users to listen to not only Internet radio, but also podcasts. You can also listen to content and a library of unique Pure sounds. For listeners that want to get a wide variety of radio listening flavors, the app offers local, national, and global radio content ranging from the US to current events located in far-flung countries. You can pick up music, news, and webcasts.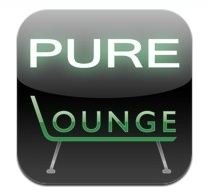 .
The Pure Lounge app taps into your existing iPhone account so there's no need to set up your favourite stations, or search for your podcasts. The app will let you access your menus from all web-connected Pure radios.You can easily search for a new station. You can filter with station name, language, genre and sound quality. Lounge also supports background listening too, so you can access your other apps while still listening to the Lounge radio. There is also FlowSongs support (FlowSongs is a service which allows you to identify tracks on any radio station and buy them in a high-quality MP3 format directly from any PURE radio that has Flow technology).
Specs
The app category is Entertainment. It was released on Nov 18, 2010. The current version is 1.0.200. The size of the app is 14.8 MB. Currently the only language available for the app is English. The seller is Imagination Technologies. Cost is $4.99/£2.99.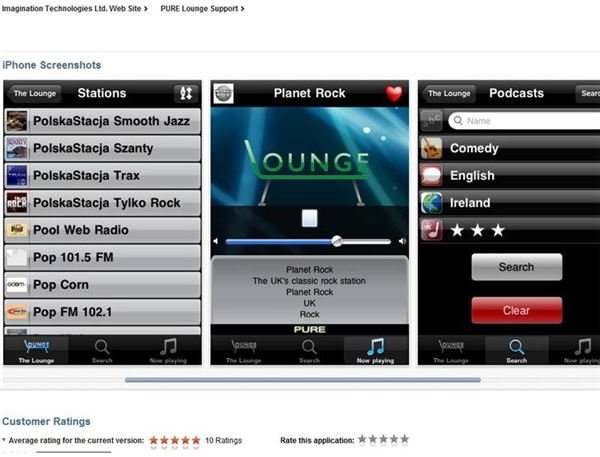 The requirements for the app: It is compatible with iPhone, iPod Touch, and iPad. It requires iOS version 3.1.3 or later. Customer ratings are very high on this app, with an average of 5 stars.

See Also: Free Internet Radio Apps: The iPhone and Internet Radio
Sources
Imagination Image: https://imgtec.com/