Review of Trillian for iPhone
Concept (5 out of 5)
Trillian for iPhone is a multi-protocol iPhone messenger app which supports all the major networks. In addition to major network support,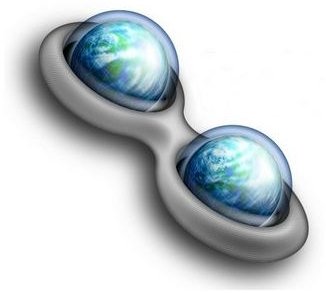 it is jam-packed with features, in fact, you will forget you are not on your PC.
Trillian does the same thing on the PC, since the Trillian IM application launched on the PC long before the iPhone version appeared. Many individuals probably assume the iPhone version is just a watered down iPhone messenger with the name Trillian slapped on it (as is true with many iPhone apps that mock PC apps), however, this is not the case this time.
The developers of Trillian have done a splendid job on the iPhone version, as they have on the PC version, the concept of bringing an all in one, fully functional messenger app to the iPhone is nothing short of excellent.
Functionality (5 out of 5)
It may have become apparent early in the first paragraph, but we really like Trillian for the iPhone. To begin explaining why, all we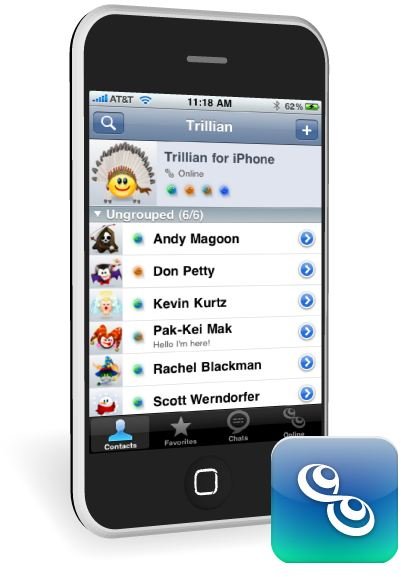 really have to do is talk about the functionality of this app.
The Trillian iPhone app allows you to connect to your favorite IM networks but it does not just allow basic connectivity, it allows full usage of the IM networks exactly as you would expect a PC based app to do. Upon launching the app you are given the option to log in with your Trillian username or create a new one. This is particularly useful for people like us, who already have Trillian on their PC. Simply entering our username allowed Trillian to connect to all of our pre-configured IM networks and even load the buddy icon.
For users who do not have Trillian, making a new account is easy and just takes a few steps. Logging in is as simple as a tap and there is even an option to sign in as invisible. Once inside Trillian, the buddy list is displayed in a nice and easy to view format. There is a button in the top corner to add buddies, and four tabs at the bottom: Contacts, Favorites, Chats and Accounts.
You can have as many chats open at a time as you would like, you can control your status, set away messages and even sign in and out of certain accounts. Inside of a chat it is possible to send a photo from your iPhone, send a buzz, view a user's information and close the chat. Emoticons are precluded of course and chatting is as simple as it has always been on the iOS.
Overall, Trillian for the iPhone covers all the major functions you would expect of an iPhone messenger app and then some. The only features we really noticed missing from the desktop version are subtle things such as plugin support, which is really not possible on the iPhone at this time due to other limitations of the iOS (technically Apple's rules).
Conclusion (5 out of 5)
Trillian for the iPhone has a lot to offer, or did we not mention that? The IM functions work beautifully, the integration of existing Trillian accounts is flawless and this app really will keep you connected wherever you go.
One of the neatest features is the Push support. Notifications come through almost 100% of the time and they display the name of the person messaging you and the message. This is incredibly handy since sometimes you may end up closing the Trillian app and still want to receive messages.
Trillian can be purchased for $4.99 from the iTunes App Store. (Download Link)