Hashable iPhone App Review
What is it?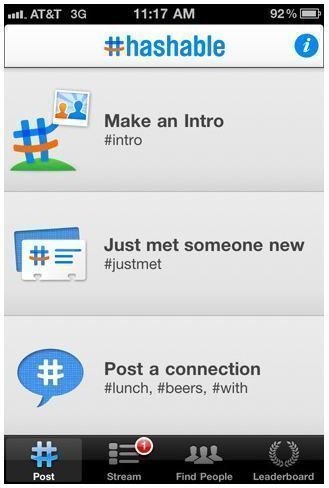 Hashable was created in June 2010 by Michael Yavonditte, the founder of Tracked.com, and his team for the sole purpose of making introductions in his line of work easier and so debuted as an invitation only app but now anyone can get it by downloading the free Hashable iPhone app from iTunes.
In short, Hashable allows you to share and keep track of who you are meeting, introducing and what you are doing. If you're a fan of Facebook and Twitter you'll get the hang of this pretty quickly. The three main uses are:
Introducing people (#intro), by selecting two people from your phone book, Hashable will tweet or email the recipients with a link to the other's profile page and via Twitter you can select their Twitter handles.
Meeting someone new (#justmet), by using the email address of Twitter name Hashable will add them them to your network and send them your contact information.
Making a social or business connection, by posting your connection, #had lunch with, #meeting with, it will show this on your network.
Extra Features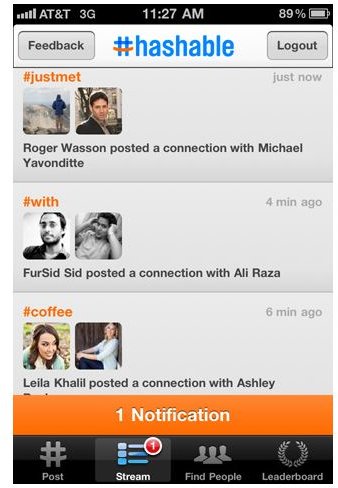 On making connections, Hashable will record all of the information of the other other person, their virtual business card, so should you need it you'll have all of their information at your fingertips.
Another feature designed to make this a hit is the leaderboards for your network and area, clearly an input from the original business purpose, the more connections and introductions you make, the more Hashability you get, and so the higher you are placed on the leaderboard.
Usability
Joining Hashable is easy, simply register and enter your Twitter information and enter a few details and it's done in a minute or so and you have access to all of your Twitter contacts. There are clear menus for each feature and the interface is clean and uncluttered and once you've mastered the basics there isn't much left.
To make an introduction select the relevant contact, it'll ask you to do the same for the next, up to three, and tap 'Tweet Intro'. There is an email address option as well.
For #justmet you just need to enter their email or Twitter and to post a connection you just type or select from the list which tag you want, for example #coffee, and the update will appear on your stream and be viewable immediately.
Your address book will feature all of your Twitter contacts as well as your Hashable network and show as many or as few details as the individual user allows.
Conclusion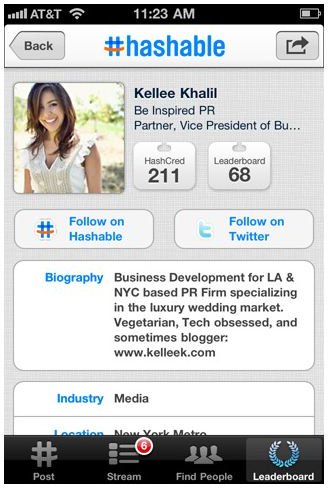 Hashable could easily have been the love child of Linkedin and Twitter, with elements of Facebook, and it is clear to see how these predecessors have influenced its creation. Overall, we've seen many of these features before, a new take on an older concept. However, this app takes the features we need from different social networking and puts them all in one place, from a business perspective it is a great concept and reviews so far have been very positive, the idea is sound so it's only a matter of time to see if it will catch on.