FreeTV - Unlimited iPhone App Review
What does it do?

FreeTV - Unlimited, available in a US version for $0.99 or UK version for £0.59, promises to give you over 20 channels of free TV, viewable at any time on your iPhone over a Wi-Fi connection only. Channels available are mainly popular and cater for a range of TV tastes; ABC, Animal Planet, Comedy Central, CNN, Democracy Now, Digg, Discovery, Engadget, ESPN, Fox, Game Trailers, GeekBrief, HBO, HD Nation, MacBreak, Movie Trailers, MSNBC, National Geographic, NBC, PBS, Sesame Street, Slate V, Sky News, and Tekzilla.
Sounds very promising!
Disclaimer
Before downloading the app you will need to read and understand the disclaimer;
"This software is designed to help you find podcasts, videos and information that resides on sites not owned or controlled by JJACR Apps. When you select a video you will be linked to the original webserver on which the content appears."
As expected, such an inexpensive app is bound to be the middleman, but as I'd rather have easy access to TV shows I may have missed or something to watch whilst in an internet cafe, rather than spend my time searching for the content myself, I was happy to get this handy little app to do the legwork for me.
Downloaded, What Now?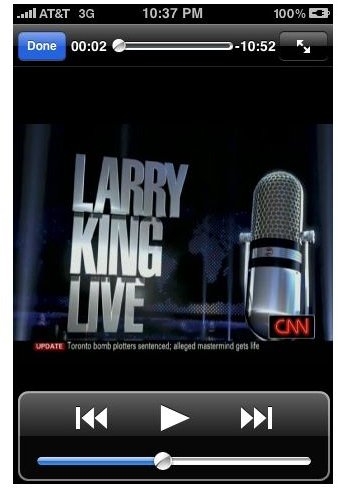 On launching the app, you're met with a simple clear menu listing all of the channels. On entering a channel you're then given a further option, for example HBO you're given only one option of 'HBO Standup' and on entering that the options for viewing are disappointingly limited. However, always one for trying, I attempted to watch a Ricky Gervais interview which brought me to the video page with the error 'Your device does not support Flash.'
You can imagine my fustration when I was then given the option to download the free HBO app.
To vent my fustration I then figured I'd be best to go to the comedy channel, at which there were the options of 'Whats New' with 3 episodes listed or 'Stand Up Comedy'. Stand up it is, the Hot Picks seemed like a good choice. Until I realised it was a 30 second clip promoting the actual 'Hot Picks' which was not available to view.
But Did It Get Better?
Unfortunately not. On going through each channel I was met with an option or two with mainly small clips of shows, many seeming quite random and in no particular order, and more frustrating still, none of them my favourite as advertised.
Conclusion
It was hard not to be excited at the prospect of being able to view different shows and having access to so many different channels, and it was a huge let down when the promises in the advertising were not met. Although the design of the app itself is clean and clear, the menu easy to navigate and the picture quality is excellent in most cases, where viewable, the app itself in terms of choice and length of clips was just not worth the time or money, however little.
For TV apps worth your time and money see our Best TV Apps For iPhone.