8mm Vintage Camera App Review
Features and Functionality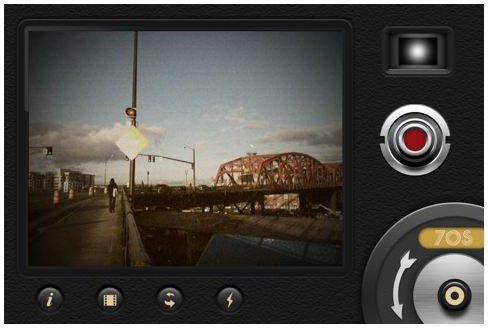 The 8mm Vintage Camera app can be simply described as a cool iPhone app that lets you apply vintage camera effects to videos you've captured using your iPhone's camera. It doesn't let you shoot 8mm films but rather convert videos you've captured into 8mm films to make them appear older and retro-looking. If you find that cool, well wait until you've used the app and see how well it converts your video into an old format, worn-out video output.
When we say old-looking video, we mean with dust and scratches, retro colors, complete with a flickering effect, light leaks, frame jitters and all. What's good about this app is that you can apply all of those features via a simple swapping of a finger. Yes, definitely no complicated commands and controls. Just choose the effect you want to apply on your video and let the app take care of the rest.
The 8mm Vintage Camera app for iPhone features a viewfinder that allows you to see exactly what you are recording. It currently has 5 bundled lenses including - clear, flickering frame, spotlight, light leak, and color flickering. You'd also have five options for the type of films you want to use for your video - 5 grainy, discolored, dusted, and aged films from 1920, 1970s, Sakura, ZPro and Siena. If you want to add a real 8mm projector effects, there is also a jitter button to do this.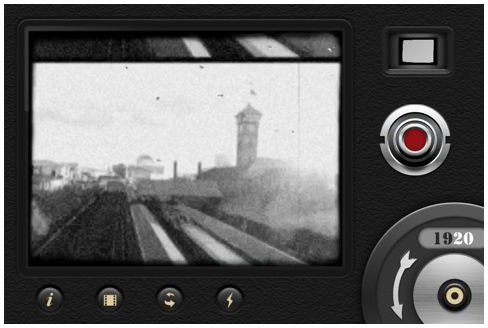 Another thing that you'll appreciate about this app and we would like to commend the developer for this, is the fact that the app has a very easy-to-use interface. The app lets you swap lenses and films at any time, trigger frame jitter while recording, turn on/off the flash of your iPhone's camera, switch between front and back cameras if you're using iPhone 4, tap to focus and adjust exposure.
For sharing options, the app lets you save your video to your iPhone's video collection, upload it to YouTube or share it via e-mail. Your recipient will get the video as a file attachment in Quicktime movie format. You can also transfer your videos to your computer via iTunes File Sharing.
Our Verdict
For a first take on this type of app for iPhone, we can't help but commend the developer. The app is robust, performs well and does what it's supposed to do. If you've always wanted to go capture videos and have them produced in the old way - this app has got you covered. While it may be a robust, well-featured app, it certainly has some room for improvement. The sharing feature for one lacks direct upload to Facebook and other video sharing sites. If the developers would take a cue from Instagram, they might also want to integrate the video sharing feature with Foursquare. By then it would become a killer iPhone app. It is available from the iTunes App Store for $1.99.
References