Best iPhone Apps for Maps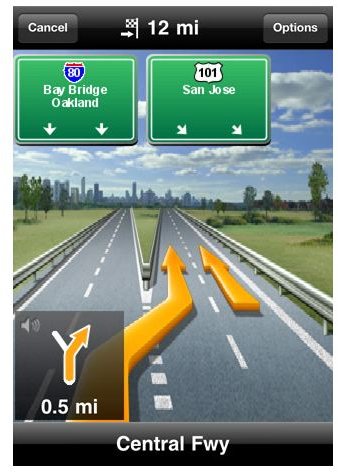 NAVIGON Mobile Navigator North America
With its clean display, intuitive interface and fully functional mobile navigation system it is easy to see why NAVIGON Mobile Navigator North America has been in the top downloaded lists for months. With its price tag of $44.99 if you are a regular PND user in North America this is for you. It supports multi tasking, works with your iPhone address book, has turn by turn route lists, take me home function and provides everything you need and expect and more to get out there and to your destination without any doubts.
A leading solution for those who use PNDs frequently and want everything included with frequent updates.
Tom Tom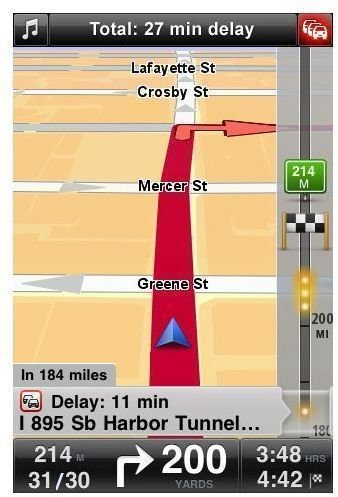 Tom Tom have been one of the leading PND companies for years and of course they have made their mark on the GPS app front with Tom Tom US & Canada $49.99 and Tom Tom UK and Ireland £39.99. With a leading brand this app doesn't disappoint! If you are familiar with the Tom Tom PND, the app version is very similar with all the known features such as its user friendliness, turn-by-turn navigation, celebrity voices, favourites, recent destinations, landscape/portrait view, night view, regular map updates and more.
One big plus point in its favour is because the map is stored on your iPhone, if your signal cuts out under a bridge you will not lose your route. One of the best iPhone apps for maps from a leading brand.
MotionX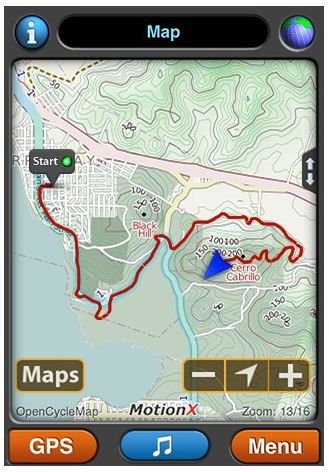 MotionX has been heralded as one of the top iPhone apps available for GPS outdoor users (Walking, Hiking, Running, Cycling, Biking, Sailing, Skiing, Flying, Racing, Geocaching), keeping it on the best seller app lists with over 4 million users, and with its price tag of only $2.99 I was a bit sceptical of its actual performance but I was happily surprised. The features include a friendly interface, it's easy to navigate, offline map access, worldwide maps, save up to 303 wayward points for your favourite locations, post them directly to Facebook or Twitter, access and control your iPod music directly, record time, distance, speed and max speed and much more.
This app is definitely a must have for outdoor use, it is worth much more than the price suggests just now so I wouldn't be surprised if the price did go up in the future so get it while you can!
Google Maps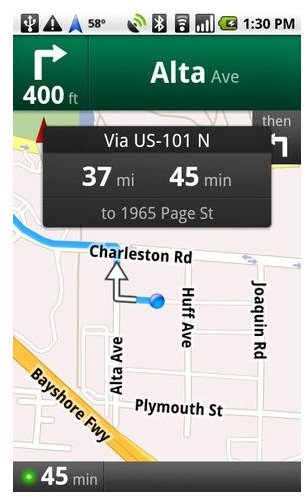 For those not wanting to spend on GPS but still seeking time saving directions Google Maps from the Google Mobile App is ideal and completely free. It gives you turn-by-turn GPS navigation with voice guidance for driving or walking directions, has offline capability for maps used most often and has an option to give directions as a list. As you'd expect from any map you can search for locations, businesses and so on and even view them in street view. It is easy to navigate and delivers the desired results.
Overall this is an ideal solution without breaking the bank and easily one of the best iPhone apps for maps.
City Maps 2go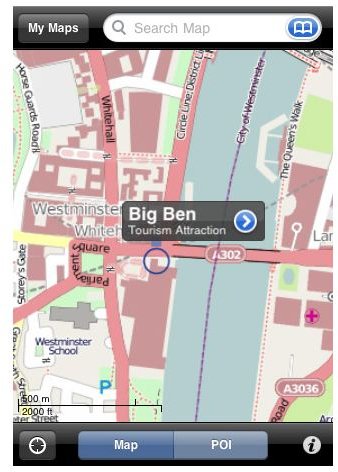 City Maps 2go currently available for half price at $0.99 is a great offline solution. These maps are actual files on your iPhone, so you don't need to worry about losing coverage, being in another country unable to use your SIM or any other situation where you have no use of network or Wi-Fi. You have unlimited downloads and to give you an idea of how much is available to you, the current international area maps in addition to 400 US and 200 UK maps include; Paris, Berlin, Hong Kong, Bejing, Munich, Rome, Barcelona, Singapore, Cologne, Bangkok, Vienna, Hamburg, Amsterdam, Venice, Milan, Shanghai, Copenhagen, Zurich, Dusseldorf, Cairo, Toronto, Buenos Aires, Oslo, Frankfurt, Dubai, Istanbul, Florence, Lisbon, Prague, Tokyo, Brussels, Sydney, Manila, Seoul, Miami and Madrid, with the number growing almost daily.
To get the maps in the first instance you will need Wi-Fi to download them, but they are easy to read, ideal for offline use and well worth the mere cents they cost, and as the maps are on your iPhone already you can use the search facility offline.
A top maps app for those on the go where coverage may be an issue.
A few points to remember
As with any GPS device with iPhone apps for maps it is always a good idea to have an in car charger connected if possible due to the fact that running a GPS app will eat into your battery, especially for longer journeys. Also rather than have your iPhone handheld or balanced up on the dashboard it is extremely important to have it mounted up on the window for safety reasons, and I doubt you need reminding, but always be responsible on the roads.
You may also be interested in some of the best iPhone car cradles.