Guide to iPhone Torrent Apps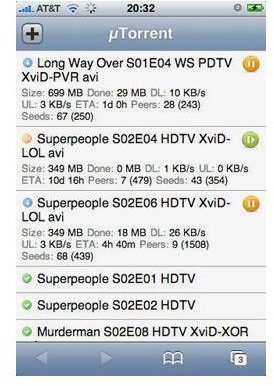 Mobile Torrents Are Possible
While it may not seem like asking for much, you have probably already discovered from other sources that there are not many BitTorrent apps on the iPhone.
Many developers have submitted native BitTorrent apps to the App Store only to have them rejected on the basis that they could be used for copyright infringement, these include apps such as Drivetrain which never made it. While Apple has changed their policy greatly over the past year and become less strict, they still refuse to accept BitTorrent apps in the App Store.
This leaves users with a few options for BitTorrent on the iPhone. Web Interfaces can be installed on your computer or laptop and allow you to use the iPhone to control the torrents on your desktop or laptop. Native Control Apps are the same as web interfaces except they are downloaded on your iPhone and not accessed through mobile Safari.
Finally, there are native apps. Albeit there are not many, a jailbroken iPhone does have a few options for native iPhone BitTorrent apps. In order to take advantage of these, the iPhone does need to be jailbroken and they will need to be downloaded via Cydia. You can Find Out How To Use Cydia and learn about Jailbreaking the iPhone to make the process easier.
Web Interfaces
Web Interfaces for popular torrent apps allow a way to control the torrent applications from the iPhone, without the need to install any
software. This is a good option for users who are not comfortable with jailbreaking their iDevices and simply desire to have access to the progress of their torrents and for basic control over their torrents.
This method does not download torrents directly to the iPhone and it requires a machine running a torrent application to be turned on and connected to the internet. One of the most popular torrent programs which features a Web UI is called uTorrent. Many users are familiar with uTorrent and currently use it on their PC's.
Getting the web interface running consists of first installing uTorrent. Next visit the official uTorrent forums for the Web UI files and to get the Web UI up and running. The forums are located here. Many other major torrent clients have web interfaces. Once the web interface is running, simply navigate to your computer's IP address in mobile Safari and you will be connected.
There are several other web interfaces available for additional popular torrent clients. Many users will find that web interfaces are often integrated into the options tab of their torrent clients, while on other torrent clients it may be necessary to download an additional plugin or software app to make the web interface function.
Native Control Apps
Native Control Apps are a type of iPhone torrent app which allows a user to control a torrent client on the PC, similar to Web Interfaces.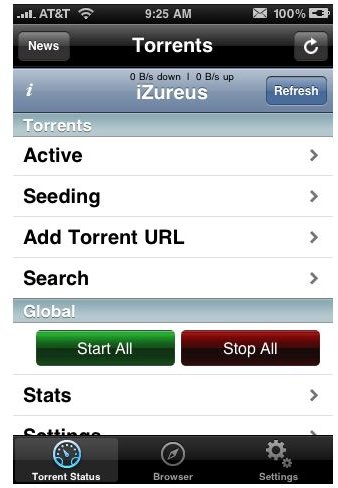 The difference is that these iPhone torrent apps (Native Control) are downloaded just like a regular app and stored on the iPhone. Launching them will connect the user to their machine and allow them control of their torrents. These apps do not require the use of mobile Safari like Web Interfaces.
There are two major native control apps currently available in Cydia and they require the iPhone to be jailbroken. The apps are available to control two major torrent clients known as Transmission and uTorrent.
TorrentTrak
This iPhone torrent app allows for control of the Transmission torrent Web UI via the iPhone. Simply download and install TorrentTrak from Cydia and it is capable of controlling your properly configured Transmission client. The application provides a far more fluid and more natural experience than the Web UI does running in Safari.
uTorrent
The uTorrent iPhone torrent app is similar to the above TorrentTrak except it allows control of the uTorrent app with a properly configured Web UI. This app is also a lot better than the Safari based Web UI and it has just as many options. Setting up the Web UI on uTorrent is a little more complicated but the community is very helpful and the results are rewarding. This iPhone torrent app can also be obtained from Cydia with a simple search for "torrent".
Full iPhone BitTorrent Clients
A full iPhone torrent app can be very hard to find. The first problem is the fact that Apple will not approve these in the App Store. This means that many developers do not attempt to produce these apps. Some developers have released iPhone torrent apps on Cydia, however, these require a jailbroken iPhone. There is currently no solution for a non-jailbroken iPhone.
Enhanced CTorrent
Enhanced CTorrent is the first iPhone torrent app and probably the last one regular users will want to download. While this app was a great achievement and marks the entry into torrent apps on the iPhone, it is entirely command line based. This means there is no graphical user interface and it makes it incredibly hard to use.
Torrentula
This is a graphical front-end for the Enhanced CTorrent app. Simply search for Torrentula in Cydia and hit Install. It will automatically install the Enhanced CTorrent app and this graphical interface. The application works quite well, although it is still an early project and could use some improvement.
Torrent Downloader Safari Plugin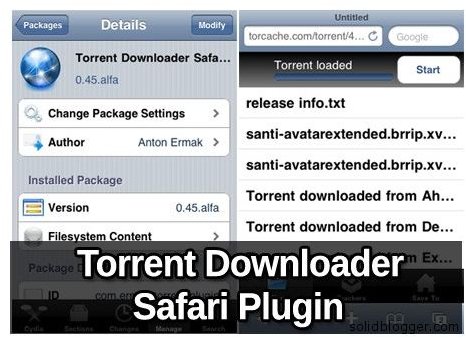 Yet another iPhone torrent app which is even easier to use. Simply download and install this app and then restart your iPhone.
Navigate to a website with a torrent, click download and watch as the torrent begins to download. The app is integrated into the Safari web browser and is incredibly simple to use. Torrent Downloader Safari Plugin may very well represent the future of mobile torrent apps.