Jailbreak and Unlock iPhone 4.2.1 Firmware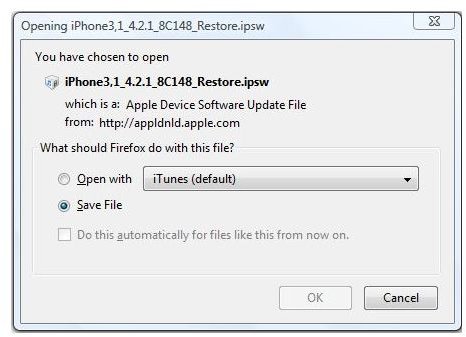 In order to jailbreak and unlock an iPhone 3G, 3GS or iPhone 4 with 4.2.1 firmware, you need to be aware of the following information.
If you are using the newer version of iPhone 3GS, then you need to use untethered jailbreak, as this is the only available solution.
This new unlock process updates the existing baseband to a newer version, i.e. 06.15 baseband. Once you have updated your iPhone to this newer version, you can't downgrade to an older version. However, you may restore your iPhone back to its state, if you have saved its SHSH. To save your iPhone's SHSH now, check the References section at the end of the article.
In future, if any critical updates arrive, then you also need to update to the newer baseband version i.e. 06.15. So, there is no harm in updating it now, unless and until, you never want to update your iPhone.
To jailbreak and unlock a 4.2.1 firmware based iPhone 3G, 3GS and iPhone 4, continue reading below.
Step by Step Instructions
Step 1: Download the RedSnow application and the latest 4.2.1 firmware for your iPhone. Check the References section for links.
When downloading the firmware file, please make sure you don't extract the file in any manner or open it with iTunes. Just save the file. Below is a screenshot taken when saving the file with Firefox.
Extract the RedSnow application file to a folder.
Step 2: If you have the latest 4.2.1 firmware installed on your iPhone, you can skip this step and move to step 3, otherwise**,** continue reading below.
Launch iTunes on your computer. Connect your iPhone and once your iPhone is detected by iTunes, cancel any messages that tell you to update the firmware.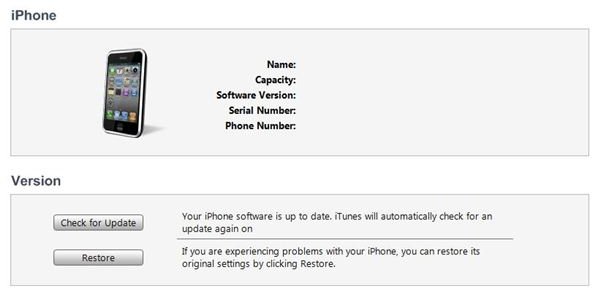 Select your iPhone, press the Shift key and then click on Restore iPhone. This will allow you to manually select the firmware file. Browse to the folder where you have downloaded the respective firmware file. Select the file and press Choose button.
The update process might take a few minutes.
Once your iPhone is restored to the latest firmware, you can now move to the next step that involves jailbreaking your iPhone using RedSnow.
Step 3: Double click the redSnow.exe file to launch the redsnow application. Once the application starts, you will see a message window asking you to select the desired firmware file.
Press Browse and select the respective firmware file for your iPhone that you downloaded earlier.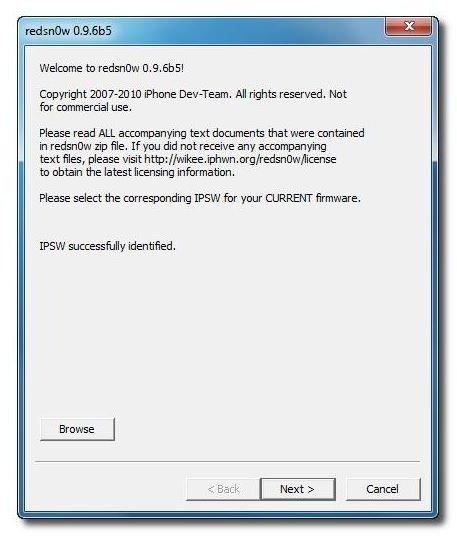 Step 4: You will now be asked, if your iPhone is a newer version or an older version. If your iPhone 3GS is a newer version then click 'Yes', otherwise, click 'No'.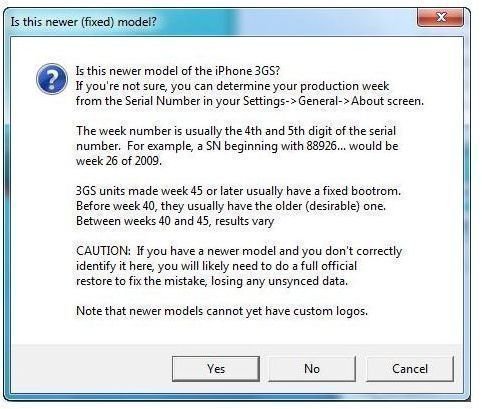 Step 5: Your iPhone firmware will now be verified by RedSnow. After the firmware has been verified successfully, you can click the Next button.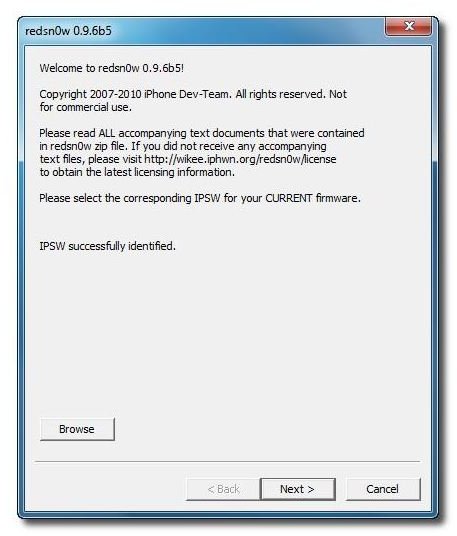 Step 6: RedSnow will now start preparing the data in order to jailbreak your iPhone 3G, 3GS or iPhone 4.

Step 7: After a while, you will be provided with different options to choose. Make sure Install Cydia option is selected. If you choose to install your custom logo, then tick the box titled Custom Boot Logo and Custom Recovery Logo. Finally, click Next button to continue.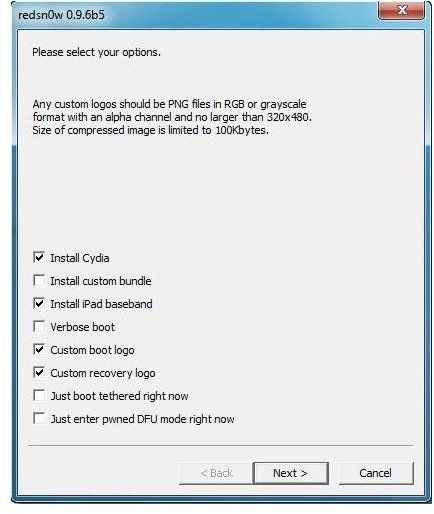 Step 8: A window will appear asking you to confirm, whether you want to upgrade your iPhone baseband to iPad baseband 06.15. If you choose No, you will not be able to unlock your iPhone. Press the Yes button to continue with the jailbreak process. When you click 'Yes', the iPad Baseband option will automatically be selected.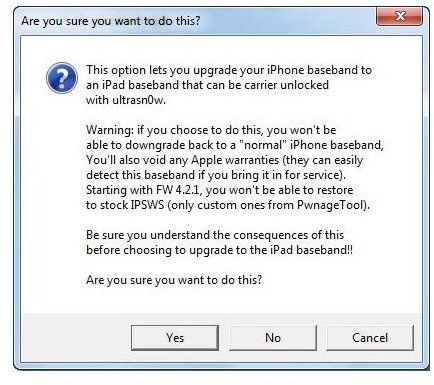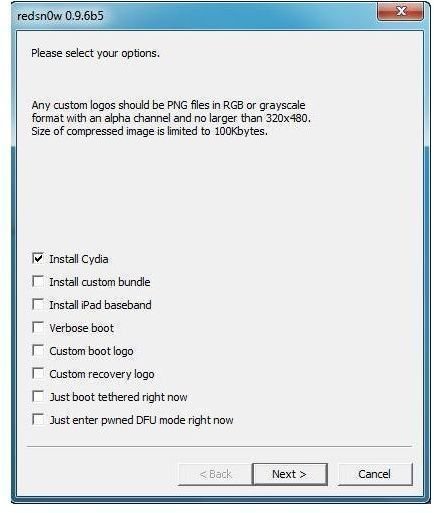 Step 9: Connect your iPhone to the computer and turn it Off. When done, click the Next button.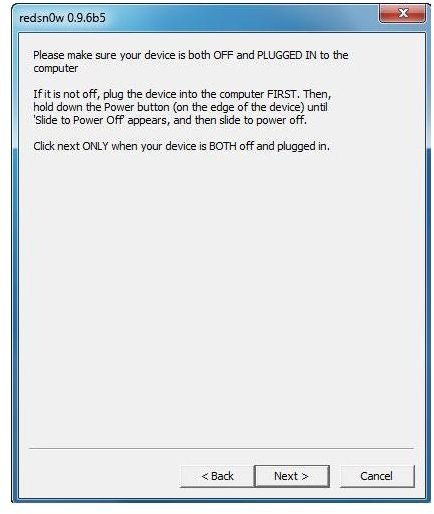 Step 10: You will now be asked to put your iPhone in DFU mode. You can also read the tutorial below to learn how.
How to put your iPhone in DFU Mode
Step 11: After the iPhone is in DFU mode, RedSnow will automatically start downloading the iPad baseband on to your iPhone. After the process is finished, your iPhone will reboot itself.
Step 12: Sit back and relax while your iPhone completes the jailbreak process. After the process is over, your iPhone will reboot and you will notice Cydia on your iPhone SpringBoard, which you can then use to unlock your iPhone.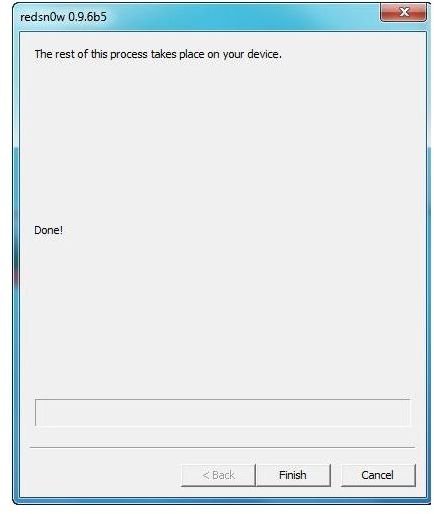 To unlock your jailbroken iPhone 3G, 3GS or iPhone 4, read this tutorial:
How to Unlock iPhone 3G, 3GS or iPhone 4 on 4.2.1 firmware
Unlocking iPhone 4 Unsupported Basebands
In order to unlock iPhone 4 with unsupported basebands like 01.59.00, 02.10.04, 03.10.01, 4.10 or 4.10.1, you need to use Gevey Turbo Sim. To purchase one, visit this link: Gevey SIM PRO.
Note
A newer jailbreak guide that does the same thing is available here. Please refer to this guide.
Jailbreak and Unlock iPhone 3G, 3GS and iPhone 4 on Firmware 4.2.1 with GreenPoison
For any problems related to RedSnow, you can always refer to this tutorial: iPhone Jailbreaking Problems
References
To save iPhone's SHSH, read this article. https://www.brighthub.com/mobile/iphone/articles/106011.aspx
RedSnow 0.9.6b6 : https://www.digitalwikipedia.com/redsn0w%200.9.6.zip
Firmware 4.2.1
iPhone 3G : https://appldnld.apple.com/iPhone4/061-9853.20101122.Vfgt5/iPhone1,2_4.2.1_8C148_Restore.ipsw
iPhone 3GS : https://appldnld.apple.com/iPhone4/061-9895.20101122.Cdew2/iPhone2,1_4.2.1_8C148a_Restore.ipsw
iPhone 4 : https://appldnld.apple.com/iPhone4/061-9858.20101122.Er456/iPhone3,1_4.2.1_8C148_Restore.ipsw
Image Credits
Cydia Application screenshots by Cydia
Apple iPhone screenshots by Apple
RedSnow application screenshots by RedSnow/DEV Team