Best Ten Free Personal Finance Apps for iPhone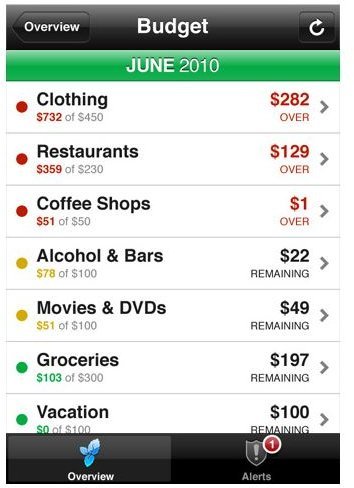 Mint.com
Mint.com is no stranger to personal finance. This secure, free personal finance app is definitely one of the best apps when it comes to managing finances. It downloads and categorizes your transactions every day, keeping you up to date with budgets, savings, loans, property management and more. All you need to do is sign up to the website of the same name and it syncs with the site each time you launch the app.
Also, if you lose your iPhone all you need to do is deactivate the app via the website to prevent unauthorised access to your financial details.
Daily Finance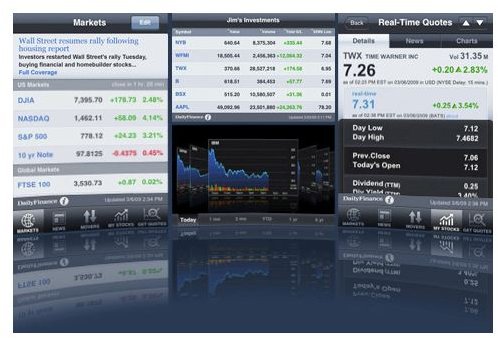 Daily Finance is exactly as the name suggests, for those active in the financial market it is marketed as the only free iPhone app with real time quotes, tracking for multiple portfolios, customizable news from 3,000+ sources and professional-grade charting.
Allowing you to track up to 25 different watchlists and portfolios this is an excellent free finance app for the iPhone directed at the stock market.
Argosity
Another great free iPhone app for personal finance is Argosity, once you enter your financial information it allows you to see how you can come up with a budget and then helps you to stick to it. You enter your expenditure and give it a 'tag' so you know which category you spent it in, plus to make things easier it uses GPS so if you've added a tag from that place in another entry, it will auto populate saving time.
Another plus is that it allows multiple users so if you have a joint account it's much easier to manage!
Jumsoft
Jumsoft is a great free, easy to use personal finance app for iPhone which is ideal for those just beginning to keep track of their finances. It is designed to meet the accounting needs of not only home users, but small businesses, clubs, associations and the self-employed. With different categories it has all the tools needed for budgeting and a great interface which is extremely easy to navigate. A great benefit is the report capability which gives you clear information on your spending and where you are with your budgeting.
Balance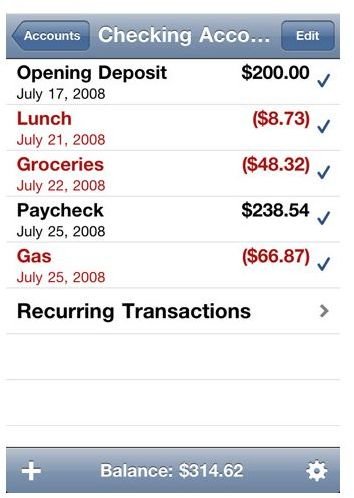 Another easy to use iPhone finance app is Balance, which sums this app up perfectly. It works as a checking account to keep you up to date on your balance so with each transaction you make it will adjust the balance accordingly, keeping a list of all debits and credits. You can import the details to your PC and password protection is also available.
Billminder Lite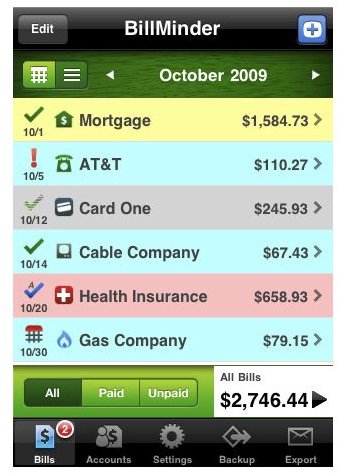 The lite version of Billminder is a great personal finance tool, its main purpose being to act as a reminder to pay bills with push notifications. The only significant difference between the paid and free version is that you're limited to 5 accounts, for example mortgage, utilities, phone, etc. so for those with few bills this would be ideal.
Ace Budget Lite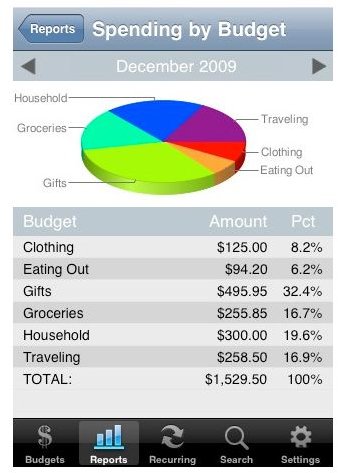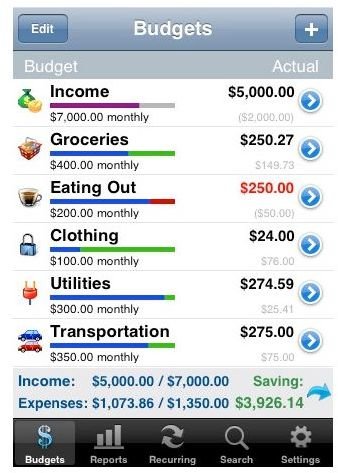 Ace Budget Lite is very feature rich, aside from the general budget, history and reports it offers transaction schedulers/reminders, quick entry list, auto complete, passcode, export capability and more. And the only thing that differentiates the lite and full version is that you're limited to 20 transactions. Overall very easy to use and has everything you need to manage your money.
Yahoo! Finance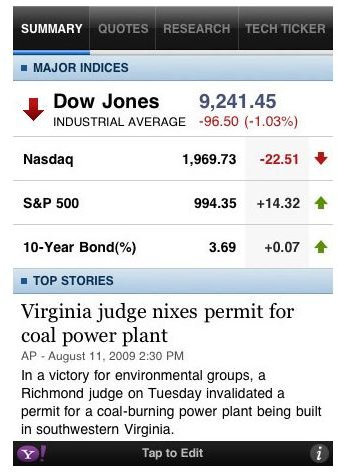 Another great free financial iPhone app in terms of the stock market is Yahoo! Finance. With many topics Yahoo! is a clear leader and this is no different. Including customized financial news and market conditions, your stocks, detailed statistics, track industries and commodities, import Yahoo! portfolio and much more, the Yahoo! Finance app is perfect for those who have vested interests in stocks and shares.
PayPal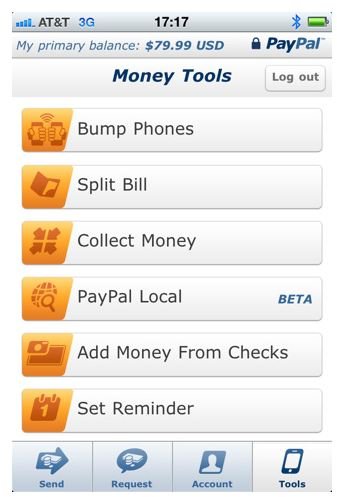 Its not widely known that PayPal has a secure iPhone app, and with an increasing number of people using PayPal on an almost daily basis this free financial app allows you to send money, egifts, donate to charity, Bump to exchange contacts and money and manage your account from your phone. You can also view transactions, history and access your account at any time from anywhere.
iPhone Banking
The majority of local banks have an iPhone app facility to manage your accounts at varying levels. Here is a list of secure, banking apps which will make your life easier by allowing you to access your accounts from your iPhone.
Mobile Banking (BofA) - Check accounts, pay bills and transfer funds, find close banking locations and ATMs.
American Express - Pay your bill, check transactions and manage multiple accounts.
Citi Mobile (sm) - Manage your bank and credit card accounts.
U.S. Bank Mobile Wallet - Check accounts & reward information, pay bills and transfer funds.
National Bank ibank - Check balances, view history up to a month ago, make payments and transfer funds.
RBS - Check balances, view last 6 transaction statements, set up text alerts and top up a PAYG mobile.
Natwest - Check balances, view last 6 transaction statements, set up text alerts and top up a PAYG mobile.
Lloyds Banking Group - Search and apply for Business Technology, Corporate Markets, Finance, General Management and HR Graduate Programmes.
This post is part of the series: Best Free iPhone Apps
Find out about some of the greatest free iPhone apps available to get more out of your smartphone. Enjoy all sorts of new functionality and fun without spending anything as this series highlights the best iPhone apps you can get for free.