Best iPhone Apps: Free Apps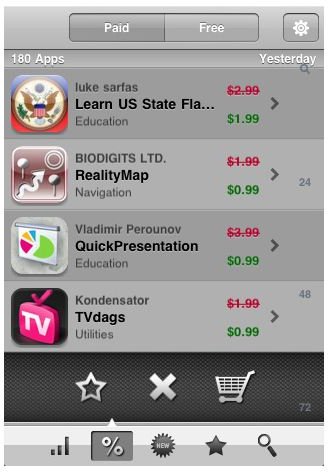 Pandora Box
Pandora Box by AppZap is the gateway to Narnia. Have you ever heard about one person getting an app for free, whereas you paid for it? Chances are they got it here. Pandora Box is the most advanced App Store tracker out there, so whenever there's a sale on an app or it becomes free for an introductory offer or limited time only, you'll be notified of it.
A simple browse of this app once every other day will have your iPhone brimming with app bargains at reduced prices or indeed free. There's also a featured list of most popular now and new apps, as well as a favourite list on there and a search facility. This is a totally awesome must have free iPhone app. Simply select your chosen app and you'll be redirected to its place in the App Store.
Google Mobile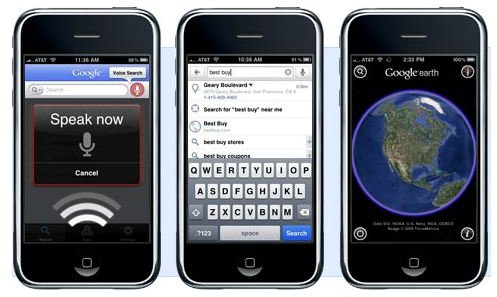 Everyone reading this knows what Google is, but not everyone is aware of the cool features that come with the Google Mobile app. You can search using your voice, pictures or location, so if you're looking for a local take out or mechanic, anything, it can sort results accordingly.
On opening Google Mobile you have the advanced search facility and along the bottom an option for apps which gives you the standard Google options such as Gmail, Calendar, Talk, Tasks, News, Earth, Maps, YouTube and many more. You can customise the look to an extent in settings as well. If you're a Google guy or girl you'll love this free iPhone app.
Flixster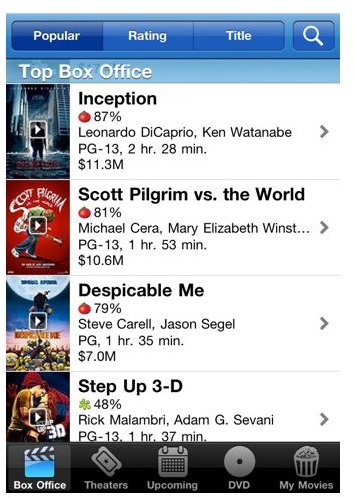 Flixster is the first choice among free iPhone apps for any cinema lover. With an easy to navigate interface it uses your location to see which releases are out in your area and shows you user and critic ratings to help you decide. If that wasn't enough you can view trailers of films showing and upcoming releases. Then, again using your location it will sort through up to date information on show times and cinemas, show you on a map if you're still unsure and when you've seen your chosen movie you can then rate it for others.
Shazam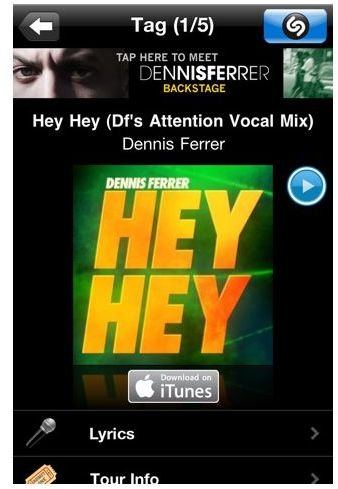 Have you ever been listening to a song and for the life of you, you just cannot remember who it's by? Or argued until you're blue in the face knowing you're right and it's definitely Nora Jones, and not Katie Melua? Now you can definitively have all of your song arguments settled with Shazam. This amazing little iPhone app's free and it listens to the song and not only tells you the name and artist of said song but also gives you the option to download it from iTunes. Love it.
Check out our full Shazam review.
ZumoCast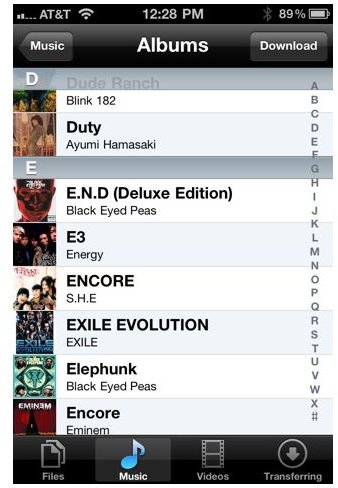 Everyone likes getting iPhone apps for free. ZumoCast is the best music PC to iPhone streaming service you can get for your iPhone and it's free! Simply put, you download the app, enter your email and password, do the same on your PC/laptop and in a matter of mere minutes you can stream any file directly to your iPhone including songs, video, apps, ringtones or books.
No need to fill your iPhone space with music files, once you have this free iPhone app you won't know how you lived without it!
Pandora Radio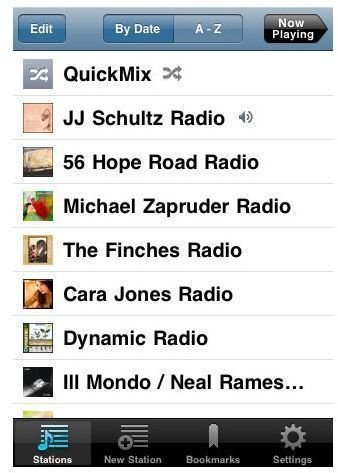 Available in the US only Pandora Radio is your own personalised radio station. Simply pick your favourite artist, song or composer from the user friendly interface and Pandora Radio will stream their tracks via your iPhone, along with similar tracks.
What is also great about this app is that it allows you to rate the songs so it knows what you like and don't for the next time. Create multiple radio stations and free up space for more apps by removing your music from your iPhone, you won't need it with this great free iPhone app!
Red Lazer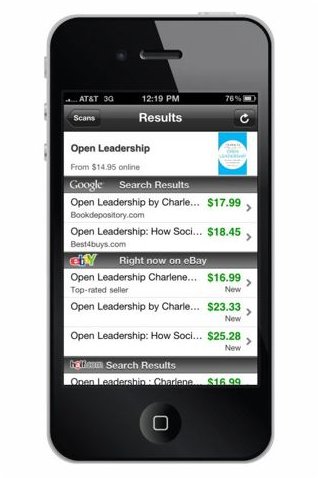 If you're tired of comparing costs and searching for the best price for your purchases you need Red Lazer. Simply scan in the barcode via your built in iPhone camera or type in the barcode and Red Lazer will search results from local and online sources from thousands of retailers giving you the best prices. This is undoubtedly one of the best free iPhone apps.
Nobody should ever go shopping unless armed with this genius app!
Gorillacam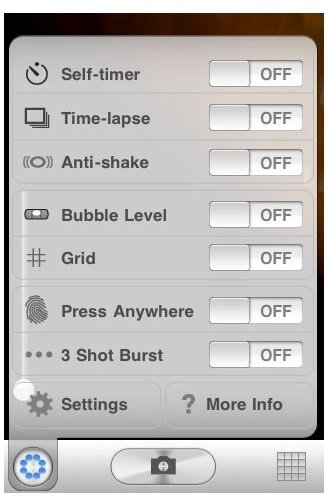 Now we know that the iPhone camera isn't its best selling feature, but now you can vastly improve your iPhone picture taking experience with Gorillacam. My main gripe with the iPhone camera is blurring. With Gorillacam that's gone with the anti-shake feature, and there's all the settings which should really come as standard on any mobile phone but for one reason or another just don't.
Don't be fooled into thinking you'll have a professional worthy camera on your hands, it's not magic, just a mini miracle working, free iPhone camera app which you just have to have.
Check out the best iPhone camera apps for more ideas.
Around Me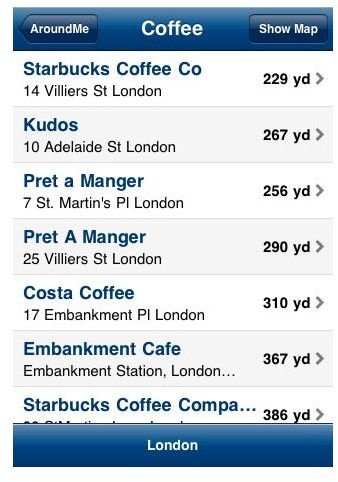 Around Me is an extremely useful app when you need it. Using your location it allows you to find the nearest supermarket, coffee house, cinema, restaurant, taxi, bank, petrol station, bar, hospital, theatre and hotel, pinpointing distance on a map, how to get there and even allowing you to email it to a friend.
It is the ideal app to have around you in many situations, and again it's free!
0870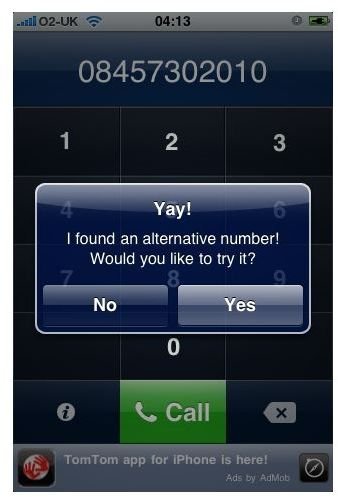 Specific to the UK, the 0870 app has had its fair share of controversy, however, the only haters tend to be the companies who are missing out on the average 35p per minute charge for premium numbers. This app takes 0870, 0845 and 0800 numbers which carry a heavy charge on mobile phones and finds an alternative 01 or 02 number which is included in your free call time.
Worksnug Pro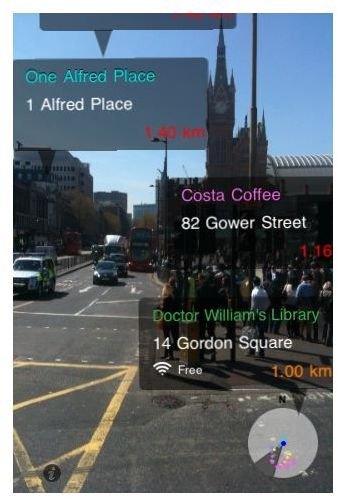 Worksnug Pro is definitely an up and coming essential for anyone who uses Wi-Fi for any reason. It uses an augmented reality tool that connects mobile workers to the nearest and best places to get free Wi-Fi. Currently including San Francisco, New York, London, Berlin, Madrid, Barcelona, Stockholm, Copenhagen, Paris, Brussels, Amsterdam, Rotterdam, The Hague, Leiden and Brighton, the developers are looking for people to sign up to WorkSnug.com and review their favourite places so they can include them in future updates.
All Picture Credit goes to the developers of each app.
This post is part of the series: Best Free iPhone Apps
Find out about some of the greatest free iPhone apps available to get more out of your smartphone. Enjoy all sorts of new functionality and fun without spending anything as this series highlights the best iPhone apps you can get for free.