Troubleshooting: iPhone White Screen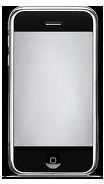 What causes it?
No one knows specifically what causes the iPhone white screen, but it happens to a multitude of iPhone users and there are various theories out there as to why the white screen of death appears. It is most common on 3G phones using firmwear 2.x, to which the solution is to simply upgrade your firmware and voila - working iPhone. However, it's not always that simple, many people are reporting now that they're listening to music, looking at pictures, playing a game, just about anything when their screen freezes and on frantically pressing the home button they're met with the iPhone white screen.
I doubt we'll ever know the true cause covering every case but here is a troubleshooting guide for the iPhone white screen to ensure you get your working iPhone back as easily as possible.
Basic Troubleshooting
Restart your iPhone
The best troubleshooting advice for any issue with the iPhone is to restart your iPhone by holding down the sleep/wake button until you see the red scroll bar, slide across to power off and switch back on.
Run Down the Battery
If you do not see the power off scrollbar the next best thing is to leave it until your battery dies and charge and restart.
Reset your iPhone
Resetting your iPhone takes a minute or so and is a typical solution for a range of iPhone functionality problems.
Hold down Sleep / Wake button and home button simultaneously for 10 seconds or until you see the Apple logo.
Your iPhone should remain at the Apple boot logo for 60 seconds or more.
Once the Apple Logo disappears your screen should be back to normal with all of the applications you had on before this happened.
Restore your iPhone
If none of the above resolved your iPhone white screen problem the next step is to restore your iPhone from backup. Take the following steps if you need to do this.
Open iTunes, if you are prompted to update, do this first.
Connect your iPhone.
Select your iPhone from the options to the left.
Select Summary.
Select Restore.
You will get the option to back up, if you have recently done this there is no need to do it again.
You'll be asked if you're sure you want to restore, select restore option again. The time it takes varies for each user so leave this as long as it takes.
Once the iPhone is restored your iPhone will display the Apple logo followed by a message 'connect to iTunes' so keep this connected until you see the message 'iPhone is activated'.
Once you have completed these steps you will be able to select your backup and install your applications, ringtones etc.
If none of these solutions work
If none of the above solutions fixed the white screen on your iPhone then it will likely be something you cannot fix and you will need to contact Apple support with a view to sending it away to be repaired.