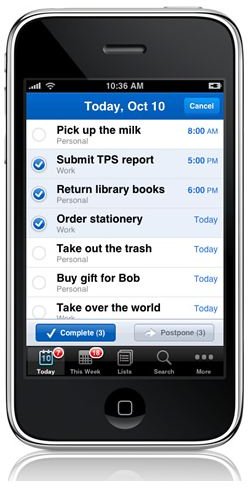 Remember the Milk
With launching taking a matter of seconds and easy navigation whilst being comprehensive, Remember The Milk has rave reviews from the vast majority of its users and it's easy to see why it is one of the most popular PIMs for iPhone. One of its winning features is that it is totally flexible by synchronizing to a web server so you don't need to sync from PC to iPhone. This feature packed PIM app sees tasks located nearby and allows you to update and complete tasks on the go.
A relatively new feature, so confident in its abilities the makers have decided to give a free 15 days trial, rather than jump straight in at the $25 per year price. Remember the Milk is for sure at the top of its league for Personal Information Managers and perfect for students, busy parents and business people alike.
Pocket Informant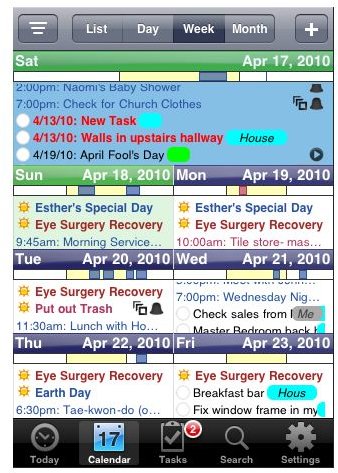 Another feature rich PIM is Pocket Informant available for $12.99. Syncing with Google, Toodledo and iOS Calendar, it may not have all of the features of its Windows equivalent but is all the same a comprehensive organiser for family and work life. You will need a free subscription to Toodledo to sync tasks and it will let you bring together your appointments and tasks in one place in its daily, weekly or monthly tasks view.
Smart Time Plus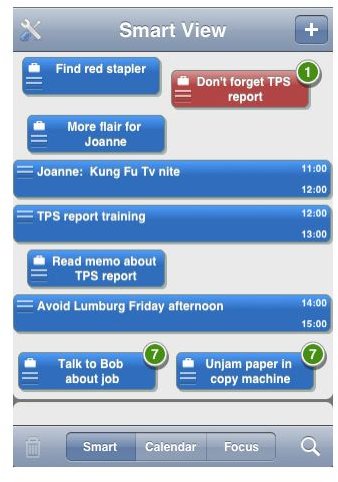 Integrating contact lists, calendar and GTD based task lists into an easy to view day Smart Time is very intuitive. It looks at your appointments and finds time for your tasks, and with a swoop of your finger you can move tasks or events, to a different hour or different day and see how that day is rearranged.
Costing $7.99 after the free trial is up, this is worth every penny. What makes this PIM different is the ability to add the task and any additional information you like and get to it when you can as a due date is optional and not mandatory. This is a real contender for best PIM for iPhone.
Mobile Me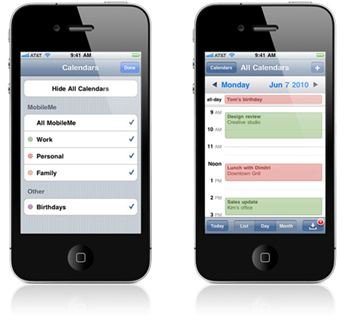 Mobile Me with its free 60 day trial has been popular for a long time. You're able to sync your mail, contacts and calendar across iPhone, iPad, Mac, PC and web. You need to sign up for a Mobile Me account in order to do this without docking.
Perhaps a rather steep $99.99 per year but this app does have a lot of extras, including 'Find My iPhone' which gives its approximate location, puts a message on your iPhone and plays music to enable you to find it, erase your phone and even set a passcode, all remotely. The gallery and iDisk are also worth a look if you're wanting serious extras.
DoBot ToDos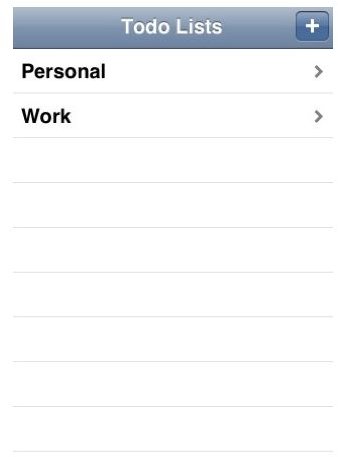 We wanted to include a free iPhone PIM and it had to be the easy to use DoBot ToDos with its clean Apple interface, letting you create your own list categories, separating home and work, creating shopping lists and generally ready to use how you need to. You can create items, assign due dates and priority, with the only con being that there is no synchronization. This is perfect for a novice user or those needing some structure without the hassle of syncing every device you own.
Best PIM for iPhone
All these PIMs for iPhone are worth a look, we'll leave it up to you to decide which is best for your needs. We hope this has been helpful for you, and if there are any PIMs for iPhone you think deserve to be in our Top List let us know by leaving a comment.
References
iTunes App Store, https://itunes.apple.com/gb/genre/ios/id36?mt=8
Image Credit - Images courtesy of the respective app developer.
This post is part of the series: iPhone Calendar & Organizer Apps
Looking for Calender Apps for the iPhone or other iPhone organizer apps to help you keep track of appointments, schedules, and to do lists? If so, this series has all you need on organizer apps for the iPhone.