Best iPhone Ringtone Software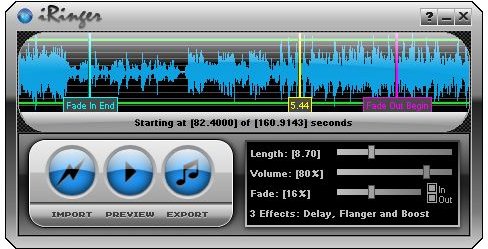 iRinger for Windows
iRinger iPhone ringtone software is extremely easy to use. Once installed and opened you follow three simple steps and you're done. There is no need to jailbreak as iRinger also exports the ringtone to iTunes.
Import, Preview and Export. There are some great features with iRinger. For example during the Preview section you can totally customise the length of the clip, set where it comes in and ends and set the volume percentage, which comes in useful for fade in/fade out options. When you export there's an option to export straight to iTunes and choose a loop which is the pause before the ringtone starts again.
This is a great iPhone ringtone maker, allowing you total control in the editing process and making it as easy as you can get.
Garage Band for Mac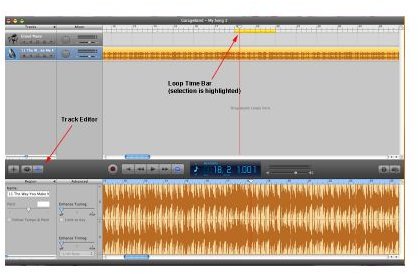 Garage Band for Mac looks a little more complicated but is the leading ringtone maker for the increasing number of Mac users. On opening the application you just need to drag and drop the song you wish to convert (non DRM) and you can edit using the Track Editor. The main features include the ability to loop and the choice of where you'd like the ringtone to begin and end. Once you save your ringtone it will also export it to iTunes.
ImTOO for Windows and Mac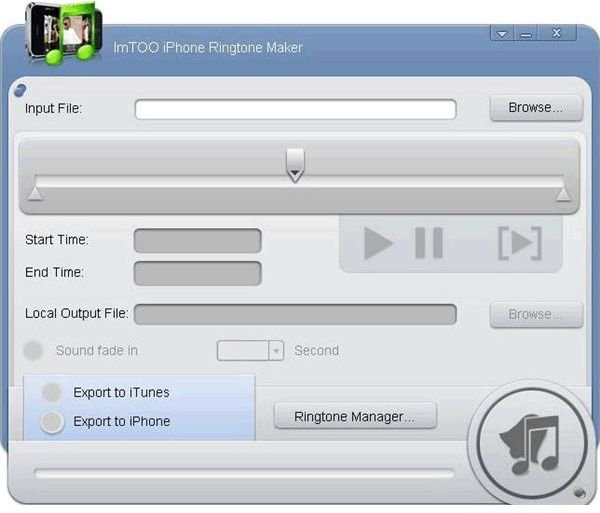 Another iPhone ringtone maker and converter is ImTOO which is available in a Windows and Mac version. Offering features which allow you to create ringtones from almost any format including video clips and the ability to trim video/audio clips, this is simple and user friendly. Because the full version comes at a cost of $14.95 we opted for the free trial which was easy to navigate and produced good results.
ToneShop Ringtone Maker for Windows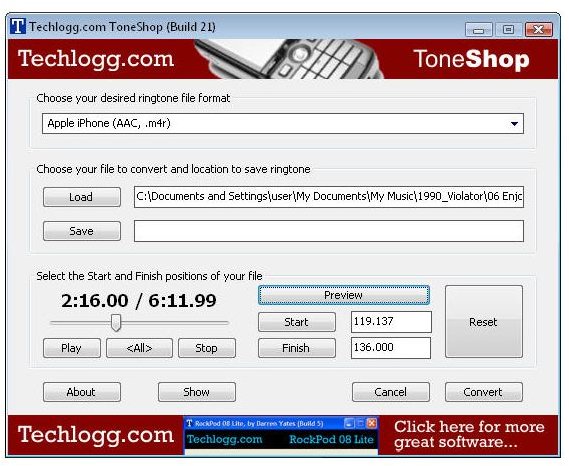 ToneShop Ringtone Maker is another great piece of iPhone ringtone software. With its simple navigation and varied accepted file formats it is perfect for the novice ringtone maker.
Again you choose the music file, it gives the basic features of trimming, accepting various file formats and it exports your ringtone to iTunes.
Make your own Ringtone with iTunes
The basis of all of the ringtone makers out there is the same, take a snippet of the song you want as your ringtone, create a copy and change the file name. Here is a simple step by step to make your own ringtone via iTunes.
Open iTunes and select the song you want to set as your ringtone.
Note down the start and end times you want as the actual ringtone. It must be no longer than 30 seconds.
Right click the song you wish to convert and select 'get info'. From here click 'options' and fill in the start and end times in the forename boxes and select 'ok'.
Right click your modified song and select 'Convert to ACC' for your ringtone to be created. This will appear as a copy in your music list.
This is where we change the file format to create the ringtone. Normally under 'my music' and 'iTunes' is a separate iTunes folder where you will find your newly converted song. The file extension will be .M4A. Rename the file extension to .M4R and save a copy to your desktop.
Last step is to open iTunes > Add file to Library and sync with iPhone.
If there's any iPhone ringtone software you think does a great job leave a comment and tell us about it.