Best iPhone Apps for Security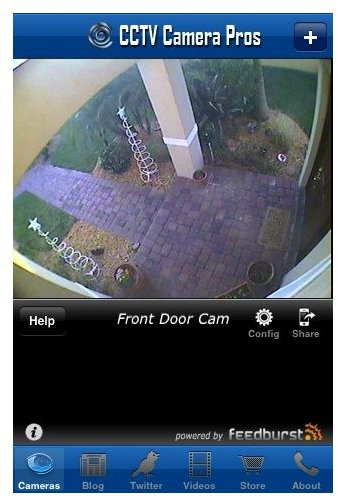 Mobile Security Device
While you may have never thought of the iPhone for security related tasks, there are tons of iPhone apps for security. They have a great range of functions and include tasks such as viewing security cameras to remote port scanning a machine on the same network as the iPhone.
The iPhone is capable of many great network administration and security tasks using the wide range of iPhone security apps which are openly available. The majority of these apps carry out simple security functions such as port scanning, IP scanning, determining mac addresses, service detection and even vulnerability checks.
Read on to find out how you can turn your iPhone into a handheld security device with just a few iPhone security apps.
iCamViewer: CCTV Camera, IP Camera, & Security Camera Live Cam Viewer
Having access to security feeds from surveillance cameras is essential to maintain proper surveillance. It is not always possible to be looking at a monitor or screen in your office, which is exactly where iPhone apps for security such as this one come in handy.
iCamViewer allows you to view feeds from IP and CCTV cameras directly on your iPhone. You can view up to 8 feeds at a time. The interface is simple to use, the app works great and the general IP and CCTV support means it is possible to view hundreds of types of cameras, directly on your iPhone. This can be a truly great tool for homes, businesses and just about any other location.
Another great thing about iCamViewer is that it can be downloaded for free. (iTunes Link)
iPortScan Pro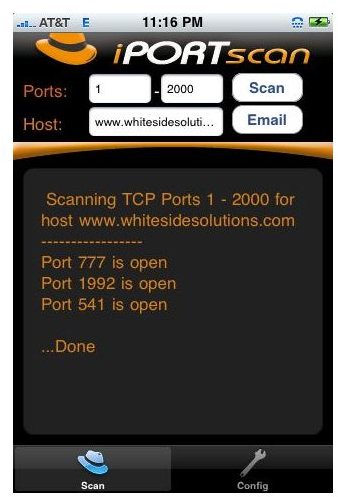 Port scanning utilities are incredibly useful for system administrations, which is why it should come as no surprise that a port scanner is one of the best iPhone apps for security.
iPortScan Pro works exactly like a port scanner on a computer. The application does not feature a network discovery tool, however, that will not be a problem for the experienced system administrator. Simply fire up this security app, enter an IP address and a port range and scan. The application will detect which ports are open and help to reveal security holes and running services.
iPortScan Pro can be purchased for $1.99. (iTunes Link)
Snap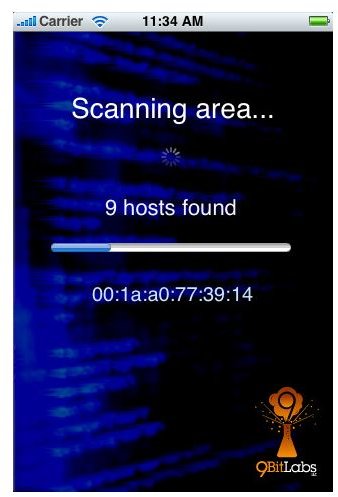 Yet another of the incredibly useful iPhone security apps, Snap. If you are wondering what Snap stands for, it stands for Simple Network Area Prober.
The name essentially explains what the application does. Snap will scan the local area for Wireless networks, detect the number of each devices connect to a network and then proceed to search for open ports and services on the devices. It provides a wealth of information about each device including MAC addresses, product manufacturers and if a device is pingable. Some users may find it limited, but for many it will prove to be one of the most useful iPhone apps for security.
Snap can be purchased for $1.99. (iTunes Link)
Other Types of Security
If you find this article searching for iPhone apps for security to protect your iPhone, you may be disappointed. This article focuses on apps which can be used for security oriented purposes on the iPhone. If you did find this article searching for the aforementioned types of iPhone apps for security, take a look at these suggestions: