Transfer Photos from Computer to iPhone or iPod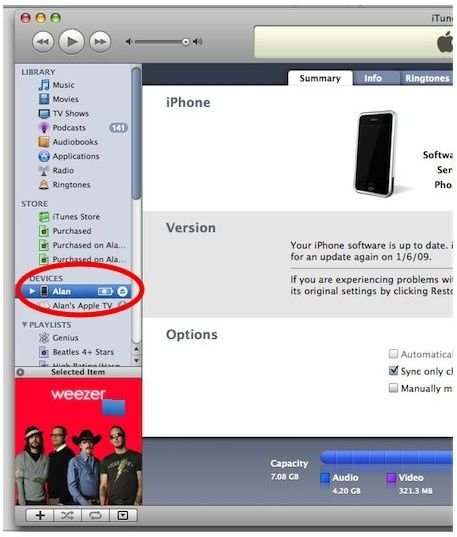 From Computer to iPhone
Once of the major downfalls of most Apple devices is the usability which iTunes hinders. Sometimes simple tasks such as transfering a few photos and videos is made into a chore given the roundabout way iTunes makes us sync our devices.
Drag-and-drop would be great but unfortunately we have to work with what we're given.
Below I have the two quickest ways to sync multiple photos to your device in an organized manner either in bulk (via folders) or just one or two at a time.
Via iTunes
Step 1.
Connect your iPhone, iPod or iPad to your computer and launch iTunes if it does not launch automatically upon connection to the device. You device should be displayed in the sidebar to the left as seen in the screenshot below. If not, then it is not connected properly.
Step 2.
Select your device and on the resulting screen select the 'Photos' tab along the top. At the top of the screen under this tab you will see a box which can be checked which will enable photos to be synced to your device. Check this box.

Step 3.
Select the source of your photos. So for example if they're located in iPhoto (for Mac Users) select that or if they're in My Pictures choose that option from the drop down menu as you can see below.

Once you have selected the folder, all the photos in that folder will be transferred to your device the next time you run a sync if you don't run one right away. If you wish to only transfer a few photos you can create sub folders and only choose to sync that folder. This method will sync photos to your device in an organized manner so they're ready to go as soon as you use your device instead of all being individual files and slob-ishly organized.
Via Email
While using iTunes for transferring a lot of photos is the best way to go, sometimes we might only want to transfer one photo. Going through the process above, especially when we're in a rush can be a real pain. An easier way to transfer a photo from your computer to your device is to simply email it to yourself.
Go into your email client and address a new email to yourself. Then, attach a document like I did in the screenshot below. Simply press send and you're halfway there.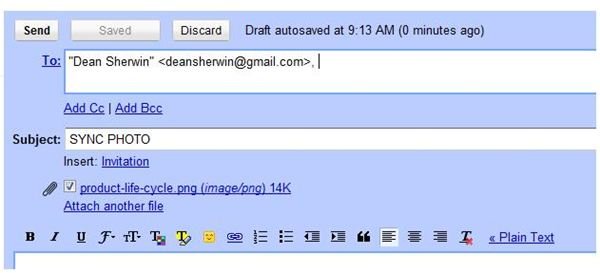 Then, using your iPhone, go into the Email program and download new emails. The email you just sent to yourself should download along with the attachment (i.e. your picture). Open the attachment and save it to your pictures. Voila!
A quick tip to remember is to not do this too often when using 3G as you could run up your data usage. Use your iPhone's Wi-Fi instead!