How to Make Money: Ads in iPhone Apps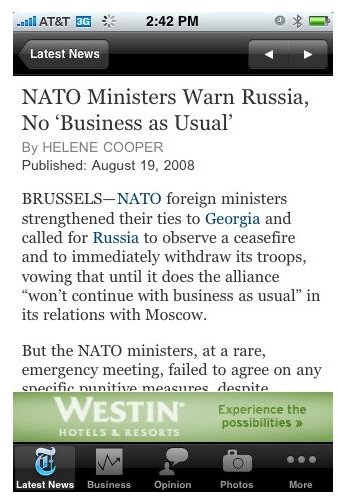 Why Put Ads in Your App
The decision to either charge an upfront price for your app or to place ads within the app itself in order to make money from your app can be a tough one. The Apple community has backlashed against advertisements and quite often an app can get flamed by reviewers because of ads. Charge an upfront price then? This works if your app happens to be amazingly brilliant and innovative. If not, then there's probably a similar app that's free.
You have to be careful in how you place ads in iPhone apps, if you decide to do so. One of the most important things to consider is the type of app you have developed and whether or not ads would suit the app.
Do Ads Suit Your App?
Games for one have a low conversion rate when it comes to revenue gained from in-app ads. You need an app whereby your users will be willing to click on an ad. When I'm going for my highscore in my favorite game the last thing I want to do is click an ad.
Informative apps are great for placing ads in when it's done right (more about this later). This is because people are actively searching for something and as such may click on an ad if it catches their eye. For example, an app which allows you to search for cheap air fares will have great revenue from advertising as Google Ads will display advertisements the user will want to check out, such as airline discounts and special offers.
Think of your user. Will they be in a mindset whilst using your app which will make them more likely to click a specific type of advertisement. Put yourself in their shoes.
Doing it Right
Spammy ads, customized in luminous green with one at the top of the screen, one along the edge and another at the bottom is not only a surefire way not to get clicks but it's also an excellent path to having your app receive terrible reviews and have anyone who installs it press 'uninstall'.
The age old business plan of 'Give them what they want' rings true here. People want a functional app that's built for them, not for you. Therefore it's important to be discreet with your ads. They will be noticed by your user but won't annoy them, which will in turn keep them using your app. When an ad is of relevance to them then they'll click it.
You can't force people to click your ads, so don't try.
Manage Your Ads Right
When setting up ads in iPhone apps you'll have to specify a genre for them which will appeal to your user. Select genres which will be of relevance to your user. Selecting sports related ads for an app which checks train timetables will not bring in more money, even if you get more per click for the sports advertisements. Once again, put yourself in your user's shoes.
Finally, check out which sub-genres work out best for your app and increase their display rate on your app. This is just basic business sense but it's often ignored by website owners, bloggers and app developers. Remember, a good app can be ruined by advertisements. But, when it's done right, advertisements can become an integral part of the app and earn you some development capital for your next one!