Get the Most Out of Internet Radio and the iPhone! Learn about Pandora, IHeartRadio, and other great apps!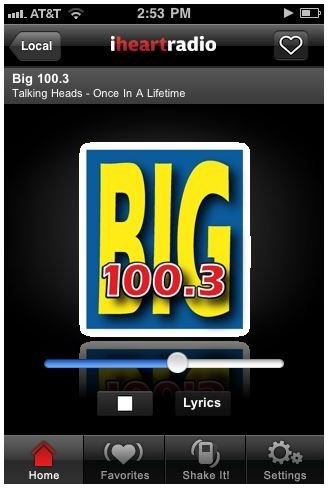 The iPhone and Internet Radio
This article is easiest to start with a quick disclaimer. Internet radio is a bit like the Wild West. Unlike more modern forms of communication, radio stations (and the conglomerates who own them) are very protective of their rights and exclusive deals. For that reason, a number of apps exist to bring internet radio to the iPhone, but very few are any good.
Here is a list of apps that are both free and offer a reasonable selection.
iheartradio
On your first stop down the path of internet radio apps, take a look at iheartradio. The PRIMARY benefit of this app is its affiliation with Clear Channel, who have been gobbling up most of the radio stations in America. The iheartradio people might have been tempted to rest on their laurels, as no other app really has their selection, but they decided to take their app to the next level with some great features.
iheartradio Screenshots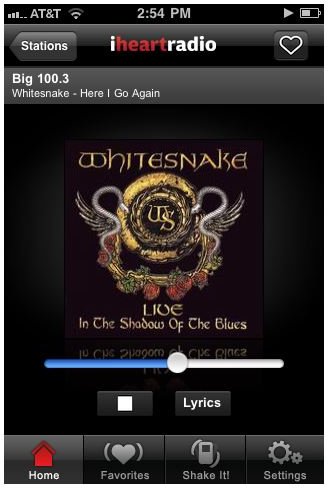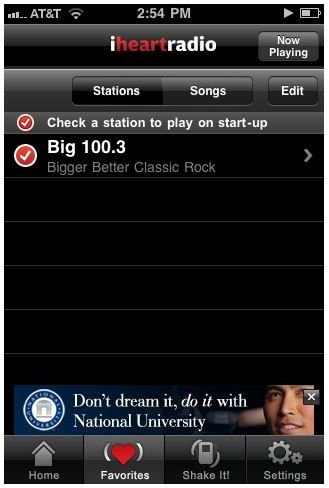 iheartradio Features
One of the best features (aside from available stations) is how quickly and easily you can find your local stations. Just click the first option "local stations" and the app will request access to your location data. The closest large city will pop up and hopefully you'll see a few familiar stations.
Another feature that few other apps include is background playback. Now that background running processes have been approved by Apple, apps can keep certain functions active, even when they lose focus on the screen. Turn on iheartradio and then look at a different app, your station will keep playing and you can control everything from the "running apps" menu (double-click the home button).
Two more nifty features: album art and favorite station autoplay. The app can automatically grab the album art of the song that's playing. Double tap the art to see the logo of the station instead. Only have one station that you ever listen to? There's an option to choose one station to automatically play upon app launch!
There are a few more technical features that they've added recently, so check out the iTunes page (below) for more details.
On the next page, we'll discuss Pandora, the music discovery service, and a special player for NPR stations!
Pandora Radio
Another heavy-hitter on the streaming music front, Pandora. This app offers a fantastic way to mix old favorites with new music you may have never heard. The app is also quite attractive and was developed to closely emulate the familiar desktop interface. Plus, don't forget that Pandora starts FREE and will stay that way as long as you can put up with a couple of unobtrusive ads!
Pandora Screenshots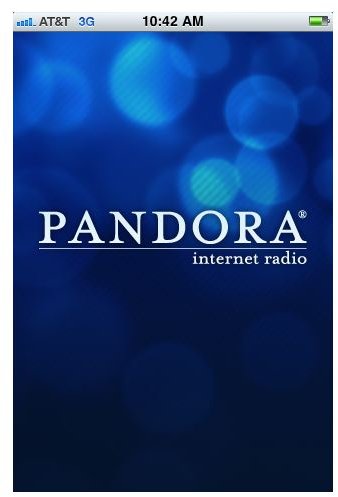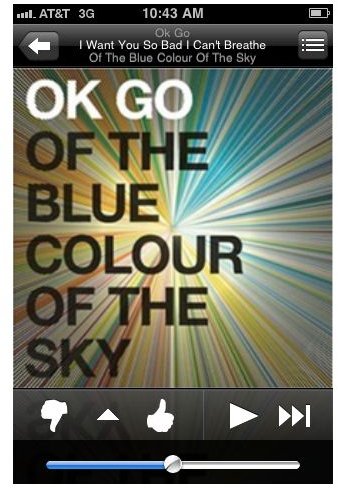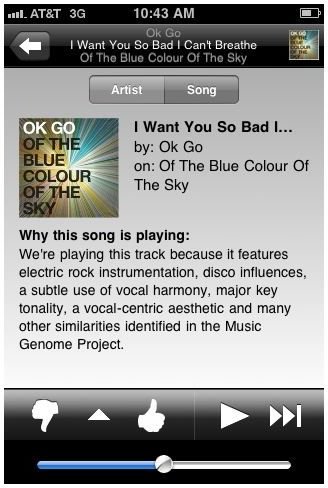 Pandora Features
This is probably one of the best radio apps, even though it's not a "true" radio app. Like iheartradio, it has a large catalog of songs, but instead of porting live radio stations, it generates a custom station tuned to your interests. Simply enter a favorite song or artist and Pandora will provide you with that music, as well as songs that are musically similar.
How does it do this? Pandora has employed a number of musicians to sit down and categorize all the music they can get their hands on. The process has more to do with music, style, and technical elements than opinion or quality. If you put in Pat Benatar, for instance, you'll probably receive more songs with a strong female vocal lead. From there you can discover both popular bands and hidden gems.
Beyond the service, the Pandora app itself is great. You can skip forward a reasonable number of times in one sitting and you can rate the songs with a thumbs up or thumbs down to help tune your station. Like iheartradio, Pandora has background play enabled, so you can surf the web and listen to some great tunes at the same time!
The app IS ad-supported, but it's not very intrusive. If you go in for the "Pandora One" subscription (36 bucks a year), you'll have greater freedom to skip songs and you'll have no ads (this especially important on the web version, thought the benefit carries over to your iPhone app).
The app and the service are always available free, though, so check it out on the link below!
Public Radio Player
Unsurprisingly, one of the kings of internet radio is NPR, National Public Radio. Almost everything that NPR sends out on the air is also recorded in easy podcast format. On top of that, their major programs are all uniformly broadcast across the entire country, so they don't suffer from the same splintering that music radio stations do. While you could subscribe to their podcasts through iTunes or a podcatcher, why not just get the source directly? Enter the Public Radio Player app.
Public Radio Player Screenshots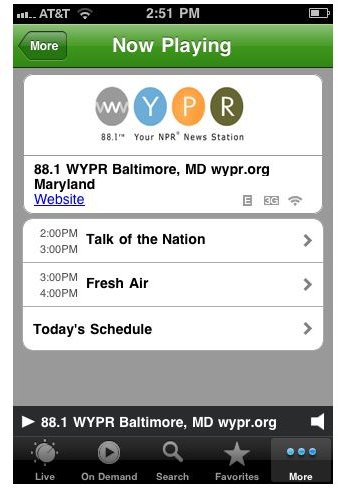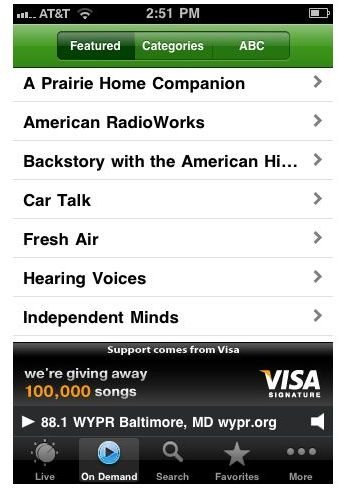 Public Radio Player Features
This app is limited to NPR content, but that doesn't mean it isn't full-featured! The app is extremely easy to use, giving you the option of listening to your local station or pre-recorded on-demand content.
If you go with the live option, Public Radio Player provides you with the full line-up of NPR shows. While you're listening, the app will tell you what's on and what's coming up in the next few hours.
On the other hand, if you just want your favorite few shows, the app plugs right into all of the podcast feeds so you get a nice, polished version of the last few episodes you might have missed.
I think the primary draw here is that it does only a few things, but it does them well and with incredible ease. If you recommended one app to your parents or older relatives, this would be a good one. Just send them to the link below to check it out!
Go on to the next page to see a couple more nifty internet radio apps!
Two Bonus Internet Radio Apps
To wrap up our review, here are a couple of internet radio apps that aren't quite all the way there, but certainly might come in handy for some people. Take a look and see if anything stands out to you!
TuneWiki
TuneWiki is different from all the other apps we've reviewed here because it's not really a "radio" app. It does offer a bunch of online radio stations (from SHOUTcast), but it's unlikely you've ever heard of any of them. Instead it's really a player that makes use of the music you already have. The added bonus of TuneWiki is the addition of lyrics to your music. You can turn your iPhone into a fun sing-along device.
Of course, like all content-related apps, some music works and some doesn't. It likely depends on what label the artist is affiliated with and how filled-out that artist's discography is with TuneWiki.
TuneWiki also has some neat features for integration with YouTube and the larger TuneWiki community. The main site has a large database of lyrics for songs and frequently an accompanying music video.
It's a quirky little app, but if you like knowing the lyrics or already use TuneWiki.com, it's definitely worth a look!
TuneWiki Screenshots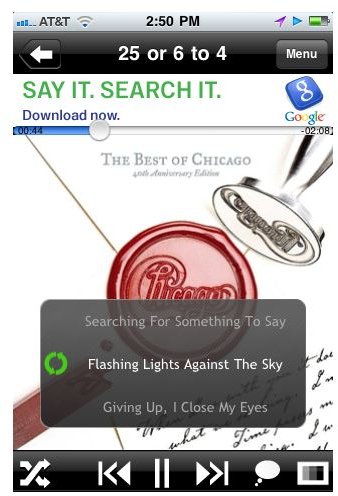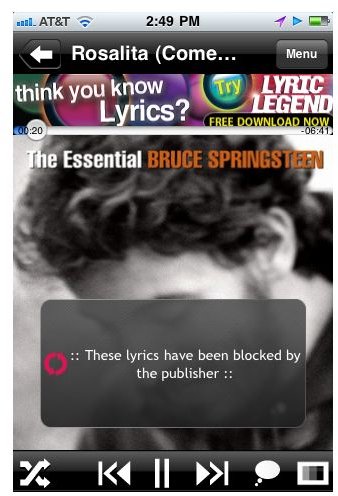 AOL Radio
In a world as big as the iTunes app store, not every app can be a winner. The AOL Radio app falls into that category. The app lacks background play capability and has relatively few options available on the interface.
That said, we included it here for a reason. AOL and its partner, CBS, own a number of over-the-air and online radio stations. Much like iheartradio and Clear Channel content, all of the AOL and CBS stations are kept within this app. If you happen to like AOL's music stations or CBS's news stations, this could be a handy little app.
Otherwise…skip it!
AOL Radio Screenshots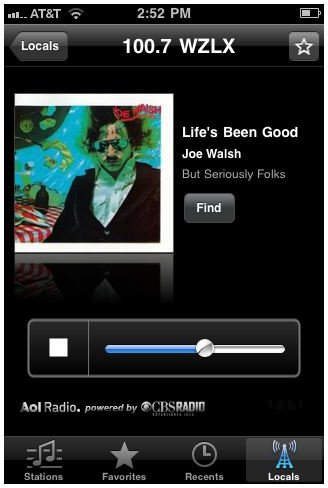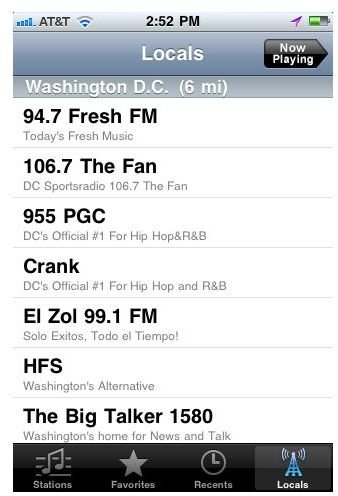 Other Options for Internet Radio on the iPhone
As you can see, while there are SOME good internet radio apps out there, it's still a bit tough to get exactly what you want.
Remember, don't write off podcasts. Many podcasts are simply time-shifted radio shows anyway. Also, a number of great podcasts are produced exclusively for MP3 player listening. Just check out the iTunes Store and search for podcasts. They're free and automatically populate in iTunes whenever their producers create another episode.
Lastly, many radio stations have their own dedicated players, apps, and streams/feeds for listening online. If they're serious about it, they will usually announce it over the air or on their websites. Otherwise, try searching their name in the iTunes Store. Also, just try a general search for "radio" in the iTunes Store (sub-selecting for "Apps") and see what you get. If you find an even better app out there, post it below in the comments!
You may also want to take a look at some of these other articles about iPhone radio and music apps: