Expandable Memory for iPhone: What Are my Options When I Need More iPhone Memory?
Expansion Be Not
The iPhone may be the world's best-selling mobile phone, but there still isn't any expandable memory for the iPhone. In fact, users are
limited to the basic storage that comes included with the iPhone.
It may seem surprising, but the iPhone does not have any memory card slots or any other means to connect expandable memory. While the iPhone does have a dock connector at the bottom, there is no expandable memory for the iPhone which connects to the dock connector. There are also no official plans to release any products which will create expandable memory for the iPhone, neither official nor third-party.
There are many reasons why Apple may have chosen to exclude expandable memory for the iPhone. Reasons include simple ideas such as to maintain the conservative design and appearance of the iPhone (the same reason the battery is not removable) or because of the potential of emerging technologies which eliminate the need for expandable memory. Apple has a reputation for pushing future technology, which is why they likely assumed users would utilize online storage solutions (including those offered and to be offered by Apple).
Apple has been leaning more and more towards cloud computing and cloud based storage, which in short - eliminates the need for expandable memory for the iPhone.
Getting Into The Cloud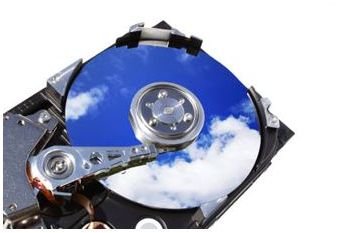 Cloud computing is exactly as it sounds, utilizing a "cloud" of connected computers for both processing power and storage. Essentially the cloud is hosted in a data center (similar to the giant data center Apple is building in North Carolina).
Other devices (such as the iPhone) connect to the cloud to utilize the services offered. Applications can be run on the cloud for greater processing power, but the true application is to utilize the cloud for additional storage space. While there is no expandable memory for the iPhone, with the memory in the cloud, there would be no need.
Apple also continues to push forward on cloud based music services. This would eliminate the need for downloading music and songs, thus decreasing the need for expandable memory for the iPhone. Music, video and other media would all be offered by streaming, directly to the iPhone, without utilizing any storage.
While some of the cloud based services may be in the future, there are plenty of cloud based storage solutions available for the iPhone, at this very moment. Aside from the third-party cloud based storage solutions, Apple offers its own cloud based storage solution for the iPhone called iDisk.
While cloud based storage may not seem practical, it may soon become more practical. Mobile operators are constantly increasing mobile internet speeds, the iPhone is typically always connected to a cellular data network or Wi-Fi and therefore cloud based storage is just as good as regular expandable memory for the iPhone.
Cloud Storage for the iPhone
Take a look at these cloud based storage solutions for the iPhone. There may not be any hardware based expandable memory for the iPhone, but these services will offer you plenty of extra space for photos, video and just about anything else. The best thing about cloud based storage is the ability to access the files from multiple locations and devices at the same time. This means you can upload a file from your iPhone, and instantly access it on your PC and vice-versa.
iDisk (MobileMe)
iDisk is a service which comes included with MobileMe. This integrates directly into the iPhone and offers access to cloud based storage. Any file type can be uploaded and shared with anyone you desire. The storage limit for iDisk is currently 20GB with a monthly transfer of 200 GBs. The service is not free and costs $99 a year for an individual account. Family accounts can also be purchased for $149 a year. MobileMe does include other services in addition to the iDisk service. Upgrade plans can be purchased to add even more storage, up to 40GB more storage.
Read this full review of iDisk for the iPhone.
Dropbox
Dropbox is a very handy cloud based storage solution, which is now compatible with the iPhone. Simply create an account on the website, choose a plan and install the iPhone app. Once the iPhone app is installed, files can be uploaded and downloaded to and from the iPhone. Files are instantly synced to all connected devices, which may include other mobile devices or a computer as well. This works great for transferring files and keeping data synced. It may also be used as expandable memory for the iPhone and can greatly augment the storage capacity of the iPhone. Dropbox offers a free plan which includes 2GB of storage, they also offer the following paid plans: Pro 50GB: $9.99/month and Pro 100GB: $19.99/month.
Read the full review of the Dropbox iPhone app.
ZumoDrive
This cloud based storage service is designed for heavier users. They do offer some smaller storage capacity plans, however, they also offer some of the largest plans available. ZumoDrive works on the iPhone via a simple application which can be downloaded for the iPhone. The pricing plans include the following: 1GB: Free, 10GB: $2.99/month, 25GB: $6.99/month, 50GB: $9.99/month, 100GB: $19.99/month, 200GB: $37.99/month, 500GB: $79.99/month.
Read our review of ZumoDrive for the iPhone.
Box.net
This is yet another cloud based storage service, which has also added iPhone support. Box.net is one of the original cloud based storage devices for computers and it works very similarly to other cloud based storage services. Box.net does differ in the area of pricing, and users should be warned that they do limit individual file sizes on all account types. Plans include: Up to 15GB: Free, 15GB Business Plan: $15/month, Unlimited Storage: Varies, call or email for prices.
Read more about cloud based storage services such as Box.net.
Finding the Perfect Solution
You may have read this article hoping to find a hardware based solution for expandable memory for the iPhone. There is currently no type of solution available and it does not seem probable that one will be created. With the growing number of cloud based storage services, constant internet connectivity and cheaper prices, there is no reason not to use cloud based storage for the iPhone.
Each service has its strengths and weaknesses, therefore it is important to review each option carefully. For users who only need small amounts of storage, the free plans from services such as Dropbox will prove to be a great solution.