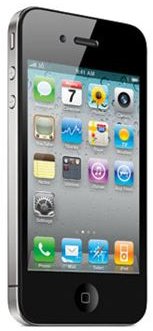 Introduction
Congratulations on your new iPhone! For those users new to a smartphone, you will find that it is extremely intuitive and easy to learn. Everything is organized and designed to have what you want available at your fingertips. For those users coming from a previous iPhone or other smartphone, you will also feel right at home with iOS 4.
Syncing with iTunes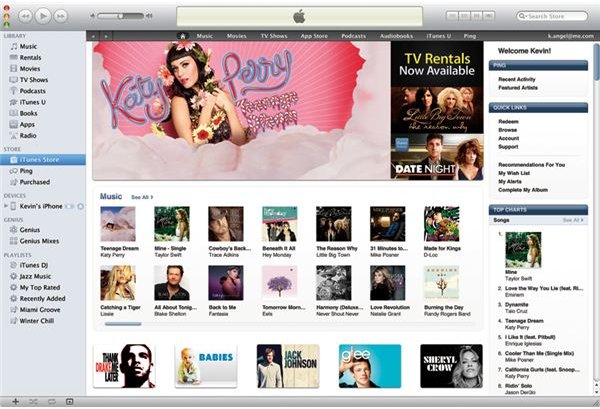 If you have an iPod and use iTunes, you probably already known that the iPhone is organized and managed with iTunes to sync your data. In the same way as your iPod, iTunes manages your iPhone account, music, videos, apps, photos, and much more. Any settings pertaining to the management of your phone's content can be conveniently done in iTunes. Regular syncing with iTunes can keep your music library synced and your phone's data backed up if you lose your phone.
The Home Button and Home Screen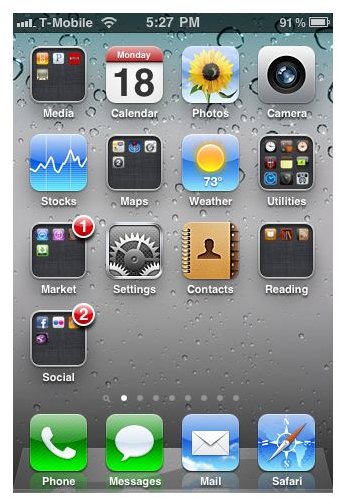 The home screen of the iPhone is like the Start menu of Windows or an expanded dock bar on a Mac. It contains all of the "apps" on your phone.
You can navigate the pages of the home screen by swiping to the left or right. The left most pane is a universal search for the phone with links to Google and Wikipedia. This universal search indexes and searches through apps, contacts, email and SMS text messages, and calendar appointments.
Apps can be organized into folders, which can be helpful for grouping similar apps to de-clutter your home screen. Apps can also be rearranged by clicking and holding on the home screen until they begin to wiggle. Once wiggling, you can drag and drop them as you please. Apps you use most frequently can be placed in the dock along the bottom. These will always be visible no matter what page you are on. My dock consists of the Phone, Messaging, Email, and Browser because these are the things I access most.
The Home Button is your lifeline to the phone. If you are ever lost or stuck, simply hit this button once to return the home screen. Tap it twice and it brings up your currently opened apps. To fully close one, simple tap and hold on it until the red close symbol appears and click it.
Apps
As mentioned, all of your apps are contained on the home screen. This includes apps for checking email, your calendar, contacts, phone dialer, YouTube, maps, and everything else you download. To add or install more apps, simply load up the App Store (purple icon) or use iTunes on your computer and search for what you're looking for.
Multitasking
Multitasking on the iPhone is accomplished through the home button. Again, double tap it to see what is currently running. You can scroll through the list (left and right) and select any active app to switch to it. If you scroll all the way to the left, you will find your iPod media player (or another music player like Pandora if you have it opened). This provides easy control to your music from any other application.
Must Have Free Apps

There are tons of app lists out there for everything under the sun, but I will keep mine brief and with only the essentials everyone should have on their new iPhone.
Social/Connectivity
Music/Entertainment
Productivity
Shopping
Getting More with Your iPhone with Jailbreaking
Jailbreaking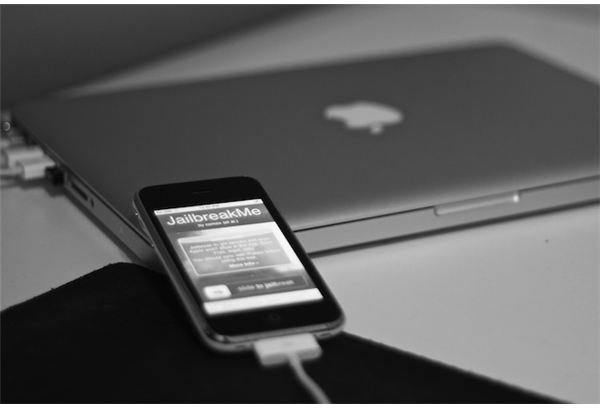 Jailbreaking is the process of unlocking your iPhone in the sense that you are free to install applications that have not been approved by Apple. It is a legal process that uses a software exploit to release your phone and gain "root user" access. Whenever a jailbroken phone is updated, the phone then becomes locked again and must be re-jailbroken again. Why jailbreak? Because it's a harmless process to enable some really cool features!
SIM Unlocking
Unlocking the iPhone's SIM card requires that the iPhone first be jailbroken and another app run. Once SIM unlocked, you can use any carrier's GSM SIM card. This is perfect for travelling or purchasing an AT&T phone to use on T-Mobile's 2G network. As with jailbreaking, any software updates re-lock the phone.