Finding the Best GPS Elevation App for iPhone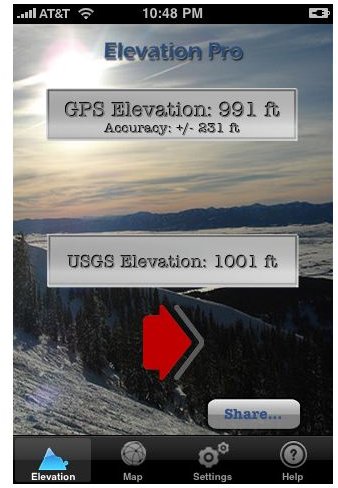 Which GPS Elevation App is Best for You?
GPS apps are a popular download for iPhone and Android phones. This article will explain what we feel is the best GPS elevation app across the crowded field. Be sure to check out this article for tips on using iPhone maps. Also take a look at this information article, comparing Google Maps and other navigation and maps on the iPhone.
Elevation Pro for iPhone
Elevation Pro
This iPhone elevation app displays the USGS elevation of your iPhone. It is fully integrated with Google Maps, Twitter as well as iPad. This app lets you get elevation for any place just by touching the location on the map. It also allows you to share your current elevation on Twitter, and save an unlimited number of Elevation Waypoints on the map. In addition, the app lets you view GPS and USGS elevation data to ensure accuracy of elevation. You also have the option to display elevation data in either feet or meters. (Price: $0.99) (Download link)
Elevation for Real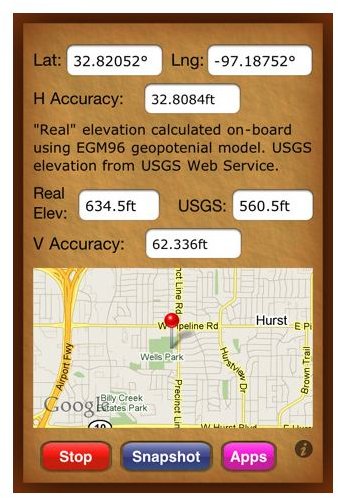 Elevation for Real
Aside from solving the altitude/elevation discrepancy between altitude measured by your iPhone, to your elevation above sea level, this app also converts your altitude to the correct elevation relative to the sea level to give you an accurate measure of your elevation. This app also provides you with access to the USGS elevation web service. This app's internally generated elevation converges with that of the USGS value. Some of the great features of the Elevation for Real iPhone app include: real-time map with pin-annotation of your location, English or Metric units based on your region setting, start/stop button, and one touch screenshots. Best of all, this iPhone elevation app is free. (Price: Free) (Download link)
Altimeter Deluxe
[caption id="" align="aligncenter" width="600"]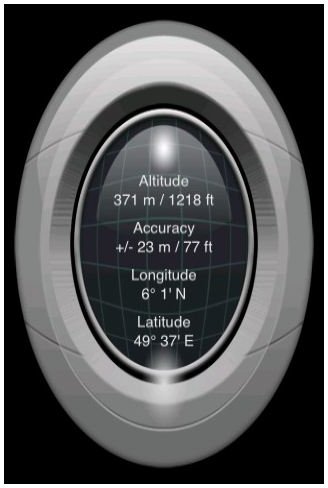 Altimeter Deluxe[/caption] Yet another decent iPhone app to measure your elevation. Altimeter Deluxe shows elevation using your iPhone's built-in GPS, displayed in a high quality graphic design. The app displays the height in meters or feet, accuracy, longitude, and latitude. It also disables the auto lock feature to ensure that the display backlight is on while the application is running. Some reminders from the app developers while using this app: it only works outdoors, it's more precise when in places with no houses and trees around, and when there are more satellite connections. (Price: $1.99) (Download link)
Altitude+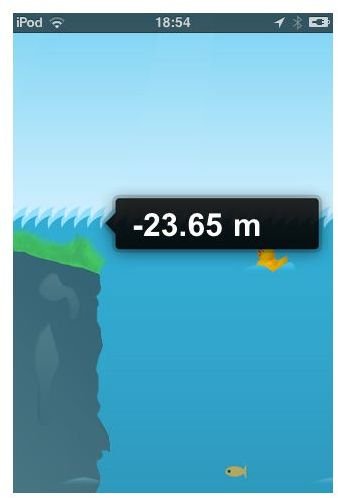 Altitude +
This app possibly offers one of the most advanced and reliable altitude calculation app on the iPhone. The app is made more enticing by custom made graphics and animations which are dynamically tailored to your current elevation. The app's main features include: altitude calculation indoors and outdoors, altitude calculation in areas without network coverage, altitude reading and artwork based on current altitude, altitude reading in feet or meters, unique graphics and artwork, high-res graphics perfect for iPhone 4's retina display, and multitasking. (Price: $1.99) (Download link). All these features makes for a great GPS elevation app.
AccuTOPO-Native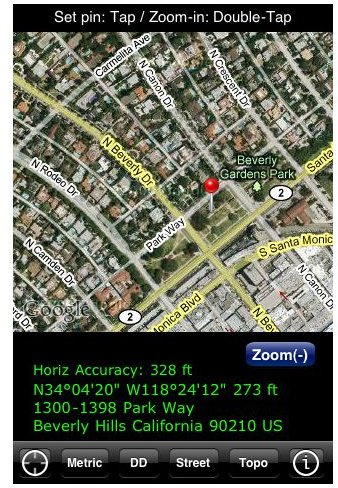 Accu-TOPO
Interfacing native location and mapping abilities of the iPhone with the US Geological Survey and Shuttle Radar Topography Mission (SRTM) elevation data, this app calculates your approximate present position and then marks it on a street map. It then displays the corresponding latitude and longitude together with USGS or SRTM elevation. The app also gives you the option to switch between street and aerial photo/street hybrid maps. (Price: $0.99) (Download link)