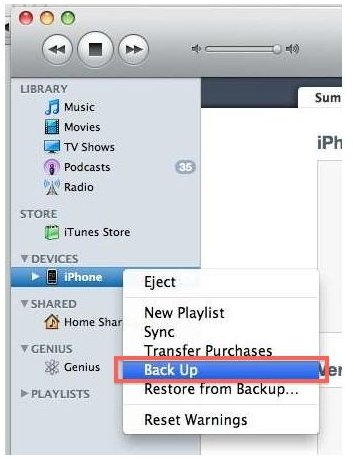 iPhone Backup
If you are horrified at the thought of losing all of your important data, in case anything goes horribly wrong with your iPhone, then learn to backup the device. So, before you lose your phone make sure you backup all its data by following these simple instructions.
How to Backup iPhone
You can create an iPhone backup in the following ways
iTunes automatically backs up the iPhone as soon as it is connected to the computer provided your iPhone is configured to automatically sync with iTunes on your computer. It does not backup an iPhone that is not configured to sync with the PC.
iTunes only performs the backup function one time after you connect it to the PC. It will not perform the syncing function again, no matter how many times you sync it before disconnecting.
iTunes also creates a manual backup as soon as you choose to sync it with your PC. You can manually backup your iPhone by following these steps:
Connect your iPhone with your computer via USB.
Open iTunes.
From the 'Devices' list, select iPhone and right click on it.
Then select "Back Up" and wait for iTunes to backup your iPhone.
iTunes will automatically backup data, if you wish to update software on your iPhone.
iTunes will prompt you to backup the device, if you decide to restore the software to its original settings.
If you choose to restore software from a Backup, the following methods will guide you through the process:
Connect your iPhone with your computer.
Open iTunes and select the device.
Now select the summary tab and click on 'Restore'. Follow the prompt and select the option that will restore your settings. Be careful, this step deletes all the current data on the iPhone in order to restore it to its factory settings.
Or, simply control click the device and select Restore from backup.
Things to Keep in Mind
If you wish to create a new set up on your iPhone, make sure that you first transfer or backup all important data on the device from the backup folder because iTunes only permits one sync generated backup. If you wish to go for another, it will delete the previous backup and replace it with the new backup. Backing up your backup will prove helpful if you want to go back to your previous settings. You can easily restore the previous settings from the backup data that you have retained by following a regular backup routine. If you are a lucky Time Machine or Mac OS 10.5 or above user, then the backup copies marked with date and time will be retained by iTunes and not deleted. Time Machines and Macs back up your backup.
iPhone Back up Location
The location of the folder where your backup data is stored depends on the computer's operating system. Typically, iPhone backup location is in the following places:
Windows 7 and Windows Vista: Open Users – then select the Username – enter AppData folder – then open Roaming folder – then Apple Computer folder – enter MobileSync folder and open the Backup folder.
Windows XP: Locate Documents and Settings – select the Username – open Application Data folder – then Apple Computer folder – finally open the MobileSync folder to enter the Backup folder.
Mac: From the Home Directory - Open Library – then Open Application Support – then open MobileSync folder and lastly the Backup folder.