How to Change the Ringtone on Your iPhone And Add New Ringtones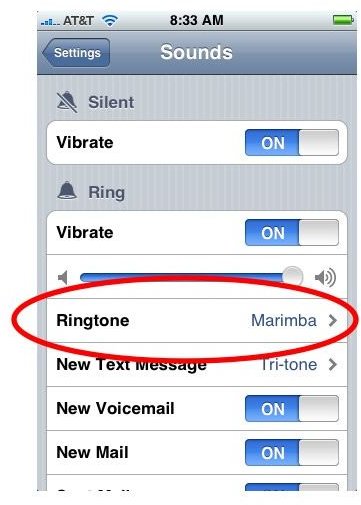 iPhone Ringtone Diversity
The standard iPhone ringtone has become known the world over, mainly because not all users change it to something more suitable. The iPhone includes a whole number of different ringtone options that can easily be selected. There is also a unique way to download iPhone ringtones and sync them to your iPhone through the standard iTunes syncing process. Here is an easy guide on how to change the ringtone on the iPhone, and how to add new iPhone ringtones.
Making the Change
If you are looking to change the ringtone on the iPhone start by going into Settings and going into Sounds, which is
at the top of the second section right above Brightness. Here you are going to have a whole range of iPhone sound settings, but go down to Ringtone. You will see the available iPhone ringtones that you have on your iPhone right now. The Standard ones, headed by the default Marimba, are fairly numerous, and when you add more you are going to see them under the Custom heading. The iPhone ringtone that is selected will have a check mark to the right of it. If you want to select a different ringtone then simply switch that check mark to another ringtone in the list.
Adding New Ringtones
Luckily, iTunes recognizes iPhone ringtones as one of the standard types of files that can be synced to your iPhone, just like videos and audio
tracks. To do this you first need to download iPhone ringtones from a location, and you can actually do this from a whole range of websites as the ability to create iPhone ringtones is not controlled as tightly as many other iPhone options. The iPhone ringtones have to be in a .m4r format, and you can find conversion software that can make this conversion from other types of audio files if needed. iPhone Ringtone Maker is a quality conversion program that will allow you to take MP3 files and convert them so that they will be ready to be imported into iTunes.
Start by dragging and dropping the ringtones into your iTunes library in the same way that you would with other media and they will end up showing up in the Ringtones list, which you can select from the left hand panel. You will then plug in your iPhone and select it from the left hand panel of iTunes once it appears under the Devices heading. Begin by choosing the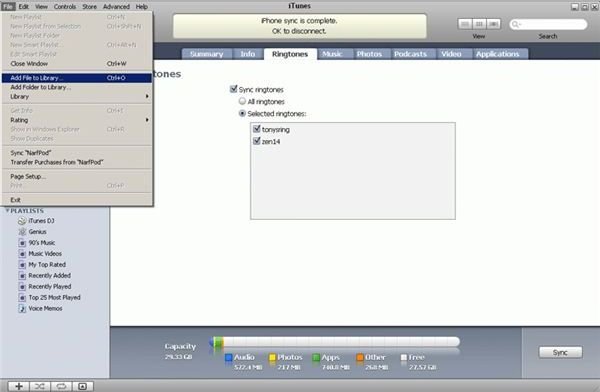 Ringtones tab from the center block. Make sure that first Sync Ringtones is checked and then either All Ringtones, if you want every single ringtone that you have brought into iTunes to be synced, or Selected Ringtones if there are just specific ones that you want. Once you choose the iPhone ringtones that you want you can go ahead and initiate another sync between your iPhone and iTunes. The ringtones will transfer onto your iPhone.
From here, changing your iPhone ringtone to the new ringtone that you just synced is easy and you can follow the standard step by step process. Your new iPhone ringtones will be listed above the Standard ones in the Custom area.