Using Unconditional and Conditional Call Forwarding on the iPhone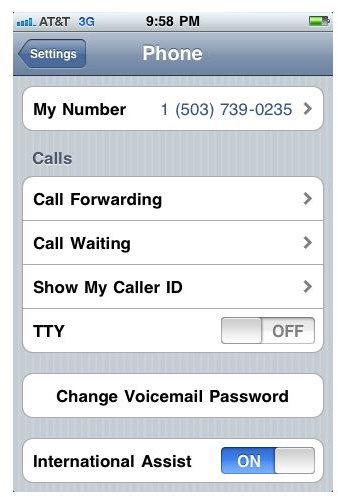 Waiting for a Call
Call forwarding is a basic function that most people expect to come on their cellular phone, even though call forwarding is different now that most people have mobile phones. On the iPhone call waiting is also a key feature, though it tends to look a lot different than many people would expect. Here is a look at the two different types of iPhone call forwarding you can initiate: unconditional and conditional.
Unconditional Call Forwarding on the iPhone
If you are looking for unconditional call forwarding on the iPhone, which is call forwarding where all the calls will be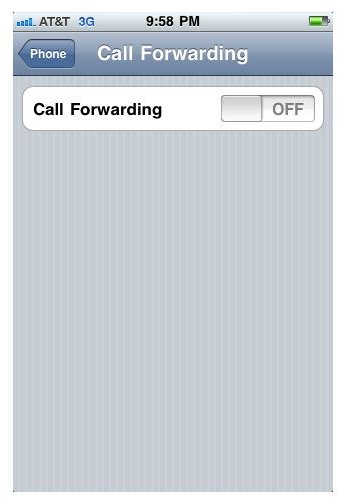 forwarded "unconditionally," then you can actually use the call forwarding function that is built into the iPhone. To set this you start by going to Settings and then going down to Phone, which is in the third block of options down directly under Mail, Contacts, Calendars and above Safari. Once inside Phone you will see Call Forwarding as the first real option, and when you select it you will be able to turn a switch On or Off. When you turn the Call Forwarding switch to On then you are prompted to enter the number that you want the calls to be forwarded to. This will turn on the unconditional call forwarding for your iPhone and when you go back to the previous screen the switch will read On and the number that you are having the calls forwarded to will be listed. If you want to remove the unconditional call forwarding from your iPhone then you can just hit the On / Off switch to the Off position.
The unconditional call forwarding is going to be a great option if you are going to be away from your phone or service for quite a while, such as when you are traveling abroad. This will work well if you cannot answer your phone but you don't want to miss any calls, such as if this is a business line and you want it forwarded to the office.
Conditional Call Forwarding on the iPhone
Though it does not have the same user interface as unconditional call forwarding on the iPhone, there is an option to initiate conditional call forwarding. Conditional call forwarding means that calls will be forwarded only in specific situations, such as a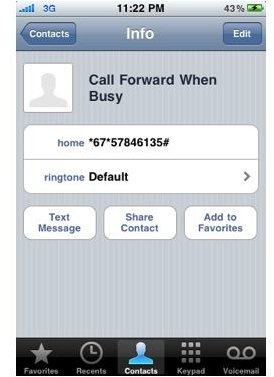 busy line or as a missed call. If you want to set up conditional call forwarding for the iPhone you are going to have to actually enter in a specific numeric code, and this number code is determined by the type of "condition" you want call forwarding to happen in.
If you want there to be call forwarding if the line is busy then you are going to enter the code *67*, then the number you want the call forwarded to, then the # sign and then press Call. If you want to forward calls in case you did not answer then the code is *61*, the number, and the # sign. If you want the call forwarded when your number is unreachable then the code is *62* and the same process as with the previous conditional call forwarding requests. If you need to turn off the conditional call forwarding you set on your iPhone then you are going to enter in the specific prefix code that you used for your specific condition and call it all on its own.
The reasoning behind conditional call forwarding is much more specific than unconditional call forwarding. The reason is again going to be that there should be no time when a number cannot be reached, but conditional call forwarding gives you greater control over what calls are forwarded.