Pirate Apps for iPhone, iPod Touch, and iPad - Pirate Games and More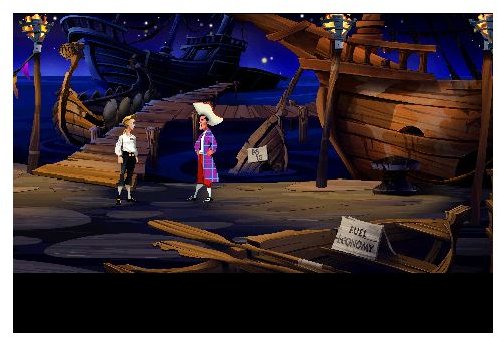 Pirate Apps on iTunes
Thanks to a wobbly Johnny Depp making one really good Pirates of the Caribbean movie and two fairly entertaining sequels, pirates are all the rage these days. Whether it's pirate games, clothing, books, or even the world famous International Talk Like a Pirate Day, there is no denying that those eyepatch-wearing peglegs are quite popular. It should come as no surprise that iTunes is loaded full of pirate apps for iPhone, iPod Touch, and iPad. With so many to choose from, here's a look at some of the best of the bunch.
The Secret of Monkey Island
The designation for absolute best pirate app for iPhone is unquestionably going to The Secret of Monkey Island: Special Edition. Old school PC gamers will remember this classic Lucasarts title from 1990. It was so popular then that it has been updated and re-released a couple of times, and now you can get it on iTunes for just $2.99. This graphical adventure game features gorgeous graphics, character voiceovers, lots of action and exploration, and much more. It's like playing an interactive cartoon with a story that will keep you interested. You should definitely check this one out.
iPirate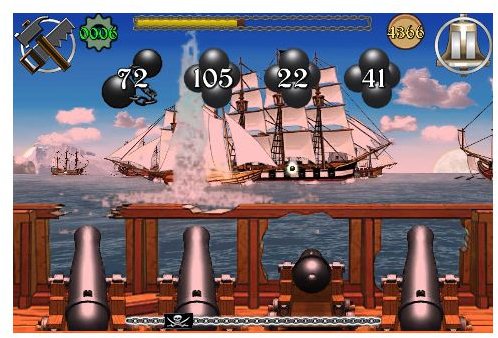 Naval combat is essential to being a good pirate, and this game puts you on the deck of your ship where you have to load and reload your cannons, then aim your shots to take down other ships. You use the tilt function of the iPhone or iPad to control your aiming, and it makes for a challenging and fun game that features nice graphics and a good many options to keep things interesting. The main game costs just 99 cents, but there is a free Lite version you can download to try before you buy.
WarShip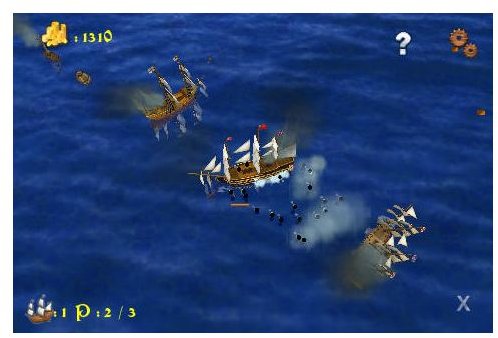 Warship is a very addictive naval combat action game that looks a lot like the naval battle sequences from the Sid Meier's Pirates! game. You get a nice overhead view of your ship where you tilt your iPhone or iPad back and forth to steer it in the water while you try to line up cannon shots to sink enemy ships. Your opponents will drop items along the way and you need to pick them up to keep going. This game app costs $1.99 but there is a free Lite version you can demo first.
iArrPirate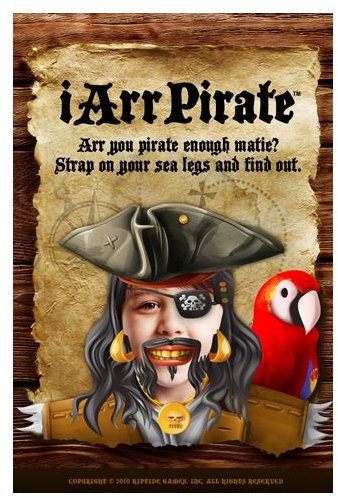 iArrPirate is a fun little photo app for iPhone users where you can take a photo and then dress it up to look like a pirate. It's sort of like a virtual Mr. Potato Head except with this app it's Mr. Pirate Head and the head belongs to you. This app is fun to play with because the whole famiy can enjoy it's non-violent pirate themes and you will get big laughs out of the way you can decorate your photos.
(Image credits: Apple iTunes)
Pirates: Sea Battle 2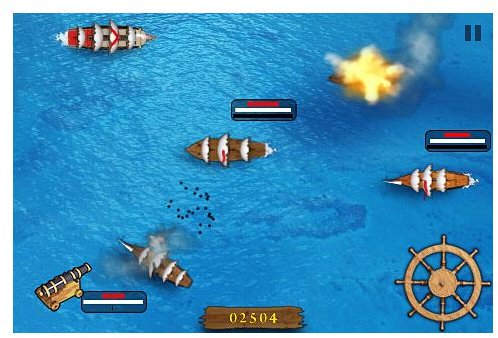 Pirates: Sea Battle 2 is a little like WarShip in that you get an overhead view for engaging in naval battles, but this game is controlled entirely through touchscreen and doesn't require any tilting. Some people prefer the onscreen buttons to the motion control, so now you have two great choices for conducting pirate naval warfare. This great game app is only 99 cents and has very colorful graphics and the ability to upgrade your ship.
OMG Pirates!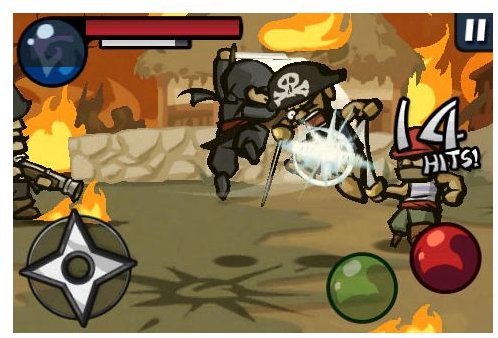 OMG Pirates! is an action game that pits pirates against ninjas. Talk about doubling up on coolness. It's from the same team who made the immensely popular Zombieville USA app, and features large cartoonish graphics and tons of options. The controls are all done via touchscreen and it even features boss battles. This is a very intense and busy sidescrolling fighting game and sells for $1.99, though there is a free Lite version you can demo.
7 Cities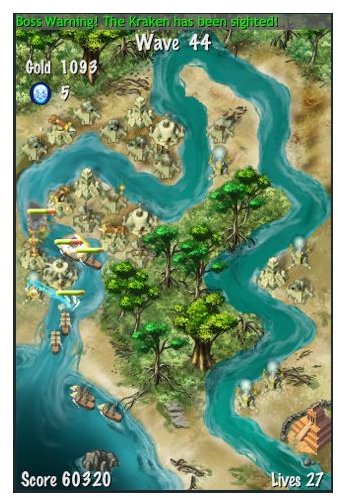 7 Cities is a tower defense game based around the seven golden cities of the Amazon. What sets it apart from the slew of other tower defense games on iTunes is that it features colorful hand-drawn graphics and lots of special towers that can be upgraded. It combines RPG elements and strategy for a very interesting game where you must stop the rows of pirates ship from making their way down the river. This game app sells for $2.99, so it's a little pricier than some others listed here, but that's because a lot of effort was put into making 7 Cities really stand out.
Tradewinds 2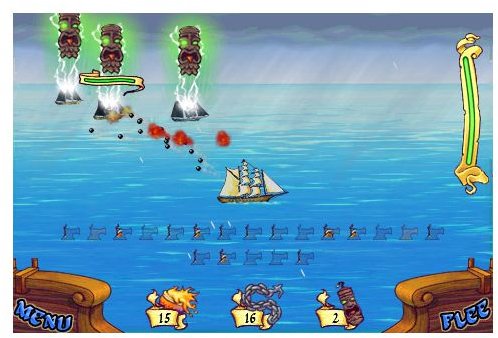 Tradewinds 2 is a very detailed game where you travel the Caribbean in search of treasure and glory. What makes this one different from others here is that the pirates are actually villains and your job is to stop them. This is based on a classic PC game and is like a cross between an RPG and an asset management type game where you go to different cities to have adventures or update and repair your ship. It features very addictive gameplay and delivers hours of fun for the price of $2.99. This game is way more involved that many others out there, so be prepared to put some time into it.
(Image credits: Apple iTunes)
More Great Themed Apps
If you dig pirate apps for iPhone, you may also be interested in other genres. Be sure to check out some of the best Star Wars apps on iTunes, or maybe you prefer Star Trek apps. There are also a few good Harry Potter apps worth your attention. Finally, be sure to check out this list of the best Zombie games on iTunes.