Best Family Tree App for iPhone using GEDCOM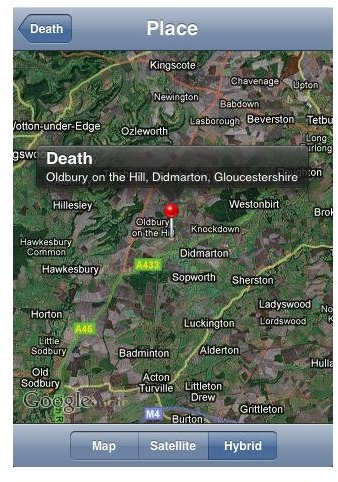 iPhone Apps: Family Tree Maker
iPhone apps that work with GEDCOM files are purposefully designed to be cross-functional. These apps will work with a wide variety of desktop genealogy programs, genealogical websites, or with data provided by other members of your family or friends who work with different software than you.
GEDCOM is an acronym for GEnealogical Data COMmunication, a specification for exchanging genealogical data between genealogy software. It was developed by The Church of Jesus Christ of Latter-day Saints (LDS). A GEDCOM file is text, containing genealogical records and metadata links.
You can import and export from GEDCOM using most genealogy software, but some programs extend the format. These proprietary extensions may not always be recognized by other genealogy programs. On this page are three independent GEDCOM-based apps for iOS, and on the next page you will find companion apps to other genealogical products. Hopefully you will find the best family tree app for you in this list.
GedView
GedView is a Universal app from independent developer David Knight. Multiple GEDCOM files can be imported into separate databases, and there are no limits to the size of your family tree. Users have reported in excess of 60,000 records successfully imported. GedView lacks some of the features of its peers, but what it does allow you to do is edit your genealogical data on the go.
GedView is excellent value for the price, and will suit many amateur genealogists who are interested in a mobile app to carry their family history around and edit it on the go. It serves as an excellent entry point for those who are just getting started, yet also accommodates genealogists who have been working with data on a personal computer for years. GedView works well, and it is my recommended GEDCOM-based family tree app for the iPhone.
GedView costs $3.99 and is available directly from Apple's iTunes Store.
FamViewer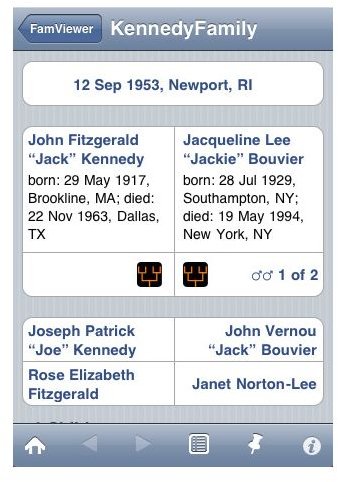 FamViewer is a Universal app from Aster Software. It is the most highly regarded and feature-rich of GEDCOM apps for iOS. FamViewer allows you to import multiple GEDCOM files, and it sets no limitations on file size, allowing files containing over 50 MB, or 50,000+ individuals and notes plus sources.
The interface of FamViewer is elegant and simple. The app offers a great degree of access to your GEDCOM data. The only downside, perhaps a significant one for some, is that FamViewer will only allow you to view your family tree data. You cannot edit, and you cannot add notes. If you anticipate the need to update your information in the field on your iPhone, this may not be the app for you. If you simply wish to view your family tree on your iPhone, definitely give FamViewer some consideration.
FamViewer costs $14.99 and is available directly from Apple's iTunes Store.
Shrubs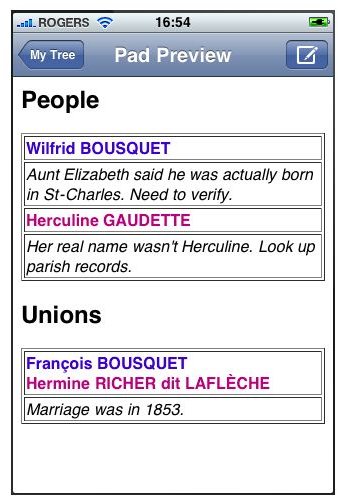 Shrubs is not a Universal app. It suffers from neglect, although developer Benoît Bousquet has long promised an update to version 3. The product is long in the tooth and suffers a serious oversight when importing GEDCOM files. You are limited to a maximum import size of 4 MB. Shrubs is not recommended for anyone with a large genealogical database.
The price rose to $9.99 with the introduction of version 2, and we saw the release to two minor fixes in early 2009, but have seen nothing since. It is impossible to recommend this family tree app until there is an update. It does not compete by features or price at this time.
Shrubs costs $9.99 and is available directly through Apple's iTunes Store.
Best Family Tree App Companions
The remaining genealogy apps for the iPhone serve as companion pieces. The first three for personal computer genealogy software, and the last as companion to a genealogical website. These companion apps may only be of interest to you if you own one of the products involved or are contemplating their purchase.
These genealogy companion apps are worth mentioning, because they offer a number of advantages. They can be tightly integrated with a more powerful product. They can take advantage of proprietary GEDCOM extensions and APIs not generally available. Companion apps are able to incorporate photographs, tighten synchronization of data, and generally provide a more feature-rich mobile genealogy experience.
Families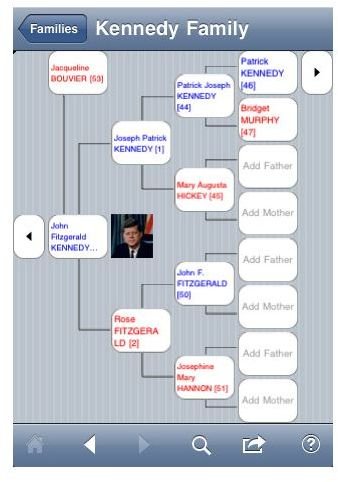 Families is a Universal app designed by TelGen Limited as a mobile companion for Legacy Family Tree, Windows genealogy software from Millennia Corp. The app sets no size constraints on your database, and users have successfully displayed and edited files containing over 300,000 individuals on the iPhone app.
Legacy Family Tree files can be transferred and viewed and edited directly on any iOS device. The synchronization functions are simple to setup and manage, although it does require an additional sync program for these. The app is regarded favorably by other genealogists who have reviewed it in the App Store. Your access to information is somewhat limited, but a mobile family tree app is not designed to fully duplicate all the features of desktop software. If you use Legacy Family Tree or are considering it, the Families mobile companion may be the perfect pocket extension of your family tree databases and is certainly a candidate for the best family tree app.
Families costs $14.99 and is available directly through Apple's iTunes Store.
MobileFamilyTree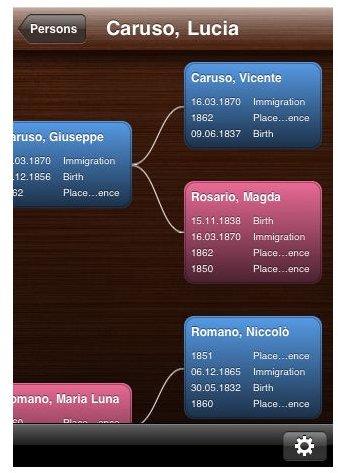 MobileFamilyTree is a Universal app developed by Synium Software GmbH as a mobile companion to their MacFamilyTree desktop software for Mac OS X. It requires version 5 or 6 of MacFamilyTree.
MobileFamilyTree allows you to view, add and edit genealogical information on your iPhone. It fully supports pictures and even offers a graphical 'Context View' to navigate your family tree. The automatic synchronization ensures that changes to your family tree, either on your iPhone or your Mac, are automatically synchronized.
Problems have been reported with the iPad version of this product, including crashes, data loss, and image scaling problems. MacFamilyTree is also reputed to have difficulties with family trees above a certain size. I would recommend trying the demo version of the Mac product first to determine if it suits your needs.
MobileFamilyTree costs $4.99 and is available directly from Apple's iTunes Store.
Reunion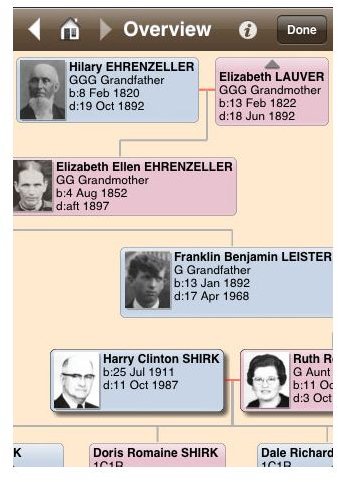 Reunion is not a Universal app. It was designed by Leister Productions, Inc. as a mobile companion product to their desktop software Reunion for Macintosh. It requires Reunion version 9.0c or later. If you own Reunion or are considering its purchase, this app may be just the mobile companion you seek.
Names, events, facts, notes, logs, sources and images can all be accessed through Reunion mobile. You can add people, notate new information, and edit records on the go, and then incorporate the changes back on your Macintosh. The current version of Reunion mobile is showing some age, and it is not recommended for the iPad.
Reunion costs $14.99 and is available directly from Apple's iTunes Store.
MobileTree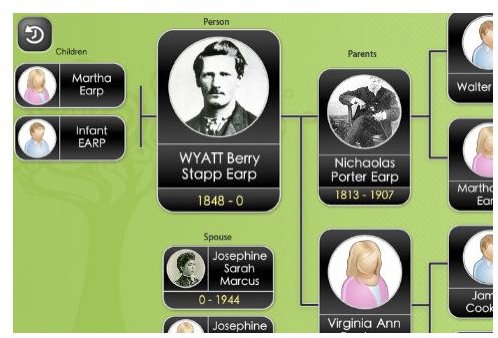 MobileTree is a genealogical companion app developed by AppTime, LLC, although not a Universal app yet. It provides a mobile-friendly interface to the genealogy website new.familysearch.org, which is in turn affiliated with the Mormon Church or LDS. FamilySearch login credentials are required, and are only available to LDS church members.
MobileTree provides mobile access to genealogical dates and names gathered and stored on the FamilySearch website. You can use MobileTree to research an individual ancestor, family records, or pedigree records. You can even associate photographs, stories or events with records. If you are a member of the Mormon church, this app may well appeal to you, but it cannot be recommended to anyone else, due to current limitations.
MobileTree costs $9.99 and is available directly from Apple's iTunes Store.