Do You Know How To Use Evernote? Grab Your Piece of the Popular Note-Taking Software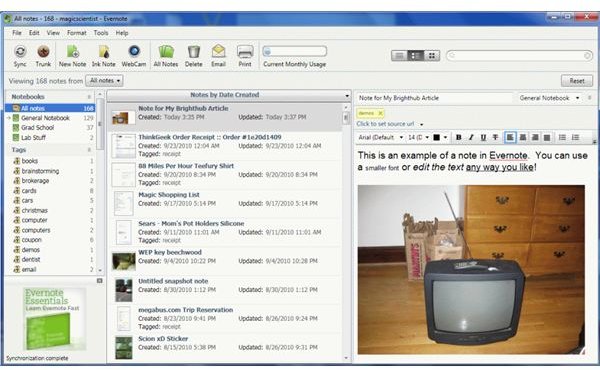 Why Do I Need Evernote?
In the digital age, one of the biggest hassles you can run into is the integration of your regular analog life with your new digital one. Add on top of that the multiple computers, phones, and other media devices that all need to work together and you can end up with quite a mess!
Enter Evernote. Need to take notes in class or a meeting? Want to remember something you saw on a poster for later? Prefer to save a digital copy of an online receipt instead of printing it out? Evernote can solve all of these problems and more.
Better yet, it's FREE!
So What IS Evernote?
Evernote is not really a single application, but a note taking network that makes use of cloud storage. The ways you can interact with Evernote are threefold:
Desktop Client
Mobile Client
Web Interface
Also, Evernote saves not only text, but images, too. Those images are then scanned for text and become searchable (along with all of your text-based notes).
How Do I Get Started With Evernote?
Starting on Evernote is an easy, low-risk activity. While there is a pay version for power users, most people are pretty comfortable with the free account. See their site for account limit details.
The first and easiest step to take is downloading the desktop client. Just go to their homepage and click the "Download" link. Follow the install wizard as with any application and set up your account once you are prompted.
You'll be presented with the main interface screen eventually. This screen has your various notebooks on the left (General Notebook is the default notebook in the beginning). Any time you make a note, it must be added to a notebook for organizational purposes. Most people have a single notebook for the majority of their notes and then specialized notebooks for notes that need to be accessed together (perhaps for a class or a project). To make a new notebook, just to go "File->New Notebook…" and choose a name.
Your First Note!
Now you're ready for the most important part of Evernote…the notes! Click on the "New Note" button in the menu bar and a note will be added to your default notebook (remember, you can always drag it to another notebook at any time).
The note can either be double clicked and brought up in its own window, or simply edited in the viewing pane on the right. When I'm taking notes for a class and have the professor's lecture slides open as well, I find this first option most handy.
By default, the first thing you write in the note will become its title. If you like, you can edit the title, notebook, tags, and links in the top part of the viewing pane.
One great feature is the addition of images to a note. Simply drag any image into your note and it will automatically resize to fit your viewing window. This is a great way to annotate notes from a class or presentation with the graphics used by the presenter. If you "Open with" command the image and edit it in something like Paint or Photoshop, the edits will be carried through to your note!
Lastly, you can clip images directly from your screen with the clipping tool (accessed by hotkey or by right-clicking the Evernote icon in the notification area).
Web and Mobile Use
As far as "Getting Started" guides go, this one is pretty much over…you know how to get the client, how to set up notebooks, and how to use notes. That being said, there is SO much more to Evernote.
One of the best things about Evernote is the unparalleled accessibility. Get on any computer and log in at Evernote.com and you'll have complete access to every note you've ever saved. The interface is very similar to the desktop client, so there's nothing new to learn! Evernote also has a wide variety of web-clipper extensions and plug-ins for all the major browsers so you can quickly save and annotate any website or piece of a website (think about saving all those digital receipts right from the confirmation page!).
Beyond the web, if you have a smartphone such as an iOS or Android phone, there is a version of Evernote for that too! Each one is slightly different, but I can tell you that the iPhone app is fantastic and comes in handy week after week.
Lastly, in an attempt to be everywhere in your digital life, Evernote has spent a lot of time developing integration with web services (like Twitter) and even hardware. A number of document scanners plug right into Evernote so all of your papers can live out their lives online, not chained to your desk!
Enjoy your new Evernote lifestyle and follow their blog for more tips on how to use it in your own life!
This post is part of the series: Articles Introducing Evernote
With these short articles, you can learn all you want to know about Evernote, the desktop client, and the iPhone app for mobile. Check it out!