Great US Military iPhone Applications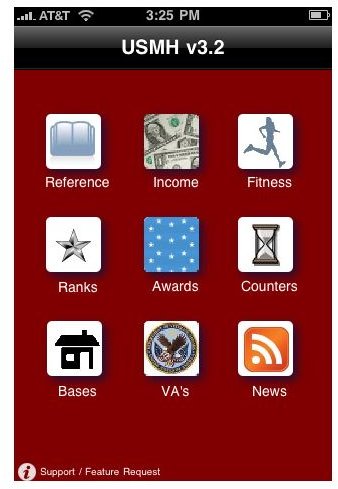 iPhone for Soldiers
The iPhone App Store has a variety of different applications for soldiers that can keep them up to speed on different protocols, when they need to report for duty, and even offer tips on difficult situations in the field. Here is a list of must-have iPhone applications for military personnel, fans, and their families.
U.S. Military Handbook (4 out of 5)
The U.S. Military Handbook is a must-have iPhone application for anyone who is currently in the military, or is aspiring to join the armed forces in the future. The application has base pay and BAH calculators for military personnel, information about VA facilities in each state, images and information about different rank insignias for each branch of the military as well as ribbons and medals that can be earned in each, officer oaths, and a discharge countdown amongst other features.
U.S. Military Bases (4 out of 5)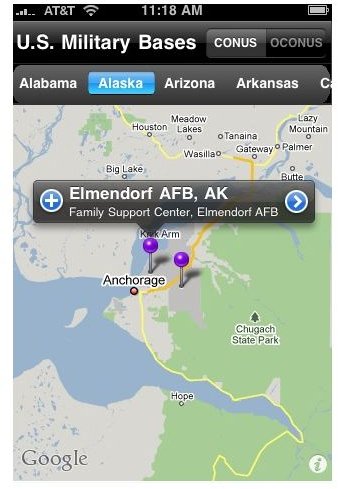 The U.S. Military Bases application allows both active military personnel, as well as those interested in the military, to keep up with bases near them. The U.S. Military Bases app shows all of the active U.S. military bases on a map, and allows users to zoom in on a particular base that they might be interested in. Each facility is listed by it's specific type: Navy, Air Force, Army, USMC, or DOD, and provides an address and phone number for that facility as well as driving directions there from your current location. Specific entries can also be added to your iPhone address book for quick access later on.
Military Slang (4 out of 5)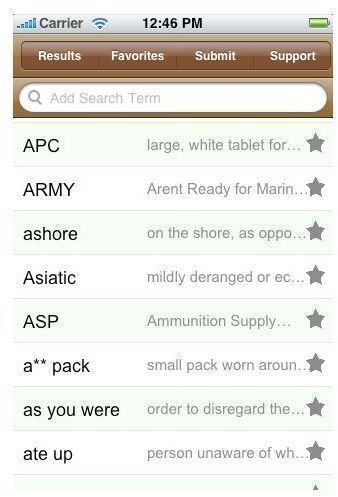 The Military Slang application can be exceptionally useful for anyone who is just going into the military, or is living with someone in the military and needs to be able to decipher the insider lingo. The application is loaded with 2,000 different military slang terms, and what they mean. Terminology can be searched for within the application, with a definition of each term as well as an example of its use available to help you understand exactly what your comrades or loved ones are talking about.
US Army News and Information (3 out of 5)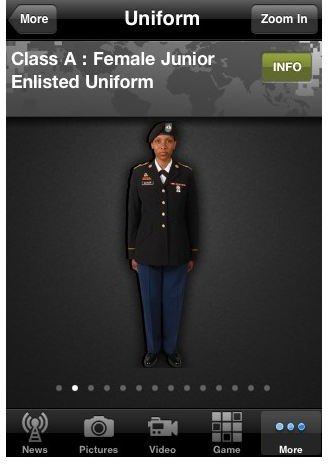 The US Army News and Information application is the official application of the U.S. Army and gives users up-to-date information from the Army's Twitter and Facebook page, information about army ranks, equipment and uniforms, the ability to download and read Soldiers magazine, the ability to test your skills with a tile strategy game, and the ability for aspiring army recruits to find a recruiter near them.
C-17 Duty Calculator (3 out of 5)
The C-17 Duty Day calculator is designed to help military personnel know all of their duty day limitations. The application lets you keep track of when you're allowed to drink as well as your scheduled takeoff day and more. Times can be viewed in both your current local time, as well as the time of your destination, with easy switching between the two.