iPhone Guide: How to Use the iPhone Password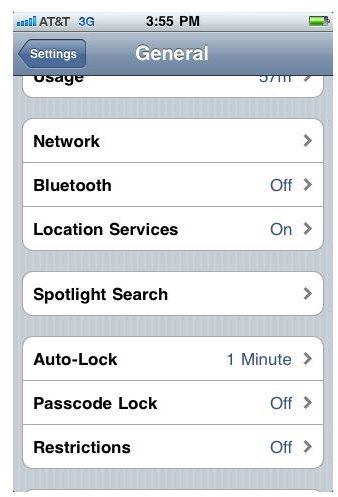 iPhone Password Central
Though not all iPhone users will actually employ this feature, the iPhone password is a main part of the iPhone's security features. The iPhone password is employed specifically in conjunction with the iPhone auto-lock function, which renders the iPhone's touch screen inactive when it is not in use. As the iOS has developed there have been more iPhone security features added, and more specific options for the iPhone password. Here is an iPhone password guide that will lay out how to apply a password, how to extend to a larger passcode, and even how to remove an iPhone password.
Applying the iPhone Password
If you want to set up the iPhone password start by going to Settings and then select General, which is at the top of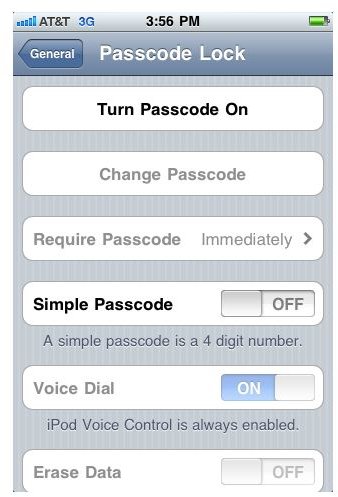 the third block of options right above Mail, Contacts, Calendars. Go down to the fourth block of options in General and select Passcode Lock, which is right below Auto-Lock. It is in Passcode Lock that you can set your iPhone password and make changes. Start by pressing the Turn Passcode On button at the top, which will take you to a prompt where you will be asked to enter in a passcode twice.
Once you have set this iPhone password you can then have a few options. You can press the Change Passcode if you need to change the iPhone's password, and below that is the Require Passcode area where you can select how long you want before the passcode is required. It will be set to Immediately right from the start, which you may want to keep it at.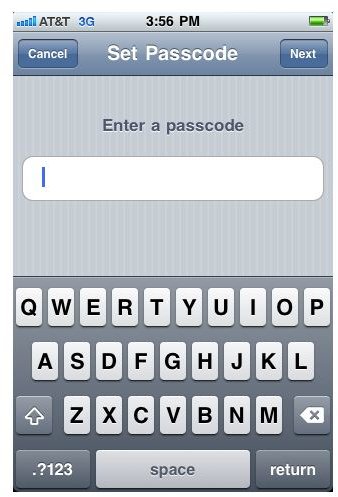 Below Require Passcode is an On / Off switch for the Simple Passcode, which is the four digit numerical iPhone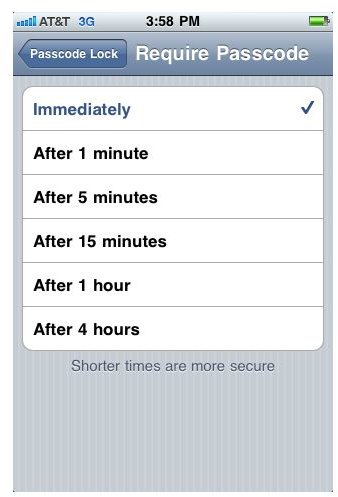 password. This is going to be default for your iPhone's password unless you turn it off. This is what you are going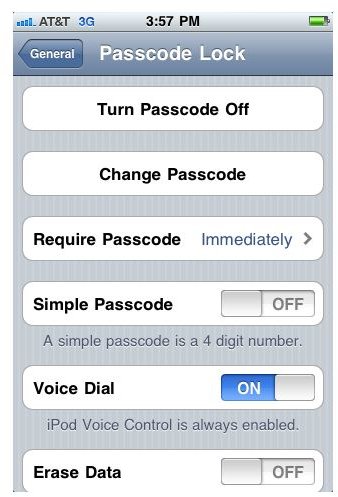 to do if you want to allow for the longer, multi-character iPhone password that is much better for iPhone security.
At the bottom of the Passcode Lock menu will be an On / Off switch for Erase Data. What this will do is automatically erase all content on your iPhone if there are ten failed attempts to enter in the iPhone password. This is the most extreme iPhone security option within the Passcode Lock menu, so choose it if you have a lot of sensitive material on your iPhone.
How to Remove the iPhone Password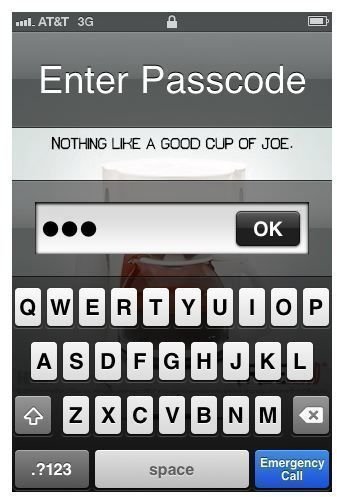 If you want to remove the iPhone password you essentially have to make your way back to the Passcode Lock menu. Start by entering in your iPhone password when entering the iPhone. Then return to the Passcode Lock menu, where you will have to enter in the iPhone password once again. Once you do this you will be back in the Passcode Lock menu, and at the top will be a Turn Passcode Off button. When you press this you will be forced to enter in your iPhone password again. This will remove the iPhone password and allow you to run freely in and out of the auto-lock.
Forgotten iPhone Password
If you ever forget your iPhone password you are going to have a little bit of trouble as there is no easy way to just access it (for obvious reasons). The best solution for a forgotten iPhone password is going to be to initiate a restore when connecting to iTunes on your computer. This is going to end up clearing out your iPhone entirely, but since everything should be backed up on your computer from previous syncs this should not actually be an issue. This process also allows for the security of your iPhone's content to be maintained.