Once you jailbreak your iPhone and install Cydia on it, you can easily use it to download other applications. Some people consider Cydia to be a great app which they cannot live without. But there are certain features in Cydia that don't appeal to everyone and things like ads within an app are very annoying. If the app is not worth keeping, you may want to uninstall it. When deleting any app from the iPhone's Springboard, an 'x' or cross appears with the app icon, where you tap and remove the app. But when you try to delete any app downloaded via Cydia from your Springboard, the 'x' or cross doesn't appear with the application icon. Ever since Cydia has come into being, users have struggled to delete apps downloaded via Cydia. Uninstalling a Cydia app is a long seven step process. You will have to go to Cydia – manage – packages – locate the target package – modify –remove – and confirm to uninstall the application.
Uninstalling Cydia can be quite tricky. But if you have Cydelete, you can conveniently uninstall Cydia applications. Cydelete is a free program that can delete Cydia directly from the Springboard of your iPhone. Follow these steps to remove Cydia from your iPhone.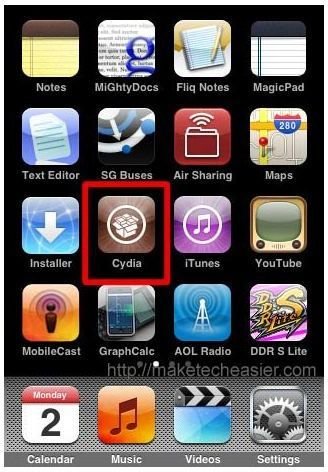 Steps to Uninstall Cydia
Go to the Home screen or the Springboard of your iPhone. Springboard is a graphical set of icons of the applications installed on your phone.

Locate the Cydia icon on your Springboard. The Cydia application icon is light brown in color. Tap it twice to open it.

Tap the 'search' tab from the menu bar located at the bottom of the screen.

Once the search tab opens, input 'Cydelete' in the search box and hit enter or search.

Select Cydelete from the search results.

Select 'install' and confirm that you want to download the program on to your iPhone. The Cydelete application will be installed on your iPhone.

Now press the 'restart Springboard' prompt to restart the Springboard.

Select the applications that you have installed via Cydia that you want to uninstall.

Press and hold the app icon. The icon will start to wiggle and the 'x' or cross appears with the application icon.

Just tap on the 'x' or cross to delete the app. The app will be deleted just like any regular app on the iPhone.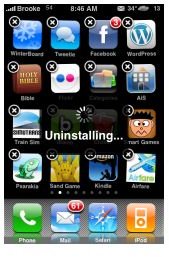 Expect crashes while using Cydelete as it is still in beta. Getting Cydia on your iPhone can be very useful, just as getting it off can be. So get this handy application and uninstall Cydia with it. Cydelete is a free application available for download from Cydia. Don't forget to share your thoughts about Cydelete here.