iPhone WebCam Guide: How to Use Your iPhone as a WebCam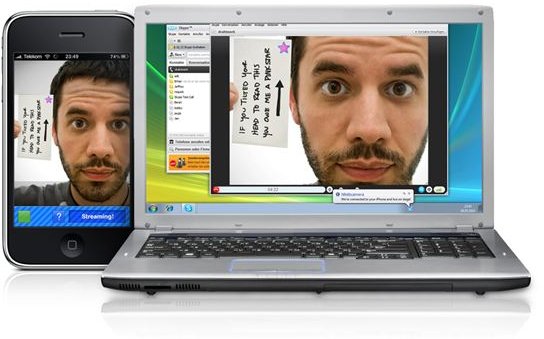 The camera features of an iPhone can be enhanced into webcam features, but, how can you use an iPhone as a webcam? The answer is simple, with the help of third party applications, you can easily stream live video files. Apart from interacting with people, you can also use this feature for security purposes like keeping an eye on your home or office via an iPhone webcam.
iWebCamera
With iWebCamera you can turn your iPhone into a real driver-based web camera. The app allows you to use your iPhone as a webcam with applications like Windows Live Messenger, Yahoo, Skype, YouTube and every other web camera enabled application on your computer.
Set Up
Download and install iWebCamera desktop drivers from the iWebcamera homepage.
Once the drivers are installed on your desktop, connect your iPhone to the same wireless network as your desktop.
Start the web camera host application such as Skype, Yahoo etc.
If the drivers are correctly installed, the host application will automatically detect the presence of iWebCamera.
Now you can start streaming video files using your favorite application.
iWebCamera requires an iPhone OS 3.1 or higher and a Windows desktop. Basic features of this application are; beautiful user interface, YouBlue effect, instant pause option, two quality options and a built-in manual.
iCam
iCam is a web camera application for iPhone that allows the user to view their desktop webcams or network IP camera via the internet. The iCam application allows you to monitor up to four web cameras over Wi-Fi, 3G and EDGE. With iCam, you can also record motion events and monitor video streams to send Push Notifications. This app works in a simple way.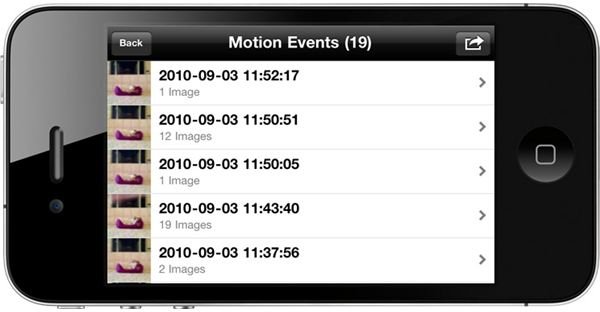 Set Up
Download the iCam application to your desktop as well as to your iPhone. The application can be downloaded from the developer's website or from the iPhone App Store.
The set up screen will appear with a number of camera customization options. Follow them to make your choices.
The application allows you to add up to 16 cameras but your desktop hardware limitations may limit this number.
Next step is to enter the iCam login and password.
Now open your iPhone iCam app, enter the same login and password and start using the iPhone as a webcam.
The iCam app can be used as a security cam, baby monitor, nanny cam, pet cam or even a spy cam. The screen is split into four parts and each part can be connected to an individual web camera. A single tap of each part will open the full screen view.
JumiCam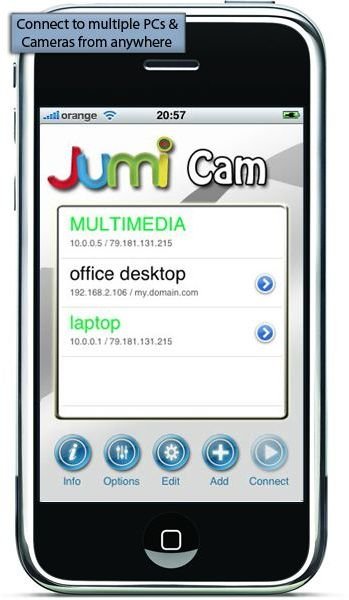 JumiCam can stream live videos from an unlimited number of web cameras. Jumicam is a full featured spying, tracking and monitoring system. Installing a Jumicam is quite simple and is completely automated. Just download and install the Jumi Controller. You can get the Jumi Controller from JumiTech.com. Follow the screen prompts. Start JumiCam on your iPhone and connect.