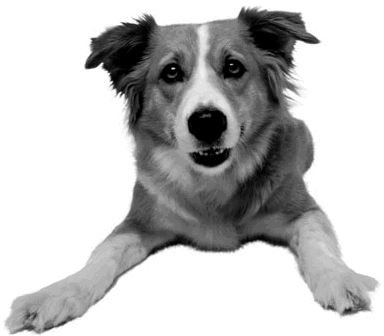 Top 10 Dog Apps to Download to Your iPhone
If you love dogs and you own an iPhone then this article is for you. Join us as we highlight the top ten iPhone apps for dog lovers.
DogBook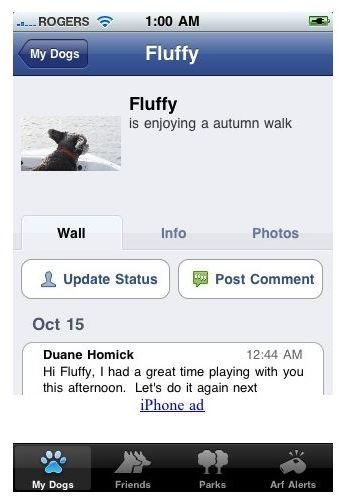 "DogBook" is like Facebook for your dog! With this app you can keep track of your dog's life, share stories and also locate other dogs by breed and location. Your dog can become a "friend" with other pets including cats, ferrets, fish, and horses. DogBook allows you to find nearby parks and includes a pet locator by using "Arf Alerts" to locate missing pets. Click here to download DogBook in iTunes!
Dog Park Finder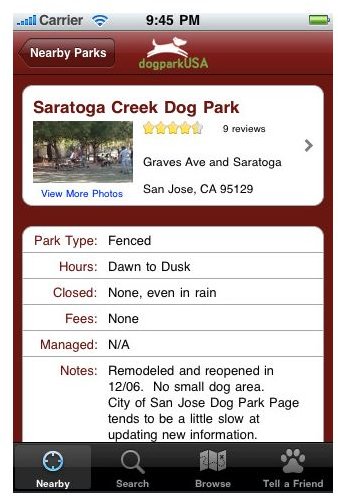 With the app, "Dog Park Finder," you have full access to over 2,200 dog parks nationwide, including details about dog parks, advanced search options and ratings of the parks. You can upload pictures, reviews, add dog parks to the app, and also include dog-friendly locations. Click here to download Dog Park Finder in iTunes!
Barking Sound Effects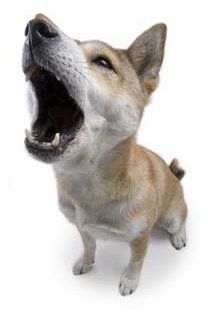 With iTunes, you can download the sound effect titled "Barking" for $0.99. You can use this dog barking download as a ringtone for your iPhone. Once you download it in iTunes, save it as a ringtone in your iPhone so you hear your favorite animal bark each time your phone rings! Click here to download #71 "Barking" in iTunes.
Dog Translator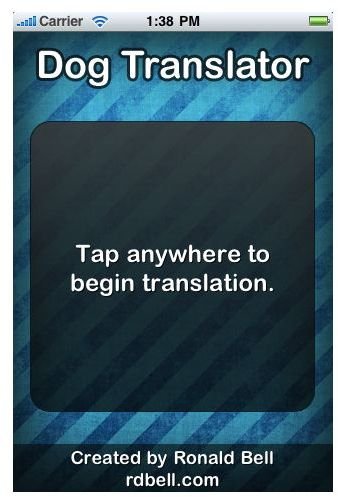 Have you ever wondered what your dog barks mean? With "Dog Translator," you can figure it out! With this easy to use process, hold the phone to your dog while he barks to translate the bark and display the translation on the screen of your iPhone. Of course, the app isn't an actual translator, but it's fun to use and best of all, it's free! Click here for Dog Translator in iTunes!
Dog Tricks & Bark Machine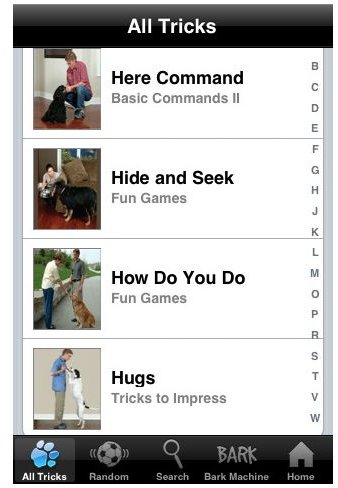 The "Dog Tricks & Bark Machine" is an app that provides pictures and instructions to teach your dog tricks. The app also comes with a variety of songs designed to grab your dogs attention while you teach it tricks. This app includes basic commands, games, tricks, and includes a separate category for puppies. There is also a picture section so you can view different dog breeds for your enjoyment. Click here to download Dog Tricks & Bark Machine in iTunes!
Dog Wallpaper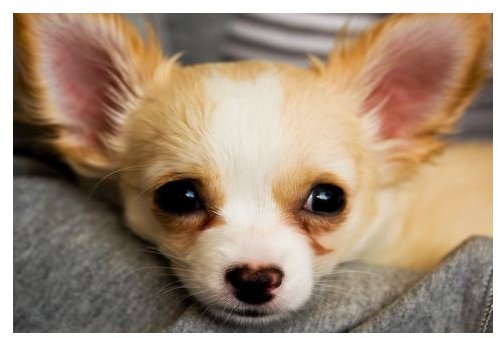 You can show off your admiration for your canine friends with this dog wallpaper app. The app includes a variety of photos of dogs taken by professional photographers from around the world. You can use the app to look at different breeds of dogs and then save them as wallpaper for your iPhone by tapping the screen of your iPhone and hitting "Save." Click here to download Dog Wallpaper in iTunes.
Paw Card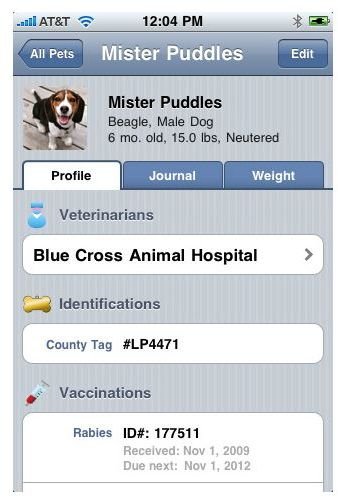 With this app, you can create a profile and keep track of your dog's vital information. You can also keep track of your dog's medications, weight, and even record journal entries for your pet so you can remember what the last vet visit was about or use it to track questions you'd like to ask the vet. With this app you can email your pet's "Paw Card" to a vet or a pet sitter for their viewing. Click here for Paw Card in iTunes!
Pet First Aid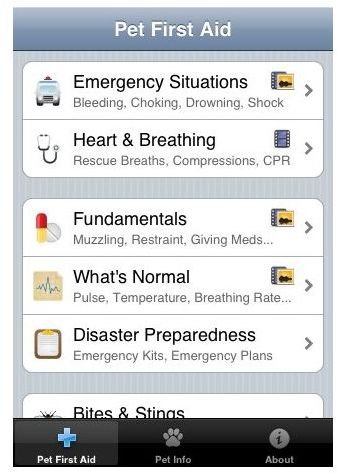 The "Pet First Aid" app is a must-have app for any dog owner as it allows you to always be prepared for a medical emergency. Whether your dog has a cut or is choking, this app is readily available with articles, videos, and pictures to help you aid your dog in an emergency. You can also record your dog's medical information such as your dog's weight and create journal entries for each vet visit. Click here for Pet First Aid in iTunes!
Shake & Bark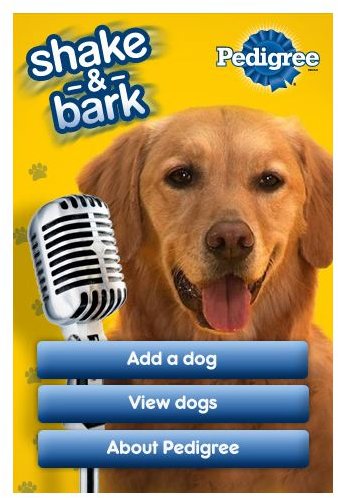 Do you ever miss your dog when you're away from them? With "Shake & Bark," you can take your dog's picture and record their bark. Once you've done that, you can shake your phone to listen to the bark or choose a prerecorded bark to assign to your dog if you weren't able to record a bark for them. With "Shake & Bark," you can also see photos of dogs rescued from shelters. Click here for Shake & Bark in iTunes!
Your Best Dog Ever Podcast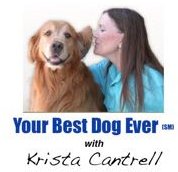 You can listen to this podcast and even subscribe to it in iTunes to watch on your iPhone. This podcast is for dog owners that may struggle with day-to-day issues such as barking, chewing, digging, pulling of the leash, and more! With this podcast, animal behaviorist, Krista Cantrell shows you simple steps to solve your issues with dog training. [Click here to subscribe to the Best Dog Ever podcast in iTunes](https://itunes.apple.com/us/podcast/your-best-dog-ever-podcast/id372273296)!