Tips and Tricks for Troubleshooting iPhone Facebook Application Problems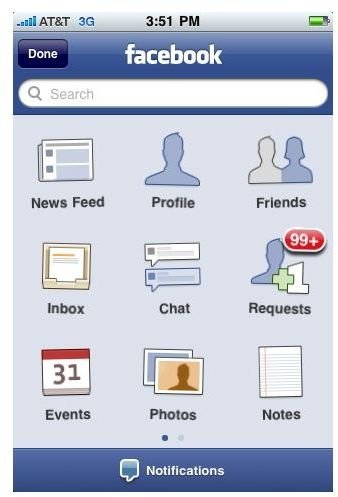 iFacebook
With the recent announcement that Facebook has reached a hundred million users via their Facebook iPhone app it is obvious now that the Facebook iPhone app is a standard for iPhone users, so much so that it could come as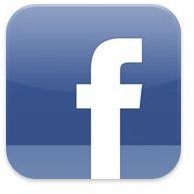 standard on iOS 5 or later versions. With so many people using it, and so many Facebook features being ported over to the mobile version, there are a number of iPhone Facebook application problems that can come up. Here are a few of the most common iPhone Facebook application problems, and some ways to try and troubleshoot them.
Uploading Photos
One of the nicest features that you have on the iPhone Facebook app is the ability to upload pictures right from your iPhone without actually having to sync them to your computer first. One of the most common iPhone Facebook application problems that gets reported is that people are having trouble uploading their photos, either in the correct folder or in all situations.
First off, what most people do not note is that if you want to upload a picture with the iPhone Facebook application to a folder that already exists you must first select that folder before you choose to add one. Often the standard process for uploading a photo to Facebook using the iPhone Facebook app is to just hit the "+" button in the upper right hand corner of the Photo section, which actually allows you to create an entirely new photo album. Instead, you are going to want to select the specific album that you want, such as the Mobile Uploads album that is specifically included for this purpose.
If your iPhone Facebook application problems with uploading photos extend to an inability to do this in all situations then you may have a different problem. Make sure that you have updated your version of the Facebook iPhone application to the newest available and check your internet connection, especially if you are using a Wi-Fi connection.
Push Notifications
The iPhone has the ability to bring in a whole different range of communication models. The iPhone's Push Notifications let you know that you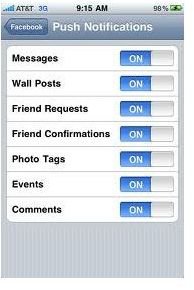 are receiving communications, which appear in the same way that text messages or voicemail messages do. If you are not receiving these then they may be turned off for your Facebook iPhone application. Go to the iPhone's Settings and go down to the fourth block down and select Facebook. When you are in the Facebook settings you can then select Push Notifications, which will give you a whole range of options. Here you can decide exactly what kind of push notifications you want sent through the iPhone such as Messages, Wall Posts, Friend Requests, Friend Confirmations, Photo Tags, Events, and Comments. All of these will be set to Push Notifications as standard, so if your iPhone Facebook application problem is that a specific Push Notification is coming up from your iPhone app that you do not want, then you can solve it here.
Unseen Messages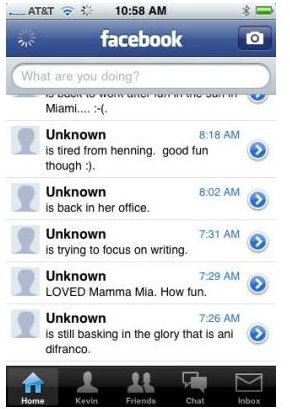 Many people have reported iPhone Facebook application problems with seeing the contents of messages, especially those with pictures. There are a few different reasons that this could occur, but the most consistent reason is a bug in the clean Facebook 3.0 release. The first way to troubleshoot this is to update to the latest version, which is version 3.2.2.
Facebook Crash
It is not just common for the iPhone Facebook app to crash, but this can happen with a number of different applications and is not uncommon amongst almost all iPhone users. If you find that your iPhone Facebook application repeatedly crashes your problem is probably not going to be one of connectivity, especially if you are on a Wi-Fi connection. This is going to be a much bigger issue on first generation iPhone's and the iPhone 3G, where you may not even be able to sustain it open at all. The main way to fix this issue is to reinstall the iPhone Facebook application by first deleting it from your iPhone, then from your iTunes App location on your computer. Download the iPhone Facebook application fresh at its most recent version and then install it once again, which is successful in most situations. You will not, however, have to change any of your account information for Facebook's social networking services.