Top iPhone Language Translation Apps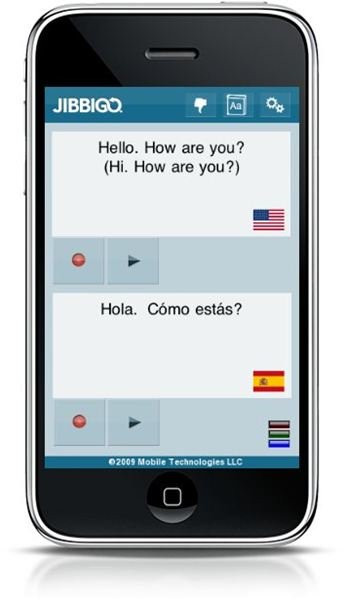 iTunes Language Translation
The low end of mobile translation in the iTunes Store is dominated by advertising-laden, cheap or free front-ends to the Google translation engine. At the higher end of the market, a number of innovative and comprehensive tools are to be found.
Like the fast fading market for dead-tree pocket dictionaries, the most comprehensive app references are sold in series. You purchase the equivalent of an individual book, devoted to a pairing of translations between two individual languages. Some developers offer apps that include clusters of languages with similar linguistic properties. As you might expect, the more languages an app tends to offer, the less comprehensive the features and dictionary size tend to be.
What follow are five of the top iPhone language translation apps available today. Offline access is a key differentiator within this market. The apps that provide a complete dictionary available offline, without an Internet connection, can deliver their services when you are likely to need them most. Be prepared to pay for this critical feature.
Jibbigo
The Jibbigo series of apps from Jibbigo, LLC are certainly the closest any iPhone language translation application approaches to the fictional Babel fish of Douglas Adams' The Hitchhikers Guide to the Galaxy. The Babel fish is an alien creature that renders in-ear translations both to and from any spoken language. Jibbigo describes their apps as "speech-to-speech translation" tools for your iPhone, iPod, or iPad.
The Jibbigo translation apps offer a vocabulary of around 40,000 words. You speak into your mobile device in one language, and Jibbigo renders the translation audibly as speech in another language. A neat concept, but does it work in practice? I have not tested any of Jibbigo's translators, so I cannot offer personal experience. None of their apps is rated below 3-stars on the iTunes Store. Reviewers either love or hate Jibbigo. Patience appears to be a necessary virtue with these apps, and you must be willing to accept an error rate as high as 20% and potentially off-color language.
Jibbigo translators range in price from $24.99 to $27.99 and are available for Spanish-English, Japanese-English, Chinese-English, and Iraqi Arabic-English. You can learn more about Jibbigo, and download their apps, from the Jibbigo website.
Ultralingua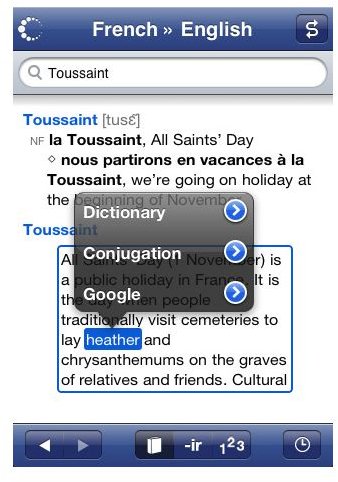 The company Ultralingua is the Grande Dame of the mobile translation market. They have been in business since 1997 with one of the first mobile dictionaries for Palm OS. They presently have mobile apps available on iOS, Palm OS and webOS, Windows Mobile and for Windows and Mac desktops. The company produces dictionaries under their house Ultralingua brand, and the Collins Dictionaries brand of HarperCollins.
On iOS, Ultralingua offers by far the most comprehensive series of language-pair dictionaries from any developer. Their dictionaries include the standard English to French, Spanish or German, but also the far more esoteric English-Latin and Klingon-English. The sizes of Ultralingua dictionaries go all the way up to as many as 290,000 entries (between Spanish and English).
All of the Ultralingua dictionaries offer a variety of unique features built on top of a robust translation engine. These include slang, technical, and regional differences in language. They offer biographic, geographic, and usage entries. A number tool is extremely handy, to instantly convert numerals into your chosen language. The Collins Pro series adds verb conjugation engines, as well as phonetic and etymological entries for all dictionary items.
Ultralingua's dictionaries range in price from $7.99 to $24.99, and more information and download links can be found on the Ultralingua website.
iLinguist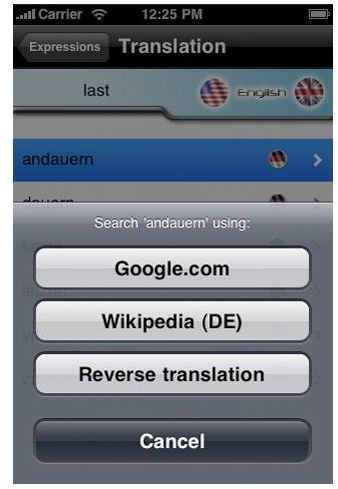 The iLinguist series is comprised of two translation apps from Apps Dev Team. Reviews are mixed, but these offer the lowest price point of any of the purely offline translation apps. The iLinguist language pairs include the less common Dutch and Finnish, and an entire dictionary devoted to translation between Eastern European languages and English.
iLinguist West is available for $4.99, and it translates between English and one of five Western European languages: German, French, Italian, Dutch and Finnish. The West dictionary contains 250,000 word pairs.
iLinguist East is available for $2.99 and translates between English and one of five Eastern European languages: Czech, Russian, Polish, Slovak and Croatian. The East dictionary contains 292,000 word pairs.
Both iLinguist dictionaries can perform forward and reverse translations, or additional searches on Wikipedia or Google (with access to the Internet). They can be found at the iTunes Store or on the Apps Dev Team website.
Linguo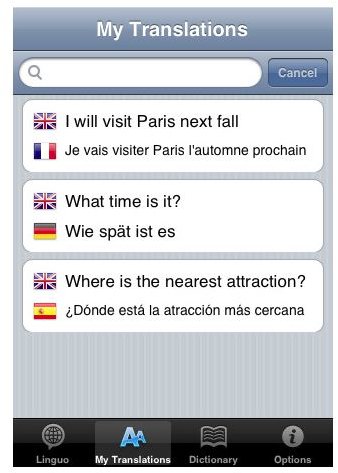 Linguo is a multilingual translator developed by Edovia, Inc. located in the multilingual city of Montreal. Linguo is primarily an online translator, but it can be accessed offline with assistance of a database that caches results on the device. Linguo first searches for results locally, before searching online for a translation.
Edovia have crammed a lot of features into Linguo, including 400 audio clips, and the ability to send results by email or save them for later lookup. The internal database is seeded with over 385,000 entries. Translation is offered across 25 languages:
Arabic, Bulgarian, Chinese (traditional and simplified), Croatian, Czech, Danish, Dutch, English, Finnish, French, German, Greek, Hindi, Italian, Japanese (Romaji and Kanji), Korean, Norwegian, Polish, Portuguese, Romanian, Russian, Spanish, Swedish.
Linguo costs $2.99 and is available in the iTunes Store. A free version, Linguo Lite, is also available, and it lacks only the offline database features of the pay version.
Interpret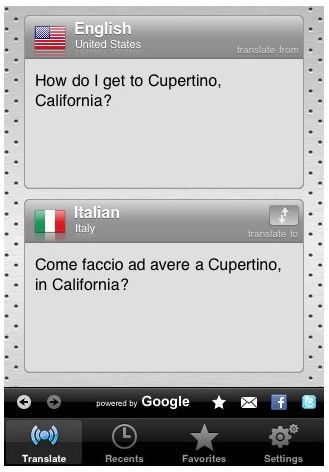 There are dozens of free and 99-cent iPhone translation apps in the iTunes Store, but the best of the lot is Interpret by SuiteTouch, LLC. Interpret relies upon online translation engines, as do all the other free translation apps. However, not only does Interpret provide the standard Google translation engine, but it supplements this with Bing.
The interface to Interpret is simple and easy to navigate. Perhaps most importantly, it is not overwhelmed by advertisements. Indeed, there are no in-app ads at all. SuiteTouch's Interpret is by far the best free translation app available, both for lack of in-app ads and the inclusion of both the Google and Bing translation engines. Interpret can presently translate between any of 51 different global languages, with dictionary sizes limited only by what Google and Bing offer.
Interpret is Free, and it can be found in the Apple iTunes Store.