Five Best iPhone To-Do/Task Manager Apps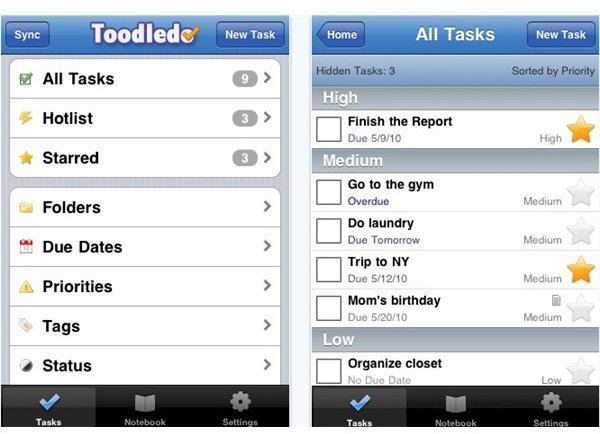 Toodledo
Toodledo is easily one of the most impressive iPhone to-do apps around. It could well be one of the best if not the best task manager for iPhone will all the bells and whistles that you would typically look for in a to-do app. You can use the app as a stand-alone app on your iPhone or seamlessly synchronize it with your online Toodledo.com account. The app lets you use the usual GTD (Getting Things Done) methodology or your own to-do system. To give a sample of what it can do, Toodledo iPhone app lets you assign tasks to a folder, context or goal. It also lets you mark the task with a visual star or keywords to make it easier for you to check your tasks list. The app also alerts you via a sound alarm when tasks should be done soon. Other features of this app include - free-form notes, notebook section that allows longer note posting, search through tasks, apply filters to your to-do lists, and more. (Price: $3.99) (Download link)
Things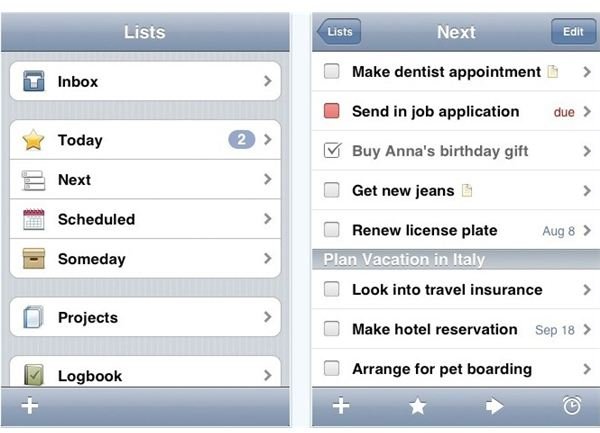 Things aims to provide a well balanced iPhone to-do app that is different from other apps which are oversimplified, too difficult to use and too extravagant with features which actually are not being used at all. In other words, Things iPhone to-do app hopes to provide a perfect balance between a to-do app that is easy to use and yet offers really useful and powerful features. So, what does it allows you to do? Simple - manage your to-dos, notes, due dates and projects on your iPhone. It also lets you create smart today lists as well as schedules of things that you need to do and finish by particular dates. The app also syncs well with Things desktop app, through Wi-Fi. The only thing that will probably prevent you from getting this iPhone to-do app is its price. (Price: $9.99) (Download link)
Remember the Milk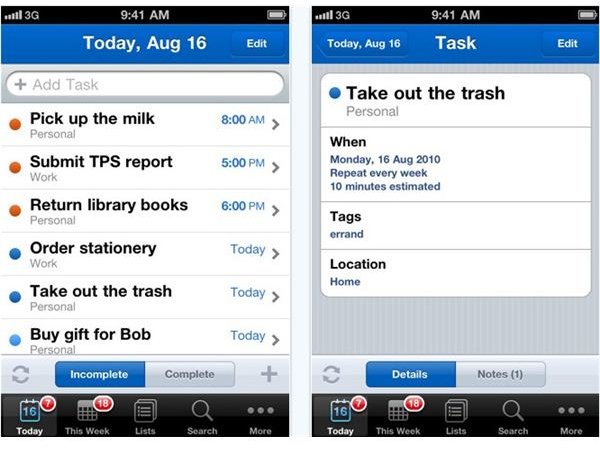 Like other iPhone to-do/task manager apps, Remember the Milk also synchronizes with an online service. It's also a feature-rich app which lets you add and complete tasks on the go, organize the way you want to go with priorities, due dates, time estimates, repeating, lists, tags and more. The app also lets you search your tasks and notes and save your searches as Smart Lists, see tasks nearby and plan the best way to accomplish these tasks, receive reminders via email, SMS, and instant messenger. A premium version is also available via in-app purchase. (Price: Free) (Download link)
Rex Lists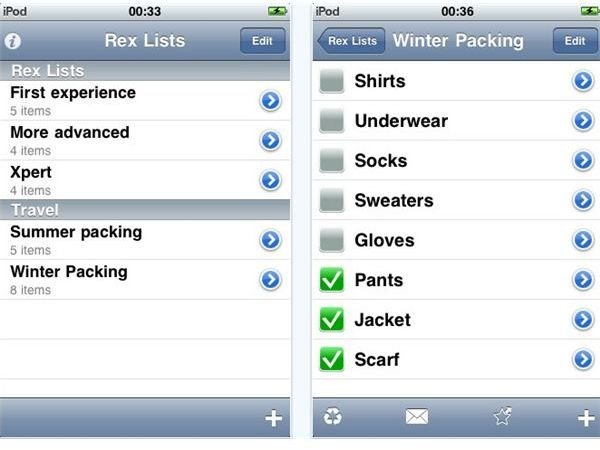 What separates Rex Lists from other iPhone to-do apps on our list is that it lets you create re-executable lists that you can use more than once. This is applicable for seasonal tasks which you need to do periodically. With Rex Lists you don't have to re-create the same to-do/task list. Of course, you can also use this app for its main purpose of being a to-do/task list management app. Other features of Rex Lists include - multiple checklists ordered by groups, supports other apps, shareable with other people by email and localization in English and Spanish. (Price: $1.99) (Download link)
ToDo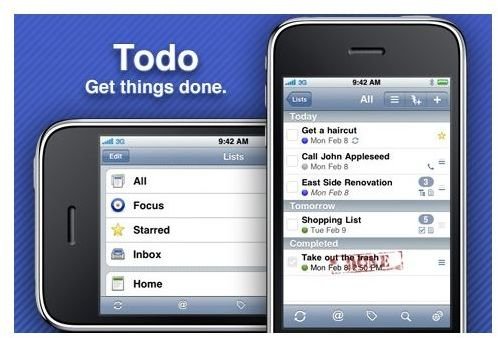 One thing that you will really appreciate from ToDo iPhone app is the app's neat and beautiful interface. More particularly, its notebook paper-like interface. It lets you manage your tasks on your iPhone or synchronize to your desktop via iCal or Outlook. If you have a Toodledo account, this app supports it as well and lets you synchronize your tasks between your iPhone and web account. Other features of Todo iPhone app include - task reminder alerts, projects and checklists, full landscape support, multiple tasks management, full calendar view, drag and drop sorting, contact, email and SMS integration, full task searching and more. (Price: $4.99) (Download link)
Image credit
Screenshots courtesy of author (iTunes Download).
This post is part of the series: iPhone Calendar & Organizer Apps
Looking for Calender Apps for the iPhone or other iPhone organizer apps to help you keep track of appointments, schedules, and to do lists? If so, this series has all you need on organizer apps for the iPhone.