iPhone Video Cable Guide: Watch Video and Play Games on your TV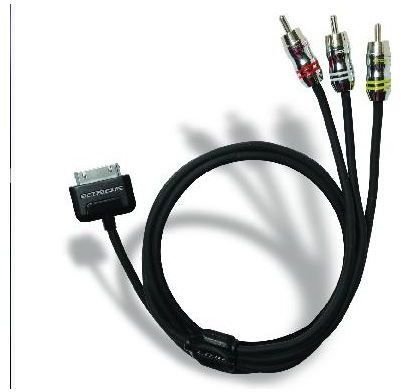 Video Out on the iPhone
Using the iPhone and a video out cable it is possible to enjoy just about every application on your TV. Currently the iPhone video cable
comes in one standard configuration, one end is a dock cable and the other is a standard RCA connection. There are both official and non-official iPhone video cables available and the price point varies greatly.
Cheaper iPhone video cables can be purchased on the internet for around $8 dollars. Official iPhone video cables cost much more. Using the iPhone video cable it is possible to display almost all video on your television (sound too). Things such as YouTube, the iPod App, Games and other types of applications will display on your TV.
Using the iPhone Video Cable
Using the iPhone video cable is an incredibly easy process. In fact it is practically a plug and play procedure. Using a non-authentic video cable may require a little more configuration than an authentic one but in reality it is not much more complicated.
Currently most applications will function with the iPhone video cable on your TV. There are a few known limitations and those are mostly applications which will not display in landscape mode. Applications which are fixed to portrait mode may either display in an awkward fashion or may display completely sideways on the TV. Fixing this typically means switching the application into landscape mode however some applications do not support landscape mode and consequently will not look proper on the TV (unless you enjoy looking at your TV in a sideways fashion).
To use the iPhone video cable simply follow these steps:
Connect the iPhone video cable. Connect the RCA (or Composite/HDMI) end of the cable to your TV. Connect the other end to the iPhone (dock connector).
Launch an App. Launch an App on the iPhone to begin. Choose an App that is supported such as YouTube. You may also try other apps to test which will work and which won't.
Use the App. The video of the app should now appear on the TV screen. The App will not appear on the iPhone screen however you will be able to interact with it via the touch screen.
Troubleshooting & Settings
On some occasions the video from an application may not display on the TV screen. This can be caused by several different issues within the TV Out settings on the iPhone. If the video still does not display after adjusting these settings, consider purchasing a new iPhone video cable as your video cable may not be functioning.
Launch Settings. Open "Settings" on the iPhone by choosing the gray settings icon on the home screen. Choose "TV Out" from the list by tapping it.
Enable TV Out. Ensure that the slider is set to "ON" for "Enable TV Out".
Enable Force TV Out. If your iPhone video cable is not working it may not be an authentic video cable. Slide the "Force TV Out" to "ON" and try loading your application again.
Adjust layers. Choose "Compatibility Mode" by tapping it. Tap "TV Out Layer" and adjust this as necessary. Most apps will work on Layer 1. Most video files will playback on Layer 2. Some apps and videos may require you to set this to Layer 3 or Layer 4 for them to function.