Scan Documents with iPhone App - Top Five Apps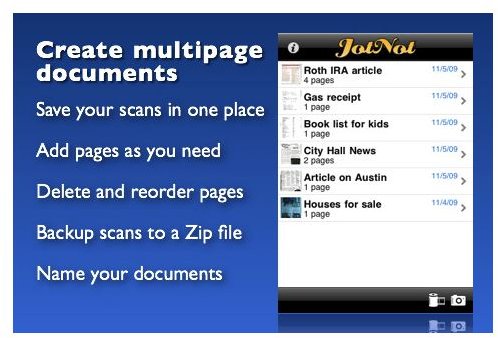 JotNot Scanner Pro
This app lets you scan multiple documents, whiteboards, receipts, business cards and notes and save them into PDF files. Or you can send the scanned file directly via email or upload it to cloud storage services including Evernote, Box.net, Dropbox, or Google Docs. Best thing about this app is that it process the scanned image right inside the app. And the app uses proprietary image processing to remove shadows, correct contrast and adjust white balance. This technology is similar to what is being used in flatbed scanners. Another nice feature of this app is that it removes information you don't want from the scanned image. Some of the app's nice features include - automatic page detection, Dropbox integration, multipage support, Google Docs integration, Box.net integration and more. (Price: $4.99) (Download link)
Scanner Pro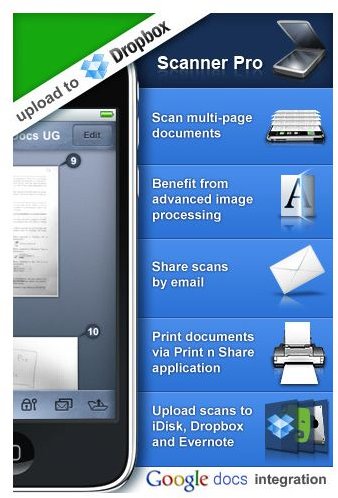 This app could easily be the best iPhone scanner app available now from the App Store. It utilizes a special algorithm that outputs a high-quality scanned image. The app lets you scan documents, receipts, whiteboards, notes, and business cards. Feature-wise, this app certainly has enough about it to make the price tag reasonable. It lets you scan multi-page documents, process image smartly, set custom page size, make industry standard PDF files, protect documents with password, transfer documents to Mac and PC, send scans by email and more. (Price: $6.99) (Download link)
Scan&Shop - Shopping Barcode Scanner and Reader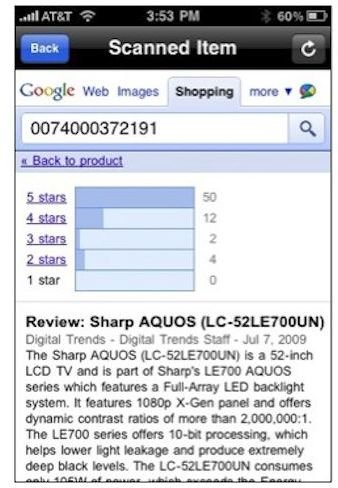 Here's another pretty good app that gives your iPhone scanning functionality. What's good about this app is that it works with Google Shopping, so it's a useful app for finding the best deals online. The app brings together price comparison, product ratings and reviews. Right inside the app, once you've deemed that a product is good, you can quickly purchase it online or find directions on how to go to the store offering the product. When you are shopping and you find a product that you really want to purchase you can find out what others who have tried it say about the product. Simply scan the product's barcode and the app will display search results culled from the Google Shopping site. Key features of the app include - uses Google Product Search, works well with iPhone 3G and 3GS's camera with auto-focus and scans UPC (8 to 12 digits) and EAC (13 digits). (Price: $0.99) (Download link)
Optiscan - QR Code Scanner and Generator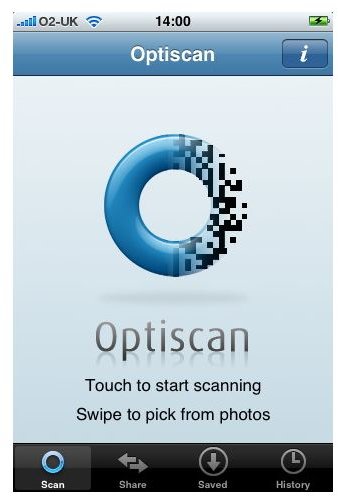 Not only does this app lets you scan QR codes but it also lets you create your own QR codes as well. It automatically locates and scans QR codes in your iPhone camera's viewfinder and scans barcodes written on paper, monitors and other device screens. The app also lets you share contacts, web addresses and texts with other mobile devices, scan a wide variety of QR code data formats, save specific QR codes for quick sharing, and decodes saved images of QR codes from the web. The app also supports UTF-8, ISO-8859 and Shift-JIS for generating QR codes.
(Price: $1.99) (Download link)
Genius Scan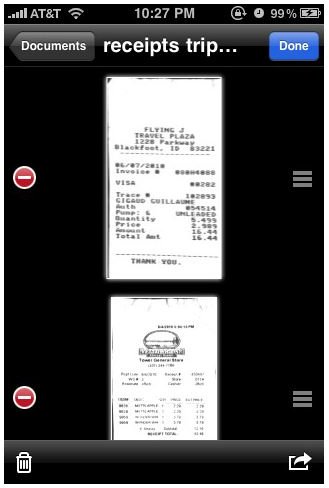 This app lets you quickly scan documents while on-the-go. It lets you send the scans by email or whole documents as PDF. In other words the Genius Scan app turns your iPhone into a pocket scanner. Best feature of the app is the speed at which it scans documents without bothering you too much about instructions and procedures that you need to follow. The app features smart page detection, perspective correction, grayscale detection and image post-processing. Key features of this iPhone app include - scan-post processing, documents renaming, sending documents as PDF, sending scans as JPG, perspective correction, and in-app processing of documents. So, generally you can use this app to take a picture of the whiteboard while you're at school, scan receipts, save handwritten notes and more.
(Price: Free) (Download link)