How to Use Your iPhone as a Modem

The iPhone has many capabilities, one of which is tethering. When you use the iPhone as a modem to connect to the internet, it is referred to as iPhone tethering. This can only be done with iPhone 3G and up phones. What actually happens is that you use your iPhone as a modem that connects your computer to the Internet. Mobile tethering uses your iPhone data network that allows your computer to browse the Internet, when it's connected to the phone. This is a great way to connect to the internet in areas where there is no Wi-Fi or for those times when you would like to surf on a bigger screen.
Here's how to use an iPhone as a modem.
USB or Bluetooth Connection
To use your iPhone as a modem locate the 'Home' button on the iPhone screen and click. Now tap the 'Settings' icon. This will bring you to the network connection page. Select Internet tethering and turn it on.

To connect your iPhone to your computer, you either require a USB to Dock connector or Bluetooth.

USB Option: Connect your iPhone to your computer using a USB cable. Within your computer's network preferences, choose iPhone as a network service setting. Click 'apply' and connect to the Internet.

Bluetooth Option: You can connect your computer with your iPhone 'modem' by simply turning on the Bluetooth option. On the Bluetooth option in your iPhone, open the settings application. Tap on the 'general' icon and select Bluetooth and turn it on. Next turn on the Bluetooth of your computer and pair the two devices to connect to the Internet.

To check if you have successfully connected to the Internet via your iPhone, look for a blue band across the top of the iPhone screen. If it's there, you have been successful in creating an Internet connection.
iPhone as a Wireless Internet Modem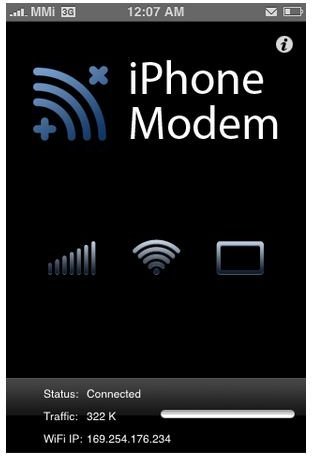 Unfortunately, for this method you'll need to jailbreak your iPhone. Use Pwnage or QuickPwn tool to jailbreak your iPhone. Follow the instructions and run one of these software apps.
It's also recommended that you install Addition's iPhone Modem 2 software on your iPhone.
Once jailbroken, open Cydia. Now search for Addition's iPhone modem 2 and install it. Next download and install 'helper app' on your computer.
Run the helper app and press connect. The helper app sets up an ad hoc wireless connection that can be accessed by an iPhone.
It creates a default network usually by the name of 'iPhone modem', which does not require any password.
Now open 'Setting' on your iPhone. Tap on the 'Wi-Fi' icon and turn it on.
Select the 'iPhone modem' network. As you open the modem iPhone app, everything starts configuring automatically. After sometime the iPhone app and the helper app will confirm that the wireless Internet connection has been established. Now launch the web browser and access the Internet from your computer.