Best iPhone Apps for Craigslist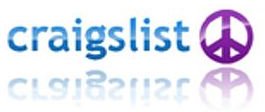 Craigslist
Without a doubt Craigslist is one of the largest classified networks available. Filled with items for sale, houses for rent, pets, job
opportunities and even personals, Craigslist is both huge and useful. Many have found Craigslist to be an addiction, checking Craigslist frequently for new jobs or items for sale.
Being tied down to a computer when using Craigslist is quite a pain. Sure, Craigslist works in Safari on the iPhone but it is quite painful to use. Luckily for all of the Craigslist lovers there are several splendid solutions. Craigslist for the iPhone has never been better than with these handy Craigslist apps for the iPhone. Read posts, keep tabs on your favorite categories and even post a new ad with photos directly from your iPhone.
CraigsPro+ (5 out of 5)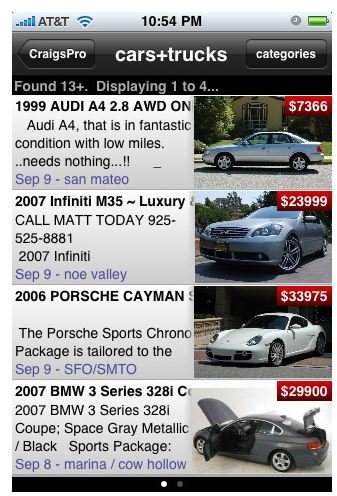 CraigsPro+ is without a doubt one of the best Craigslist apps for iPhone. What makes CraigsPro+ so attractive is just how well it brings Craigslist to the iPhone. The interface is a pleasure to use and it is likely you will forget you are using Craigslist when you have CraigsPro+ open. Items for sale are cleverly displayed by images with the price overlayed. CraigsPro+ does an excellent job of taking Craigslist and turning it into a truly iPhone friendly service.
CraigsPro+ is a huge improvement to Craigslist for the iPhone. Posting of new ads and even attaching photos is supported directly from the iPhone with CraigsPro+. CraigsPro+ even makes it easy to save your favorite listings to the handy favorites menu for viewing. Should you find something you have the urge to share, CraigsPro+ can help with a great Tweet function allowing you to send it directly to Tweeter. Additionally a sharing tab enables sharing links by traditional email. Download CraigsPro+ from the iTunes store (here).
iCraigPro (3 out of 5)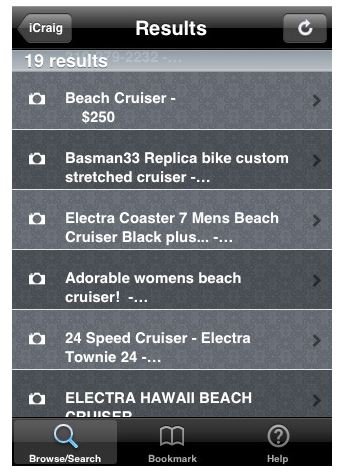 iCraigPro is yet another attempt at bringing Craigslist to the iPhone. iCraigPro deserves a mention because of the simplicity of usage and the authentic Craigslist feel. While many other Craigslist apps for the iPhone do their best to change the appearance of Craigslist on the iPhone, iCraigPro doesn't. Presenting Craigslist in a simple list style with pure text, authentic to Craigslist. iCraigPro enables direct email integration to respond ads via email directly from the application.
Additionally iCraigPro enables saving your favorite ads and searches. Searching Craigslist is a breeze with iCraigPro. Ads are presented in text format however the photos for each ad can be viewed with the additional information. iCraigPro is worth a look for avid Craigslist users who just want a simple way to access Craigslist on the iPhone. iCraigPro is a good app for viewing Craigslist however it does not enable the posting of new ads. iCraigPro can be downloaded from the iTunes store (here).
CraigsApp (4 out of 5)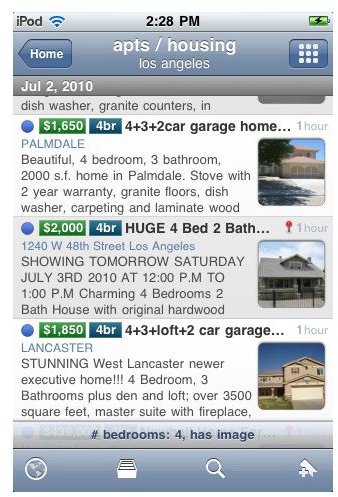 CraigsApp is another great entry into the list of Craigslist apps for the iPhone. CraigsApp enables browsing of ads on Craigslist, it does not allow posting of new ads. CraigsApp has a very interesting interface which combines a new feel and the classic Craigslist appearance for a winning result. CraigsApp allows for several different viewing options which make it a pleasure to look at for just about anyone.
Viewing photos with prices is one of the best modes for quickly skimming through ads. Full view allows for viewing ads with photos and price in a simple list format. Finally detailed view allows you to view the entire announcement in its entirety. Positioning and color formatting of text on the screen is practical and makes browsing Craigslist great with CraigsApp. Favorites, Share with Friends and respond to ads features are all available from directly within CraigsApp. Download CraigsApp from the iTunes store (here).
CraigsEZList (3 out of 5)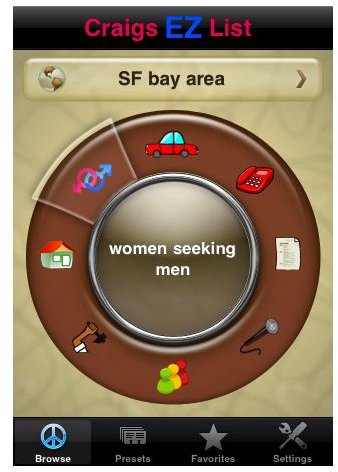 CraigsEZList is one of those apps that you want to like so much more but you can't. The idea of CraigsEZList is great. This application integrates an easy to spin dial system for selecting categories and quick navigation through Craigslist. The application itself works great and it does make browsing Craigslist quite easily. At times it can feel a bit too easy and almost juvenile which does make it a little tedious when searching Craigslist.
Responding to ads directly from CraigsEZList is a handy feature. Likewise the ability to send ads via email to friends with a picture of the ad is another handy feature. CraigsEZList does a great job at inventing new and unique features and ways to browse Craigslist on the iPhone, it just needs a little touching up. CraigsEZList is a good tool for Craigslist users but may feel a little awkward if you're not a fan of clunky interfaces on iPhone apps. CraigsEZList can be downloaded from the iTunes store (here).
Craigsphone (4 out of 5)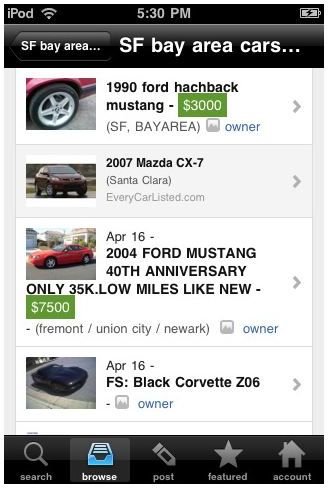 Craigsphone is a free app for the iPhone that enables browsing and posting on Craigslist. Craigsphone is a fine addition to the list of Craigslist apps for the iPhone because it does a beautiful job at enabling both reading and posting of ads. All major features of Craigslist are supported by Craigsphone thus making Craigslist enjoyable on the iPhone. Browsing and Posting are as simple as you would expect and the search function works well.
Favorites, responding to ads and emailing ads to friends is all done directly within Craigsphone. This application enables easy account management via the Account tab which is something new to iPhone Craigslist apps. Ads displayed via Craigsphone tend to look identical to the original ads on Craigslist which is not necessary a bad thing. Craigsphone does a great job at brining the functionality of Craigslist to the iPhone and is worth a look. Download Craigsphone from the iTunes store (here).
More for the iPhone
If you are impressed with Craigslist on the iPhone be sure to check out many other great services on the iPhone.
Check out this full review of Craig's Phone for the iPhone. Also take a look at this great article on the Ebay Mobile App for the iPhone.
All screenshots are provided by the respective app makers and are property of their original owners.