Guide to iPhone Call Recording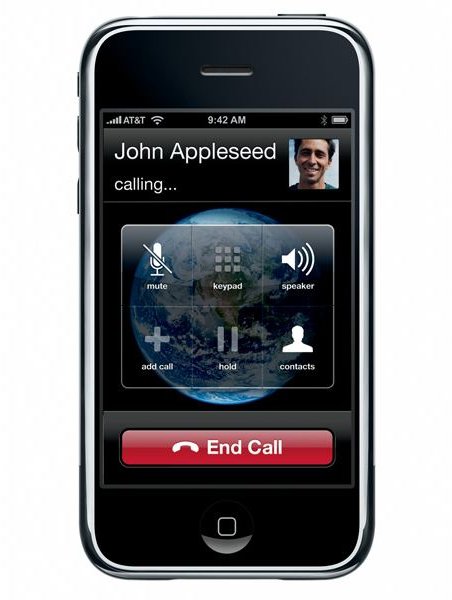 A call recording app can be a very helpful device. Some good reasons you may want to record a call includes: when you announce big news, when you are speaking of a certain legality issue or doing phone interviews.
Before you begin, check the laws of your state to make sure it is legal to record the call. It is always illegal to record a call you are not involved in. In 38 states it is legal to record a call as long as you are one of the parties on the call. 12 states require permission from all parties. This is even more of an issue if the person you are calling is outside of your state or out of the country! You can read more about Digital Media Law at this link.
Illegally recording a call in the United States is considered a felony. Outside of the United States laws vary by country and province. Always make the other party is aware that you are recording them to avoid legal problems.
Options for Recording
Several applications exist which offer recording options for iPhone call recording. The iPhone does not include any method for iPhone call recording by default. Many applications which offer this feature are third-party services and designed with other functionality aside from just iPhone call recording.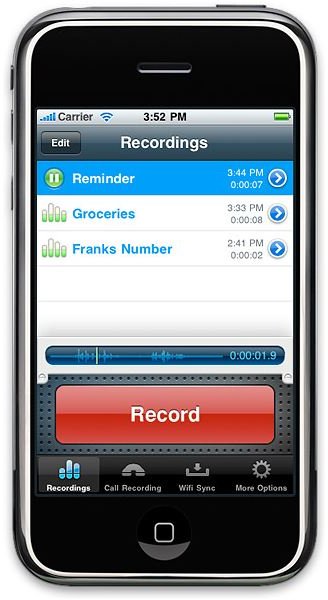 The iPhone Recorder
The iPhone Recorder is an app for the iPhone by Retronyms. iPhone Recorder enables recording of memos and outbound calls on the iPhone (you will not be able to record incoming calls). Purchasing the app will enable you to use the iPhone call recording options from within the application to initiate calls and record them. Recorded calls can be played back later on the iPhone and emailed from the iPhone. The iPhone Recorder is one of the few official iPhone apps that can be found in the Apple AppStore.
The iPhone Recorder is very easy to use and features a simple interface. The application is very functional and does a great job at recording both parties, sound quality is also very good. The option to send the recording via email is a nice touch.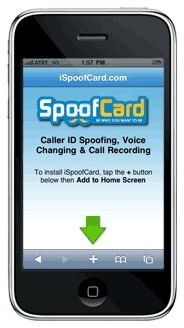 iSpoofCard
iSpoofCard is from the designers of the iSpoof App which was removed from the AppStore. iSpoofCard is a purely web-based application which allows iPhone call recording and several other features. Using iSpoofCard it is possible to change your caller ID to trick your friends, change your voice for your privacy and record calls all in one service.
iSpoofCard is a free application however the service requires a subscription. A free trial is available to test the features including the iPhone call recording however it is necessary to buy the service to continue using it. iSpoofCard is a good choice for iPhone call recording due to the simple to use web interface and easy online management of recorded calls.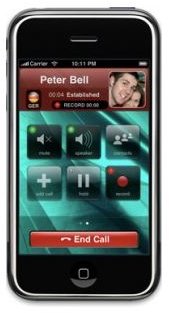 Acrobits Softphone
Acrobits Softphone is an application for the iPhone which enables the use of VoIP-based phone services on the iPhone. Acrobits Softphone is loaded with features one of which happens to be an impeccable iPhone recorder. The app enables you to integrate your regular cellphone usage and SIP based soft phone into one dialpad interface. Once a call is in session a record button appears and you can begin recording.
Recorded calls can be played back from the call history. Integration of the iPhone call recording feature into Acrobits Softphone is seamless and works great! Read this Review of the Acrobits Softphone.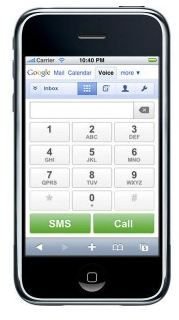 Google Voice
Google Voice is a free service by Google available to users in the U.S. Google Voice enables many different features including free long distance calls, free text messaging and above all, free iPhone call recording. Access to Google Voice requires a free account and uses a web interface. No application down is required. Once a call is active, pressing "4" on the phone's dialpad will initiate the iPhone call recording feature. It is currently possible to record incoming calls only, not outbound calls.
Google Voice will kindly announce to all parties on the line that the call is being recorded to avoid any potential legality issues. Google Voice is one of the easiest services to use for iPhone call recording and it's free!