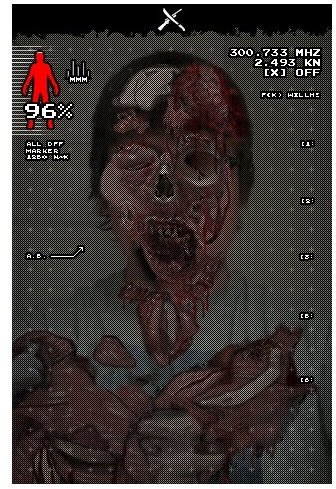 Zombie Survival Guide Scanner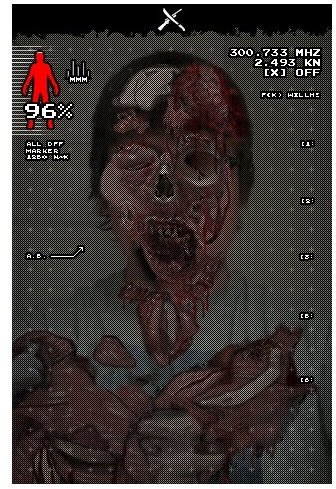 The Zombie Survival Guide Scanner is an iPhone app in direct correlation to the original Zombie Survival Guide book by Max Brooks. The book is a detailed account of how to survive a zombie attack, but the app is a bit of a one-trick pony. The Zombie Survival Guide Scanner takes a newly-taken picture of you or a friend and determines your level of infections. The app seems to arbitrarily pick a percentage of infection and then apply that level of zombie effects to your image. As you can see by the image of your's truly to the left, I'm apparently 96% zombie, so watch out!
The app is fun for those who haven't yet seen it, but once you've scanned someone and freaked them out with their new zombie self, there isn't much else to do. Thankfully, the app is completely free, which certainly warrants a download recommendation. The only issue we had with the app is that you can't use an already-existing picture, and taking a picture of yourself, while making sure it fits in the app's determined outline with the phone is just plain awkward.
Zombie Survival Guide App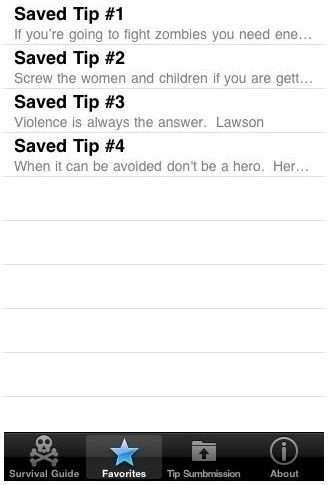 The Zombie Survival Guide App is a collection of tips and tricks to help you survive the zombie apocalypse. However, the interface leaves much to be desired. It's a pretty generic looking app and it could certainly use a bit more style. You can submit tips to the developers that might then be added to the official list, and there are plenty of tips already, but it probably won't be worth a buck to everyone.
If you're a zombie nut, and can't wait to share your tips with others, then you may see the value in picking up the Zombie Survival Guide App for a dollar, but there are certainly better options out there, such as our next app.
Break Glass: Zombie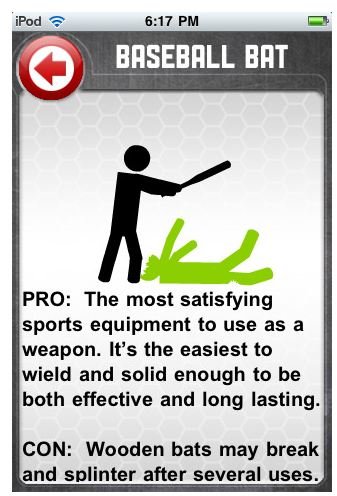 Break Glass: Zombie has a rather odd name, but it's a rather awesome app. It is a super cool zombie survival guide and oozes style. It gives tips on everything from weapons to locations to hide to supplies you'll want with you. The best part about it is that many of the tips sections offer animated zombie/human altercations. Each weapon page shows the weapon being used on a zombie in a repeating animation that is done very well.
You can tell that a ton of time was put into the app, but there's still more that could be done. There are endless numbers of weapons we'd like to see added, and we can only hope that future updates bring even more bloodshed in the same style as what is already offered. Break Glass: Zombie is also a dollar in the App Store but it is a much better bet than the Zombie Survival Guide App, as it will make you smile time and time again.
Zombie Me!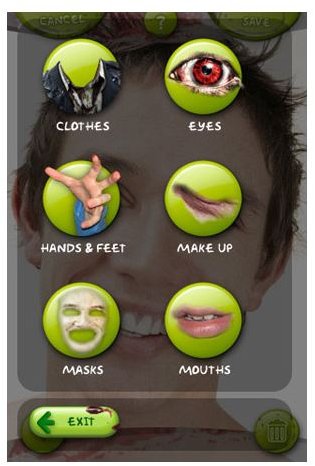 Zombie Me! takes the concept of the Zombie Survival Guide Scanner and expands on it by letting you control the level of zombie infection applied to a picture of you or someone you know. You can add effects on your own, which really allows an endless amount of customization to the experience that other similar apps simply don't have.
However, this added customization comes at a cost as well, as Zombie Me! is two dollars in its full version form. There is also a lite version that has significantly less customization options, but it's still a good bet for trying the app out and seeing if you want to make a more significant financial commitment to making your very own zombie horde.