iPhone Bluetooth Won't Work? Try These Simple Suggestions for Bluetooth Problems Before Troubleshooting Further - ARCHIVED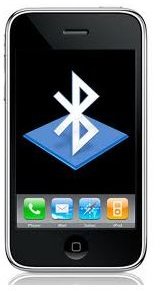 Editor's Note: This article was written in 2010 and applies to iPhone O.S 3.0. It has been placed in our archive but left up for informational purposes, as these are basic 'first steps' one should take.
When everything is working correctly you can easily connect your iPhone to a Bluetooth device. For example, you can connect a basic wireless headset by pairing it with your phone in order to make and receive calls. You can utilize your car's hands-free calling system to place and receive calls. Or, you can connect stereo devices, either speakers or headsets, to your iPhone and listen to music and videos without the need to plug in headphones. These features utilize A2DP (Advanced Audio Distribution Profile), or A2DP in conjunction with Audio/Video Remote Control (AVRCP) and/or additional technologies that control how multimedia streams from one device to another.
Simple Troubleshooting of Your iPhone's Bluetooth
Should you run in to problems when trying to connect a Bluetooth device, many times, these problems can be corrected easily. Always try the following steps first before moving on to more advanced troubleshooting.
**Bluetooth Device is not working
**
If you are unable to find a Bluetooth device or pair it with your iPhone, try power cycling the Bluetooth device.
Power off the Bluetooth device by holding its power button and then press the device's power button for a few seconds. Now, try to pair your device again.
Sometimes it really can be as simple as turning the device on and off.
Too Much Noise When Using Bluetooth
Sometimes, you may notice a crackling noise, distorted sound, interference or other less than optimal audio when your Bluetooth device is connected to your iPhone.
This can often occur when you exceed the range of your device. Generally speaking, the range is about 33 feet, which can be impacted by obstructions and other external interference, reducing the range even further, sometimes down to 20 feet or so.
The simplest way to experiment with this is to keep track of when its occurring (what are you doing? where are you located?) and how close or far away you are to the iPhone. Does it get better when you get closer to the phone?
**Bluetooth Device Not Detected by the iPhone
**
Can't find your Bluetooth device on your phone? Or you get a call and realize it's going straight to your phone instead of through your headset or your car's hands-free calling system?
Nine time out of ten, your Bluetooth has been toggled off in settings. Go to Settings -> General and then Bluetooth. Tap on the Bluetooth toggle to turn it ON. You should now see the Bluetooth 'icon' next to the battery strength indicator at the top right of your phone.
(Editor's Note: In iOS 7 you can now reach this by swiping up from the bottom of any screen. If the Bluetooth indicator at the top in the middle is black, that means it's off. Tap it to turn it on, which will turn the circle white. Also note, if you are driving, you should only modify your phone's settings when you are safely parked.)
If this doesn't work, you should next try restarting your iPhone. Press the power button on the iPhone until you see the red bar. Move the red slider to the right to turn off the iPhone. Press the power button to turn on the iPhone and then try connecting the Bluetooth device again.
Still not working? Reboot your phone. Press and hold down both the power button and the Sleep/Wake button at the top until the Apple logo appears - generally about 10 seconds.
What's the General Bluetooth Passcode?
While connecting your iPhone to a Bluetooth device, you may be asked for a pass code. In the vast majority of cases, you just need to enter 0000 in order to pair a Bluetooth device with your iPhone.
If none of these simple first steps worked, it's time to dig a little deeper into specific issues that may be occurring depending on the specific combination of iPhone and Bluetooth device you are using.
Apple Support is always a good place to start, as are support forums for your particular phone's carrier.
This article has been placed in our archives.