Top Must Have iPhone Apps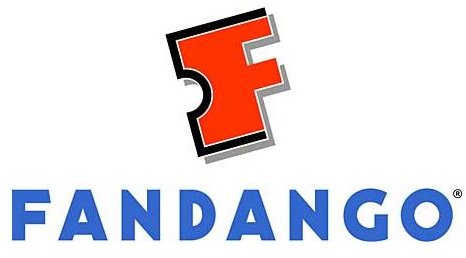 Constantly on the go
It is very hard to remember a world without applications, and that's a world I try to forget! Apple has changed the way we use cell phones and has basically turned them into ultra portable computers. With the Internet in your pocket, there are so many things the iPhone can do. Apple fanboys love to show off their latest apps, so here are a few more must have iPhone apps that you should definitely buy if you do not have them already.
Fandango
I have seen more movies this past year than any other year and Fandango is a life saver. With big block buster movies such as Iron Man 2 and Inception (just to name a few) coming out, do you really want to wait in line and risk not getting those prime seats? Sure you can use Fandango at home and print out the tickets, but what if you are not at home?
As soon as you start up the app, it finds your current location and finds theaters that are nearby. If you prefer one theater over the other, then you can set that one as a favorite. Purchasing tickets is almost exactly the same as using the computer. Search for theater, pick a movie and a time, buy tickets. It's so simple! No more waiting in those long lines!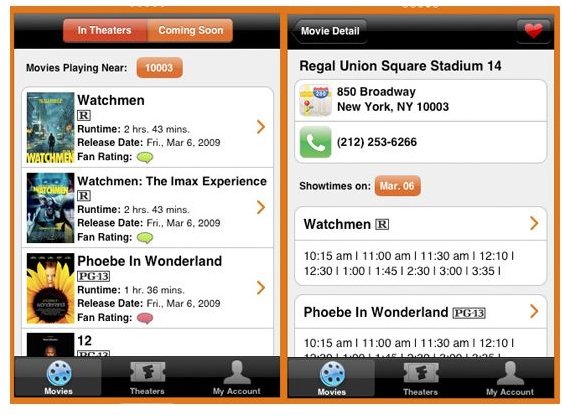 The Fandango application allows you to view trailers for movies, along with pictures, and reviews. This app now supports iOS 4.0's multitasking and the new retina display. The movie pictures look great and the text is sharp. The only problem is that sometimes it will try to locate you again, and then let you view the page you were on. This is a small gripe and it will not get in the way of the overall experience.
Price: Free
Twitter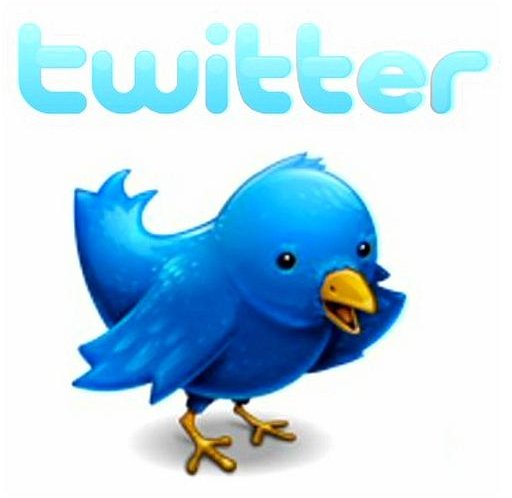 Finally Twitter has released its own application. Before this I used to use Tweetie, but this one seems a lot more user friendly. Features are standard such as status updates, personal messages, search box, and your profile which you can edit like on the regular website.
There really isn't much to say about this app. It is pretty much straightforward. When posting a new Tweet, you can add pictures straight from your photo library, and also Geotag your location. The status timeline refreshes pretty fast, you can easily retweet and basically anything you can do on the website. I like that you can update your profile and edit your bio and profile picture. You can check for mentions, and the Trendy Topics is very nice. These new improvements and the easy user interface make this a great Twitter app. If you already have Tweetie then it will not be much different, but if you don't own Tweetie then save your money and install this app.
Price: Free
eBay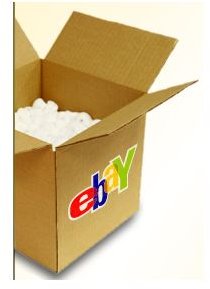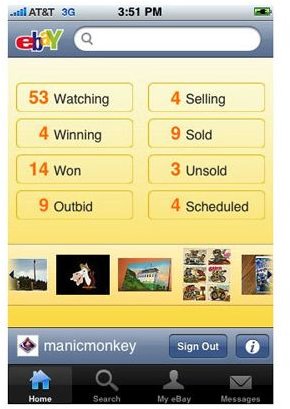 This is a great app and a must have for anyone who uses eBay. You get to use all of the same features as the browser based version. You can search for any items, see close up pictures, product descriptions, ask questions, and access your inbox. This app allows you to have the full eBay experience and it's a very fast app. The app has been upgraded to make full use of the new iOS 4.0 software and now you can multitask. The overall responsiveness is much better. The app also uses push notifications so now you will never have to worry about getting outbid! Just set up your PayPal account and you are ready to go! It now supports retina display, which makes the overall experience fantastic.
Price: Free
Redbox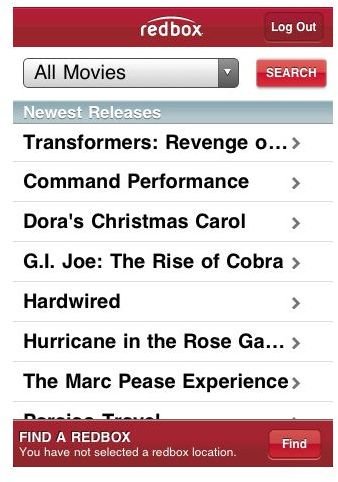 I love this app! This is probably one of my most used applications right now.
All you have to do is find a nearby Redbox kiosk, and it shows you the movies that are available to rent in that particular location. It gives you information about the movie, such as the plot, actors, and rating so you can decide if you want to rent it or not. My favorite feature has to be the ability to "Reserve" a movie. Just sign in, make sure your credit card info is entered, and click reserve. You will get a confirmation email, and it will hold your movie for 24 hours. This is a very handy feature if you really want to rent a popular movie. I reserved a movie, went to pick it up and there was a man in front of me, he went to rent the same one but couldn't because it said it was out of stock (good thing I reserved ahead of time). All I had to do is swipe my card and out came my movie. Success!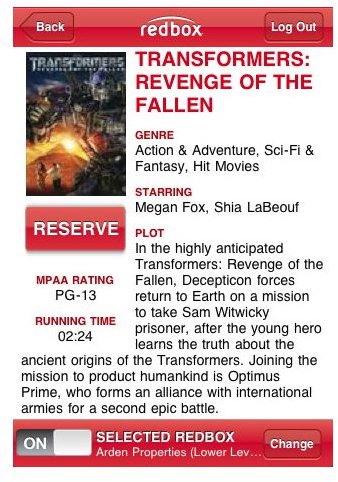 Redbox does not support multitasking at this time so you may have to deal with some unwanted loading times.
Price: Free
AT&T MyWireless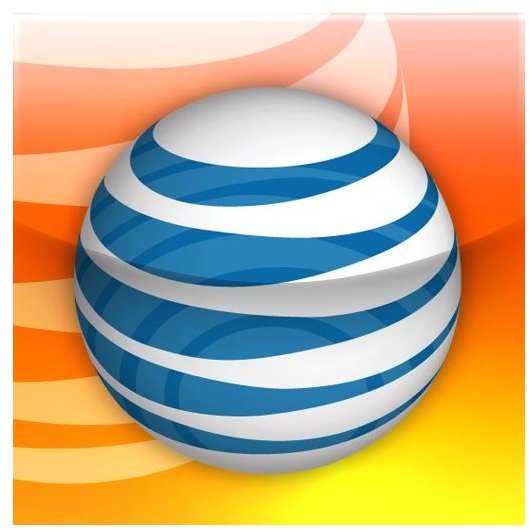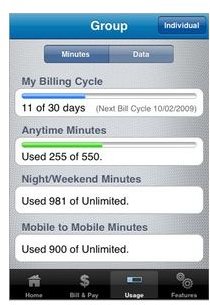 If you are an iPhone user then you will definitely want to install this app. It's pretty straightforward. Log in using your AT&T information, and you are able to view your minutes, text messages, and data usage. You can also pay your bill, and add features to your plan and set up push notifications for when you can pay your bill. There is not much more you can do with this app but if you now have AT&T's ridiculous 2GB data plan, this is a must have iPhone app so you can keep track of your allowance and not go over.
Price: Free
Around Me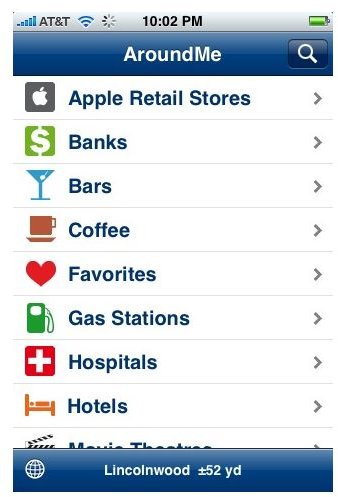 This is a pretty useful iPhone app for anyone who is always on the go. The app tracks your location and you can search for anything that is nearby. Want to find a restaurant in a part of town you haven't been to before? Well just search for restaurants and it will show you which are closest to you. Touch the one you want to go to, and it will show you where it is via a map (which is just like the standard "Maps" app that comes with the phone). You have the option to get directions to the place, post on Twitter or Facebook, add it as a contact, and even email/text the information to someone. It even gives you phone numbers to the place you are searching for. I have used this app countless times to find phone numbers to stores, addresses or just to see what is indeed around me.
This is a fantastic app for people who travel and it now supports multitasking.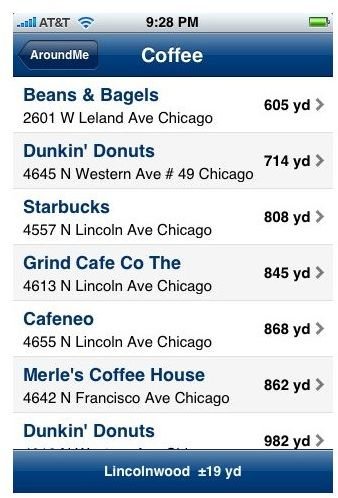 Price: Free
DirectTV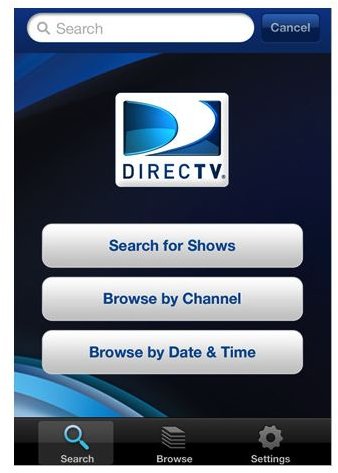 If you have DirectTV and have a DVR then why do you not already have this application? All you have to do is log in, and search for the show you want to record. You can search by channel name or number and it gives you a list of shows that will be playing for that specific channel. It is basically a mini television guide in your pocket. If you have multiple DVRs in your house like I do, you have the option to choose which box you want your show to be recorded on as well as set a priority, and record the series if you want. A nice feature is the ability to order a movie or event from within the app. It does not support multitasking yet, which sucks, so be prepared for some long load times on occasions.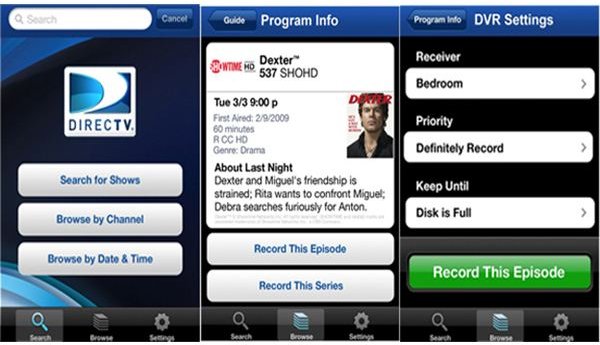 Price: Free
Pandora Radio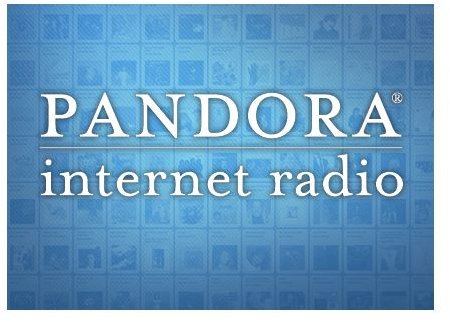 Odds are you are familiar with Pandora Internet Radio. Well now is the time to download this app for the iPhone. It's the same as any other internet radio site/app and it works quite well. Search for a song or artist, and it creates a channel with similar music. With the added support for multitasking, you can now listen to music in the background while sending a text or whatever else you want to do. With AT&T's new 2GB data plan I recommend using Pandora when connected to Wi-Fi as much as you can because if you are a heavy user of this app then I am sure you will blow through your data usage for the month.
Price: Free
Pulse News Mini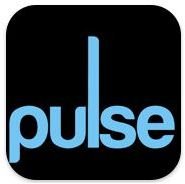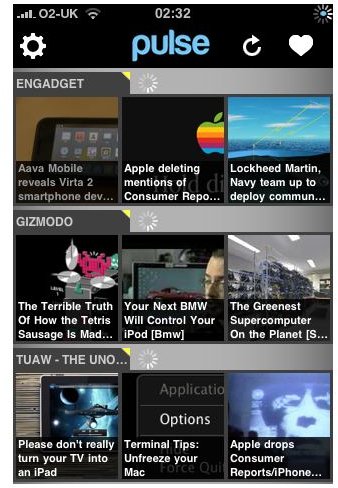 Pulse Mini is a RSS news reader, and it is awesome! This is the only app in this round-up that will actually cost you money but it is well worth investing in.
You can add many news feeds from your favorite websites, and Pulse displays each one as a sliding bar so you can view multiple articles. I am not sure if you have a limit on how many news feeds you can have but I have a lot and still have not reached the limit. The interface is very simple and easy to use, and when there is a lot of text you can touch "view more" and it will open the website within the app so you can view the article in its entirety. My opinion is that it's the best news reader on the App store and with its support for the iPhone 4's retina display the text is sharp and very easy to read. It supports multitasking as well.
If you have an iPad then definitely buy this one as well. The bigger screen makes it easy to navigate the pages and it is worth the extra money. Great app!
Price: 99 cents (iPhone) $1.99 (iPad)