Reviewed: 4 iPhone Apps For Law Enforcement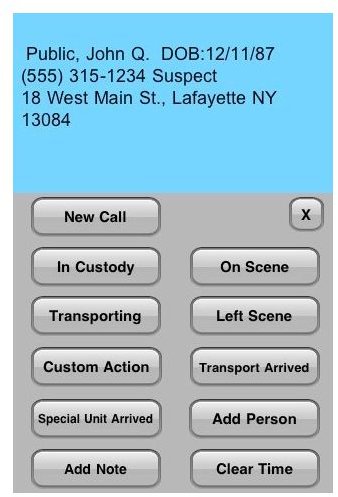 Introduction
Many people may think the popular Apple iPhone would look out of place in the hands of a law enforcement officer. That's probably because the type of applications we occasionally stumble upon for the iPhone are mostly lightweight, luxurious apps designed to pass time or entertain the user. We think law enforcement officers should have their own super-PDA as in the movies, however, we are mistaken. The Apple Store with over 200,000 apps has a range of applications that can effectively help law enforcement officers during their active duties. Below we review some of those applications.
CopLogger
Contrary to popular belief, law enforcement is one of the most demanding jobs in the world when it comes to paperwork. Hours and hours of time can be wasted on writing reports. This is where CopLogger, our first iPhone App for law enforcement officers comes in to play. CopLogger simplifies the process by acting as an effective replacement for police cruisers' MCT or Mobile Computing Terminals. It can be used to track incidents and calls and add notes into the log. Cops can even customize the app according to their department's needs. It can also be used to save the whole day's activity and then email/archive it, effectively lessening the burden of paperwork. Price is $0.99, take a look at CopLogger 2.12 for iPhone for more information and purchase instructions.
Miranda Warning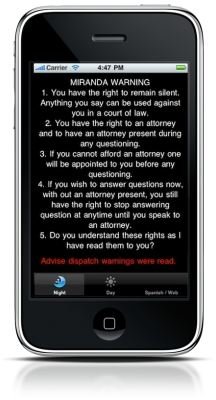 Although simple in concept, this little application allows law enforcement officers to get rid of their Miranda Warning Card since this application digitalizes it into their iPhone. Easy to read in dim or even dark places. Price is $0.99. More information and purchase instructions: iPhone Apps – Miranda Warning | Apptism.
FBI Most Wanted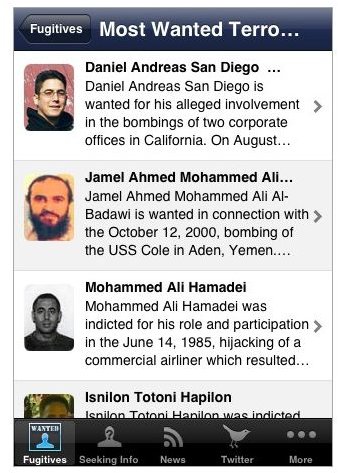 Not only helpful to anyone that works in the field of law enforcement but to the general public as well. FBI Most Wanted, as the title suggests, delivers a list of all the FBI fugitives and most wanted terrorists. It also delivers information about missing children directly from their feeds. The application also includes contact details for local FBI and embassy offices. You can download the FBI Most Wanted app from iTunes.
Police Scanner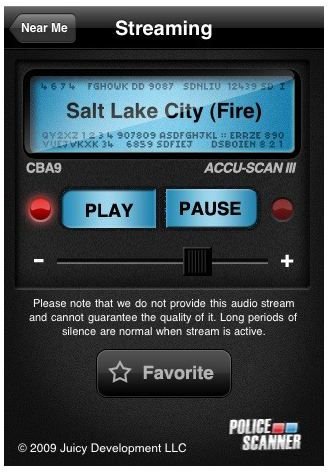 This application allows the user to listen in on police, fire, and EMS activities across the United States via their live radio feeds. Perfect for "on call" law enforcement officers since they don't have their equipment with them all the time because they're in the middle between officers that are on active duty and off duty ones. Click here for more information and purchase details. Price is $1.99.
Didn't find what you expected?
Well, these programs were all researched through Google and are public. Meaning, you can't expect applications that track people's location here for example (without their consent) or intercept phone calls or the like because if anything like that was released to the public it would have the huge potential of being abused. If you are an active duty officer that works for an agency that has arrest and/or search/seizure powers, you (or whoever is responsible) can contact Apple directly for guidance about applications that can only be released to your agency. There is also a website https://www.iphoneinsecurity.com/ offering powerful iPhone forensics tools, only for law enforcement agencies as well.
Image References